REVIEW: Future is grim for Marilyn Manson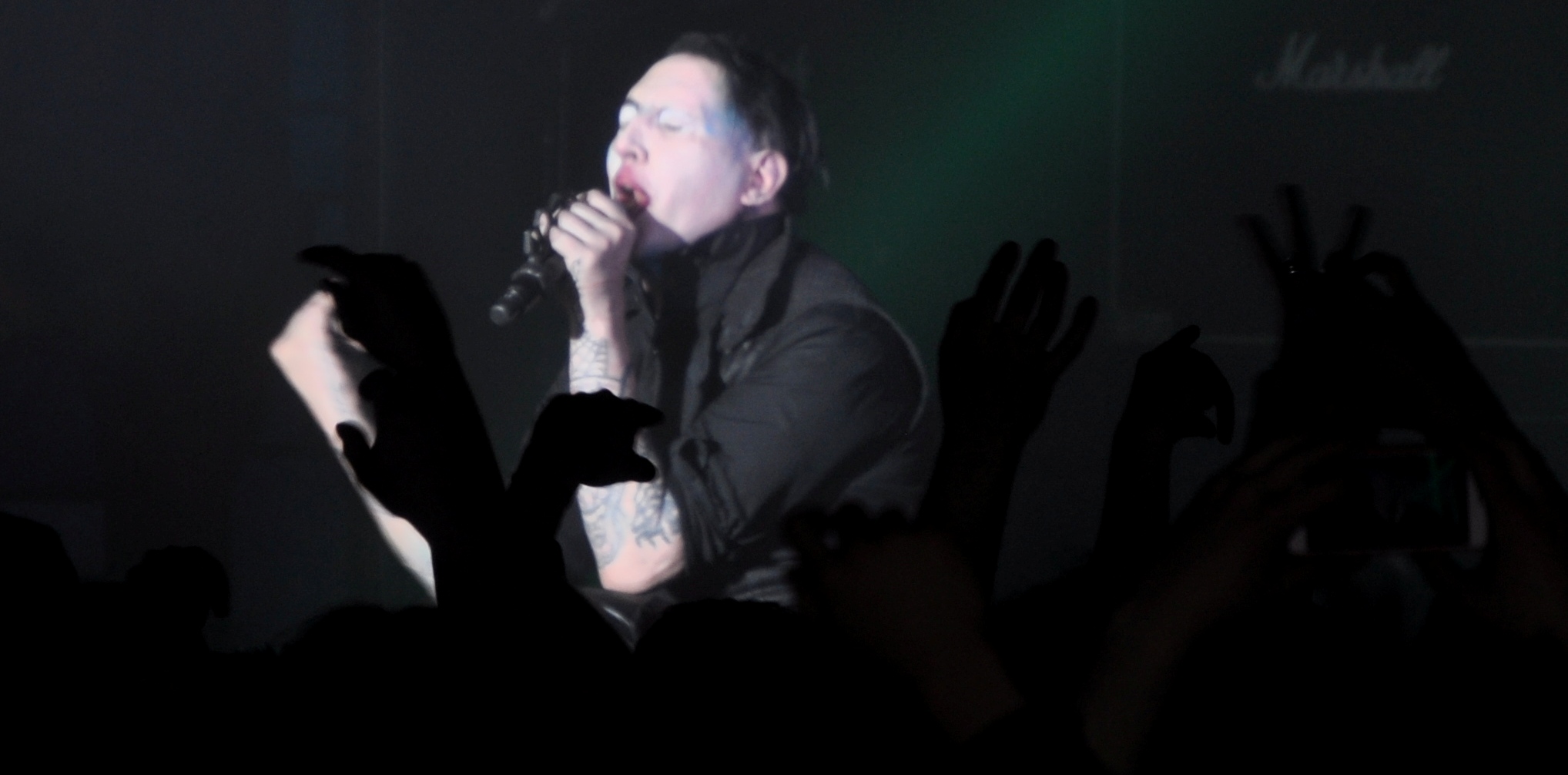 For those mystified why Marilyn Manson is still doing his shtick after all these years, it's not that difficult to understand.
Just imagine April Wine, oh, about 20 odd years ago, trying desperately to stay relevant, but needing to trade on past glories to pay the bills, while playing for long time fans in their 30s and 40s who first heard them in some cavernous concert hall as teenagers.
Yes, for 4,000 fans at the Shaw Conference Centre on Thursday night, the screaming guitars were still there, as were the screaming drunken fans reliving their youths, and the crappy-sounding concert hall … so what's the difference? Like the stuff all over Manson's face, it's purely cosmetic. Trade a few irresponsible hate anthems and beautiful peoples for a couple of signs of the gypsy queens and just between you and mes, add a little corpse paint and Christianity hating and bang! You're at exactly same concert 20 years later – with a dope show reasonably intact, as long as dope still means marijuana.
Manson – aka Brian Hugh Warner – does fancy himself quite the artiste, such that some might deem him a tad pretentious, had the drunken youngsters in attendance known what it meant to be pretentious, of course, when he cues up the show with a recorded rendition of Mozart's Requiem. Now that's setting the bar pretty high. Like most called shots, it blew up in his face. For the most part Manson's lyrical content fails the mark by a significant margin, as in set opener Deep Six, from his new album Pale Emperor, which is about on the same level of erudition as Ricky and Bubble's fave I Like To Rock.
Put the choruses of both songs side by side and see for yourself:
I Like To Rock                         Deep six, six, six feet deep
Some Like It Hot                     Deep six, six, six feet deep
I Like To Rock                         yeah!
I Like To Rock!
Same goes for Disposable Teens, which prior to charging into it Manson admonished fans, "you AREN'T disposable!" Gee, thanks, dad! Also most of them aren't teens, either, since this was a no-minors show.
It's not 1976 anymore, but the whole world is still goin' crazy, and Manson makes a fair chunk of change off others' miseries, all while claiming to be a tortured artist himself, which any reasonably intelligent person can recognize for what it really is: complete bullshit. But no matter. He's a pretty astute businessman, owning his own label Hell Records, through which he has been releasing all his albums since 2007. While only selling on average about 100,000 copies worldwide of his albums since then, he's pulling in ALL the money, not a fraction, like our poor rockin' Canadian record company slaves in April Wine were way back in their glory days. It sure is swell to be living in a time where the music industry functions so much more beneficially for its artists, isn't it?
The show was essentially a live best-of compilation for Manson. Being a bit short on original radio hits, Manson was obliged to brush off a couple cover tunes, including the Eurythmics' Sweet Dreams (Are Made of These), Mansonized into a devilishly doom-laden dirge, along with a surprisingly limp version of Depeche Mode's Personal Jesus. Maybe Manson might want to consider giving April Wine's first hit (and cover tune) You Could Have Been a Lady a shot to freshen the set up next time.
Energy wise, the fans enjoyed the show, and let Manson know their pleasure from beginning to end, but in watching his stage act through the evening, it felt like he was mailing it in: Going through the motions like a disaffected, debauched old rocker who's a few oxys away from drawing the drapes eternally. Maybe the detached and impersonal feel of his performance is related to the style of music he plays. Industrial rock could never act as a mood lifter, could it?
It's also hard to remember seeing this many drunk fans teeter out the door after a show – probably not much different than their own parents decades ago.
Manson still has quite a bit of performing life in him – he's got at least four tours until he begins his first run at the Century Casino.