MUSIC PREVIEW: Take me to (Eric) Church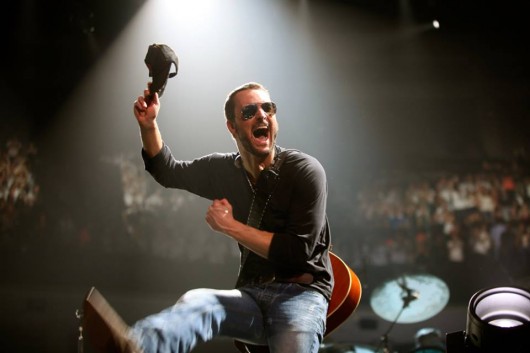 It's one thing to make jokes about why you may be a redneck. It's another thing to live the life. Here's one: You may be a redneck if you think Eric Church is the Pope of Rednecks.
Don't you doubt it! Returning to Rexall Place on Sunday, the North Carolinian superstar displays deep country roots combined with a rebel attitude and religious fervor in songs that hit the bullseye in the balls department – as in it takes a lot of cajones to get away with a line like this: "We need a country music Jesus to come and save us all!" Is Eric Church the country music Jesus? He embraces the redneck lifestyle like a prophet.
Obviously country artists banging on more mainstream country artists is nothing new, but there's a passion to Church's music we just don't hear in interchangeable bro-country brethren like Short-First-Name Manly-Last-Name, or that other guy with the baseball cap. He really believes what he sings. Church channels the outlaws, the black sheep, yet doesn't spare songs about Jesus. His latest album is called The Outsiders – hard to rationalize when it hit No. 1. He sings like Willie Nelson, and pays homage to legends Merle Haggard and Johnny Cash. He advocates smoking marijuana and drinking Jack Daniels. He knows he's a sinner, but he's come to terms with the Almighty. Sample lyric No. 2: "On the day I die, I know where I'm going to go. Me and Jesus got that part worked out. I'll wait at the gates till his face I see, and stand in a long line of sinners like me."
The show at 7:30 pm opens with Brothers Osborne. Tickets from $38-$84, BUY
Thursday 9
Lyra Brown – What we have here is stone-cold for-real deal destined for greatness, from a gifted local singer-songwriter who fits in the vein of Amy Correia, Jill Sobule, Suzanne Vega or Tori Amos, take your pick, point being it's a captivating singer whose elegant songs are designed to make you melt. On this night at Wunderbar is the video release for the first single from her debut album, The Language of Eyes. Catch her in a small venue while you can. $10 advance, BUY
Ridley Bent – Here's a man ahead of his time who manages to skirt the line between mainstream, bro-country style music and its scruffier "alt" cousin. New genre: Cousin Country? Maybe not. What's true is that this sort of thing sounds better in a house. The Haligonian "hick hopper" (his words) performs at a house concert at DanLyn Studios, 290, 22560 Wye Road, Sherwood Park. Tickets are $20, BYOB
Friday 10
Lindsey Walker – This local singer-songwriter with roots-rockin' oomph and folk fest mojo is part of a cozy show at the Mercury Theatre – the former Azimuth Theatre soon to be an offshoot of the nearby Mercury Room – billed as "an intimate night of music, art and more." Also on the bill are Sean Newton, along with comedians Drew Behm and David Rae. Only 50 tickets available! $15 advance, BUY
Rend – One of our favourite and hardest working rock bands is in the midst of a tour supporting their latest single, Scars, and pops back to the old hometown to do a bit of laundry – and show off how months of road work can really whip a band into shape. With openers Kickupafuss, The Treble and Isobel Trigger. Pawnshop, $10 advance, BUY
Mike Nash – Bassist for the local band Owls By Nature is breaking out with his own new EP recording, Hard Stuff Radio, at the Mercury Room, with Eyes on Ivan opening. 8 pm, $10 advance, BUY
Saturday 11
J.P. Cormier – No stranger to the Edmonton folk fest for good reason, this London, Ontario veteran represents the finest qualities of the typical traditional acoustic roots artist, one so unfairly lampooned in A Mighty Wind. It's easy going, friendly, easy on the ears, good for the mind. At Queen Alexandra Hall, 8 pm, $22 advance, BUY
Edmonton Extermination – Fact: The "weight" of any given metal band is inversely proportional to how well you can read its logo. So expect heaviness in abundance at this event in the Pawnshop, featuring three local bands so scary as to be completely illegible! Just kidding. It's Mortillery topping the bill with Eye of Horus and Mongol, and also possibly what appears to be a bloody squashed bug on a black background. 9 pm, $15 advance, BUY
Wheels of Industry – A new local indie band on the scene boasts a jaunty fusion of folk and funky rock – Blind Melon-style! – on their new CD release, Everything is not Enough. Cha Island Tea Co., 8 pm, $10 at the door
Sunday 12
Dave Hause – If you look up the term "post punk" in the dictionary, you'll find a picture of this Philadelphia musician who spent much of his youth in punk bands before moving on a more folky, singer-songwriterly direction, even with his main band The Loved Ones. So literally: Post punk. Denizen Hall, with Kalle Mattson, 8 pm, $12 advance, BUY