Mumford & Sons to rock out in Edmonton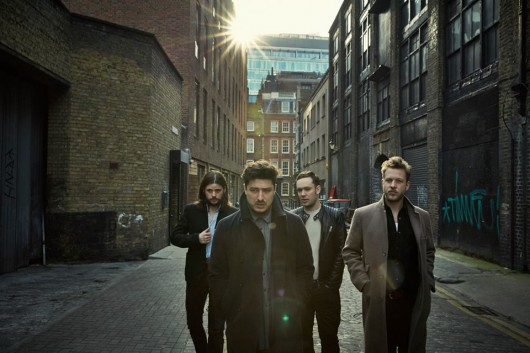 Not since Dylan turned on and plugged in has there been such a buzz about folk music – and now the poster child for the neo-folk music movement that's sweeping the nation is returning to excite us a second time. With rock 'n' roll!
Mumford & Sons plays Rexall Place on Tuesday, Aug. 11, touring behind their upcoming change in direction Wilder Mind, out May 4. With the opening acts Vaccine and Jack Garratt, tickets are $49.50 or $69.50 and go on sale Friday, general admission floor, reserved seating in the stands. No "pre sale" has been reported, which is unusual.
Anyone who attended the band's last performance in Edmonton in 2013 is required by law to agree that Mumford is the bee's knees and the cat's pyjamas rolled into one – at least when it comes to neo-folk music. Until they recently turned into a more conventional alternative rock band with the release of the new album and North American tour, their sound was an infectious blend of banjo, acoustic guitar, and soaring four-part vocals. The London, England lads scored global fame with captivating, if nonsensical folk anthems like Little Lion Man, The Cave, and a new single that sounds nothing like those other two, The Wolf.
No one has any idea what any of these songs mean, and these guys hammer it out with a level of bombast that would make Great Big Sea lay down their bodhrans, but boy, they sure are fun! The band once made a thing about the fact that they didn't have a dedicated drummer, with frontman Marcus Mumford usually whomping the kick drum himself, as the heartbeat of the band, and have spearheaded another interesting if slightly disturbing trend among neo-folkish alt-rock bands the world over: Everybody on stage gets a drum! And a beard.
They could pass a few tambourines out to the audience while they're at it.