MUSIC PREVIEW: Mastodon mashes mammoth metal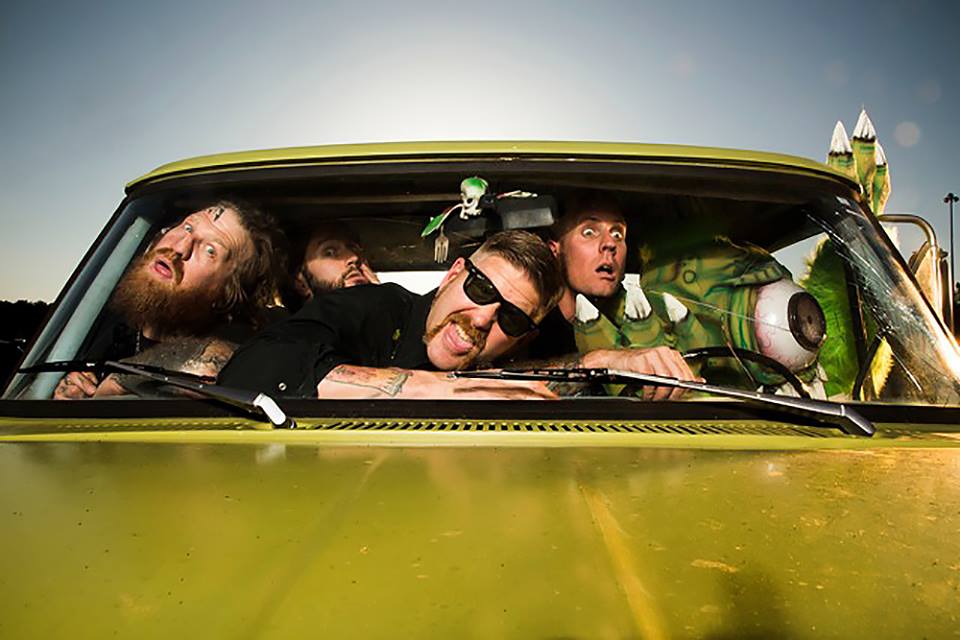 Heavy metal comes to the forefront on this weekend's schedule, as Atlanta's Mastodon performs at the Edmonton EXPO Centre on Sunday.
This quartet formed in 2000 after drummer Brann Dailor and guitarist Brian Kelliher moved to Atlanta from New York state, and met bassist Troy Sanders and guitarist Brett Hinds. They all share vocal duties. As proof of an eclectic, hard-to-define sound that changes with every album, Mastodon has been listed as progressive, experimental metal, stoner metal, alternative metal, grindcore, hardcore, and/or groove metal. The band is currently working on material for their seventh full-length, a follow-up to 2014's Once More 'Round the Sun.
Mastodon's first critical acclaim came in 2004 after their sophomore album Leviathan was released. A concept album based loosely on the legendary novel Moby Dick, it was named album of the year by metal magazines Kerrang! and Terrorizer.
Also featured on Sunday's so-called "Missing Link Tour" is Maryland's Clutch – which has also been listed in a number of sub-genres of the metal multiverse, including funk metal, stoner, and alternative metal, as well as Southern rock, and even hardcore punk. The band has, at last report, concluded recording for their 11th album, but no release date has yet been announced. Since formation in 1991, personnel has also remained surprisingly consistent for a band in the genre, with Neil Fallon at the helm, along with Tim Suit, Dan Maines, and Jean-Paul Gaster.
Doors open at 6 pm. With opening act Big Business, tickets are $57. BUY
Thursday 16
R. Ariel – This Phoenix musician is currently on an epic four-month tour of North America. Her reverb-filled slow-folk sound resonates with emotion, and her guitarwork is unforgettable. With MoonMuseum, Borscht, and You Are An Explorer. Wunderbar, 8 pm, $8.
Revenge Of the Trees – While R. Ariel is in the middle of her lengthy itinerary, this Edmonton band wraps up an intense two week stint with a gig that includes Sun K and Billie Zizi. The foursome deftly combines elements of dirty blues and garage rock. Mercury Room, 8 pm, $12.
Friday 17
Strung Out – These punk rockers released a new album at the end of last month called Transmission.Alpha.Delta, and have been with their label – Fat Wreck – for over 16 years. That's quite the history in an era that sometimes sees bands change multiple times in a year. Masked Intruder and La Armada also perform. Starlite Room, 8 pm, SOLD OUT.
Saturday 18
Bombproof the Horses – This local indie rock act began its life in 2012 when bassist/backing vocalist Joel Kleine decided the time was nigh. Together with former school acquaintance Remco Dalmaijer, the group has written a growing cadre of catchy tracks, and have made a significant splash in the local music scene, having already opened for such luminaries as Grapes of Wrath and Zerbin. With Pal Joey. Mercury Room, 7 pm, $10.
Tuesday 21
Leaf Rapids – This alt-folk sister duo from Winnipeg is on the verge of releasing their debut full-length, Lucky Stars, which was mostly recorded in Nashville with producer Steve Dawson. Keri and Devin Latimer have been in a few other projects in the Winnipeg scene over the last few years, though this effort may be their most heartfelt and intriguing. Slow Leaves and Zaac Pick are also on the bill. Mercury Room, 9:30 pm, $10.