MUSIC PREVIEW: Who is Machi? I Am Machi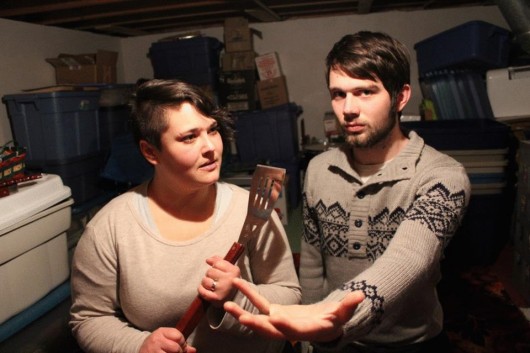 There's a good reason there are so many two-piece drum-and-guitar bands in the vein of the White Stripes. You make more money when you split the take two ways.
But seriously: having only two musicians in a band means it can do more with less, and go wherever it wants to, whether it comes to songwriting, studio work or live performance. With the right two musicians, the result is magic. Enter an Edmonton band called I Am Machi. Not exactly sure who Machi is, and don't want to ruin it by finding out, but if we were forced to pick a "next big local thing" from this weekend's platter of indie goodness, it would be this promising rock duo with two albums to its credit, featuring married couple Nathan and Jileane Stokland on guitar and drums, respectively – just like Jack and Meg White!
Similarly, the instantly compelling music of I Am Machi brims over with creativity, passion and mystery, backed up by musical chops up the ying yang, a quirky sense of lyrics and hook-laden songs rendered by contrasting male-female vocals and guitars often set to "melting level." Just like the White Stripes!
Jeez, will these goddamed comparisons ever end? Don't worry. I Am Machi doesn't actually sound like the White Stripes, or any other two-piece drums 'n' guitar band, for that matter. They'll be recognized for their own sound soon enough, and play a free show this Saturday at 4 pm at Filthy McNasty's.
Thursday 23
Def Leppard – What has nine arms and ROCKS?! The answer is of course: a dependable British rock 'n' roll role model for triumph over adversity. Since emerging from the mean streets of Sheffield in 1977, Def Leppard has become known for such anthems as Pour Some Sugar on Me, whose title says it all for one of the originators of a movement called "bubble metal." It's music one can bang one's head softly to without messing up one's feathered coif, and its fans are legion. With One Bad Son opening, Rexall Place, 7:30 pm, tickets from $49, BUY
Leave the Living – Such a merciful name for such a menacing, growly, speedy, heavy band. They could've gone with "Kill the Survivors." Let's not get into this Biblical living-shall-envy-the-dead argument here. At Wunderbar, this Red Deer five-piece celebrates the release of its new CD, Pacifist. Maybe they're being ironic. With openers Without Mercy, The Universe Machine and People Call It Home, 9 pm, $15 at the door.
Friday 24
Nature Of – Another deserving Sonic radio "Band of the Month" combines chimey guitars, laconic vocals and plaintive hooks in a genre that some might call "shoegaze" because its practitioners look at their shoes while they perform. Does anyone actually do this? Whatever. Note that we picked these guys for being golden first, making Michael Senchuk's Top-10 Edmonton Albums of 2014. Pawnshop, with The Nulls, The Archaics and Casper Hollands, 8 pm, $10 advance, BUY
Alfie Zappacosta – Does anyone remember this pop star from back in the day? This Italian-born singer, then a mono-named Zappacosta living in Toronto, enjoyed a fling with fame in 1984 with the release of his hit singles Passion and We Should Be Lovers, a theme that continues to this day in a quieter, more sober, more loungey, jazzy life led in Edmonton. Café Blackbird, 8 pm, $35.
The Stampeders – It is a rare and special thing for a classic rock band of this vintage to retain all of its original members 40 years later – or close enough for rock 'n' roll. And if these road-hardened Calgarians are doomed to the pit of one-hit wonderment for 1971's Sweet City Woman, so be it. There are far worse fates in this game. Century Casino, 8 pm, $65, BUY
Jets To Theory – A solid, swampy, soulful and dare we say "sexy" rock band we have here in this songwriting vision of veteran frontman Dean Lonsdale. Kind of a Danko Jones vibe he has going here. The band plays its CD release at the Mercury Room, with openers WeUsedToBeFriends and Low Frequency Angels. 8 pm, $10 advance, BUY
Saturday 25
The Command Sisters – Big Al's House of Blues throws its doors open to the young guns in this afternoon benefit concert for WIN House, featuring Edmonton's "are they country or are they not?" sister act The Command Sisters, along with six other area female acts. Doors at 2 pm, all ages, admission by donation.
Lee Aaron – Century Casino will be the city's classic rock central until the River Cree gets its act together (they took their big tent down due to "structural issues"). On this night is the very epitome of "rock chick," a label worn proudly by its practitioners, a diminutive Toronto powerhouse who was once called the "Metal Queen" and who relatively recently discovered a passion for – surprise! – singing jazz standards. Hey, Deborah Harry did it, too! With Helix, 8 pm, $49, BUY
Sister Gray – Speaking of sister acts, these rock chicks have been hitting the road hard behind their new CD, Burn This Disco, and return home for the release show at the Pawnshop. Imagine Heart with synths and dance beats instead of guitars. With The Fronts, Hungry Hollow and Make Out City, 8 pm, $15 advance, BUY
Scenic Route to Alaska – We celebrate when they go out on tour, we celebrate when they come back. So welcome back! Your dreams were your ticket out … is that how it goes? Before heading off again to Europe in May, our most celebrated local indie-folk band plays the The Buckingham, to be warmed up by Mike Edel and Towers and Trees. 8 pm, $15 advance, BUY