REVIEW: Def Leppard past its prime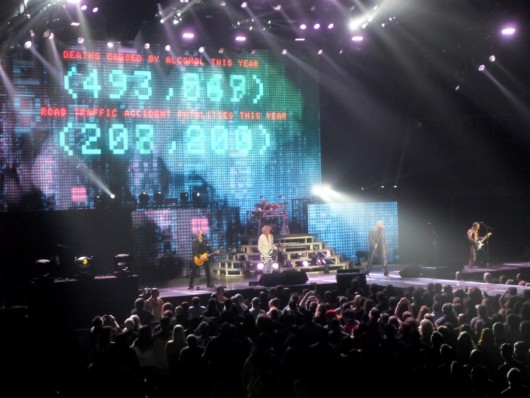 It was a tough night on the entertainment front Thursday night in Edmonton. Leadership debate, or Def Leppard concert. Some choice.
More than 12,000 Edmontonians paid good money not to sit at home and watch the carnage on TV, instead plunking their patooties on hard plastic to hear the British band take a run through their greatest hits. ONE. MORE. TIME.
This is becoming WAY too familiar around these parts.
Def Leppard tried to pull one over on the audience at Rexall Place – much like Prentice was doing on TV around the same time – posting giant ads for their "highly anticipated" new album later this year. Given the band's set list wound up favouring songs from 1983-87, it's not clear how many fans will be diversifying the economy by buying their new release.
Fans may not have had any idea how close they were to going home early to watch the debate as lead singer Joe Elliott nearly blew his voice at the end of set opener Rock! Rock! Till You Drop. Like the 70-year-old across the street who decides he wants to give skateboarding one more try, Elliott decided towards the end of the song to go for that elusive high note. He does, and hits it! But he ends up torching his entire upper register in the process. He hid it well, coasting through the remainder of the band's 90-minute set and staying away from the really high stuff. The guy is a true professional.
As this band ages, it's more and more evident they are losing their edge. Animal, one of their signature tunes off the 15 million-selling 1987 album Hysteria, was virtually unrecognizable for the first 30-45 seconds of the tune. The fans, turned back to 1987 in their minds, loved it unquestioningly, but it plodded along, sounding tired and boring. One of the top pop-metal tunes of that era, it was sad to hear this great song played without the edge it has on record, and a definite sign that despite the perplexing juxtaposition of a full house, these guys are a shadow of their former performing selves. Same goes for Foolin', a smart minor key tune that quickly flips into a beautiful melody for the bridge, but on stage it sounded limp.
Guitarist Phil Collen must be proud of his pectoral muscles because they were oiled up when he took the stage, but in the musical department, it was his partner and Belfast native Vivian Campbell who was the only member of the band able to make Def Leppard sound interesting to anyone who wasn't there to hear a touring jukebox – Rick Allen's heroic drum solo notwithstanding. Campbell's playing and soloing had an edge to it; it contained spark that was absent in the rest of the band. What makes this even more remarkable is that he's coming off a round of chemotherapy after a cancer diagnosis last year. Real fans of music were grateful that you just can't kill off Irishmen like Campbell.
Paper Sun – from 1999 – was proof enough that almost everything they recorded after 1987 is just not worth listening to – four minutes of your life you'll never get back. Promises came out nicely, however, possibly the best tune they've written post-Hysteria, shining brightly with the same melody of Stagefright, a righteous rocking tune off 1983's Pyromania that was not heard at the concert. They redeemed themselves a bit on that one.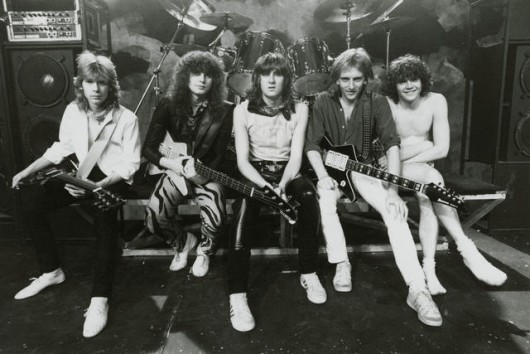 Armageddon It was a really odd one, but not because of the music – performed in a paint-by-numbers manner, like they've done a trillion times and will again for another trillion. The strange part was what was happening on the big screen behind them. While they were singing the words to this endorphin-pumping anthem like "'cause the best is yet to come!" the crowd was treated to statistics indicating rapid increases in soil erosion and child murders. Yay! No more food, and mommy's killing us…so let's all rock out to Def Leppard while there's still time! Absolutely strange. If they were attempting to show a sense of social awareness, they failed miserably.
Euphoria, released in 1992, is by far the lamest and most contrived album in their entire catalogue – and the single Let's Get Rocked is by far the worst song on it. This is probably why it was such a big hit. Mediocrity defined. Again, possibly due to some weird cosmic anomaly, this went over like gangbusters for the full house.
Pour Some Sugar On Me? What can you say about Def's most popular song? The audience loved it – obviously. Played with the same lack of panache as the rest of the show, mind you, but hey, when you are paying $75-$150 to listen to a live greatest hits CD by a band waaaaaaayyyy past its prime, it's pretty clear quality performance is not at the top of your list. Maybe fans could pool their cash to get someone to invent a time machine so they could all go back to 1983 and see them when they were actually worth seeing.
This show was a perfect example of why these heritage acts are both so appealing and so irrelevant at the same time. Artistically, bands like this are a spent force, but this isn't art. It's just a bottomless miasma of nostalgia that never seems to end. The public has an insatiable desire for this stuff – and it's killing the music industry. If people are only interested in the songs of yesterday, who's listening to the contemporary acts of today?
In the years to come, no matter how obvious it is that Def Leppard and their classic rock peers are whittling away before our eyes, no matter how past their due dates they are, people will continue to pay to see them, because, well, it's just something you do. Kind of like voting PC at election time.