Neil Young to Honour the Treaties in Edmonton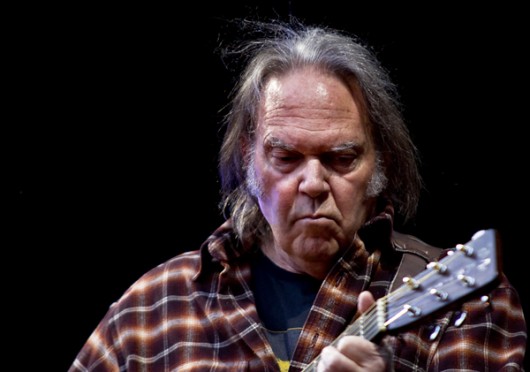 There are few rock stars who have been as critical of the Alberta Oil Sands as Neil Young – and now he's putting his music where is mouth is. So to speak.
Part political event, part Neil Young concert, his "Honour the Treaties" show happens Friday, July 3 at Rexall Place, part of a cross-Canada tour. It's a benefit show to support the Athabasca Chipewyan's First Nation Legal Defense; "To stop out of control Tar Sands development from destroying our traditional territory and rights as Indigenous peoples," in the words of Chief Allan Adam in a press release. Blue Rodeo will open the show; tickets are from $60 to $200 (including service charges) and go on sale Friday. There is a limit of four tickets per person.
Following a pattern of environmental activism seen throughout his career, most especially in the new millennium, Young has been in the thick of the Tar Sands Quagmire since it became a disgusting symbol of environmental disaster the world over. He spared no opportunity to air his views, having been mad as hell and unwilling to take it anymore. To launch the Honour the Treaties tour last year, he blasted the Stephen Harper in an interview with the Toronto Star: "Canada is trading integrity for money," he said. "That's what's happening under the current leadership in Canada, which is a very poor imitation of the George Bush administration in the United States. It's lagging behind on the world stage and it's an embarrassment to Canadians. So, as a Canadian, I felt like I had a chance to do something by bringing this together."
Beyond supporting the cause, area fans are eager to enjoy the return of a Canadian musical icon. Like Bob Dylan, Neil Young is a wonderful songwriter who can neither sing nor play the guitar – and yet is revered for both anyway. Unlike Dylan, Young has not compromised or "sold out" to the Man. He is said to be working on a new album, working title: The Monsanto Years.
Does everything have to be so political with this guy? Short answer: Yes.