The Milk Carton Kids come to the Winspear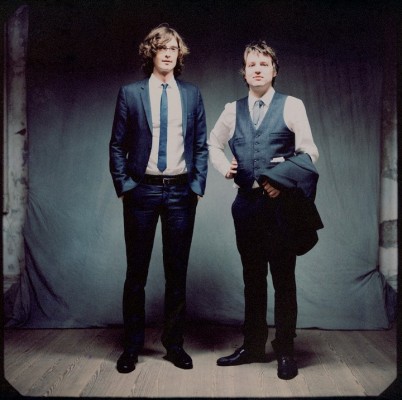 Has "The New Everly Brothers" been taken yet? It has? OK, so whoever has it, please give it to the Milk Carton Kids. The "Simon & Garfunkel of Modern Times" will also be acceptable.
Celebrated for leading the way when it comes to nu-folk with lovely acoustic guitarsmithery, touching songs and sweet, sweet two-part vocal harmonies, the California duo of Kenneth Pattengale and Joey Ryan performs at the Winspear Centre on Friday, Oct. 9. Tickets are $37 and go on sale this Friday. The Milk Carton Kids are on tour to support their new album Monterey – the third since forming just four years and taking the folk world by storm with the album The Ash & Clay two years later. It's not clear which one is Ash and which one is Clay, but the album was nominated for a Grammy and they were named top Emerging Artist at the 2013 Americana Music Awards.
It certainly doesn't hurt that these guys don't resemble the stereotypical folkie, even a young folkie – bucking the trend by going beardless, for one thing. They could form a boy band if this folk thing doesn't work out.