MUSIC PREVIEW: Counting on Counting Crows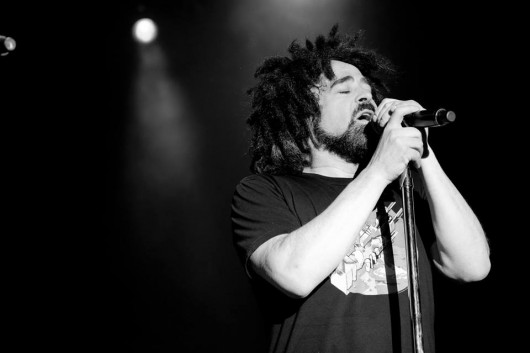 In the early 1990s amongst the stratospheric rise of grunge and alternative rock to the forefront of the North American music scene, many acts also found immense success using those elements as a subtle influence to their own sound, often staying more true to straight-up rock 'n' roll.
One of those acts was the Counting Crows. Formed in 1991 and fronted by Adam Duritz, they had a bevy of hits, starting with the powerful Mr. Jones in 1993 off their debut full-length August and Everything After, which also included another hit for the band, Round Here.
Their follow-up, 1996's Recovering the Satellites, continued to find them with critical and popular acclaim, leading to another hit, A Long December. Album sales didn't fare as well as their multi-million-selling debut, though, and the band never could live up to that first rush of incredible popularity.
The band continues to produce more new material, however, including last year's Somewhere Under Wonderland, which received mostly favourable reviews amongst music writers.
The band is in town Monday night at the Jubilee Auditorium (8 pm, $49.50 and up).
Thursday 30
Mitchmatic – Cool news: Mitchmatic is going on tour as part of the experimental-party-rock act Born Gold so will be out of town for a while. Great opportunity for him, and it should be a hoot. But he'd like to say goodbye first, so is doing a gig at Wunderbar before he departs. Another great local act, The Tee Tahs, are also on the bill, as are Nolocus. 9 pm, $10 at the door
Agent Orange – This California-based surf-punk act is actually based in – you guessed it – Orange County, California. Formed in 1979, only vocalist-guitarist Mike Palm remains from the original lineup. In the Whale, Aku Aku, and L.A.M.S. also perform. Pawnshop, 8 pm, $15.
Friday May 1
Two Bears North – More great news for a local band: These Edmonton indie-poppers just got signed to a German label, DevilDuck, who will be re-releasing their extraordinary album Comeocean, and the band has released a new single, Get the Hell Out Of Here, which will appear exclusively on that release. They're heading over to Germany to do a pretty intense tour; this is their farewell-for-now gig. Fellow indie-pop act We Were Friends, another band getting some very good press recently, is also on the bill; as are The Royal Foundry. Mercury Room, 7 pm, $10 advance.
READ INTERVIEW WITH TWO BEARS NORTH
Kevin Maimann and the Pretty Things – This local rock act (led by GigCity contributor Kevin Maimann) is hosting an EP release party with a bevy of other extremely talented Edmonton projects, including Cygnets, Catgut, and Blood Bitch. Kevin's band is equal parts dark, folk, rock, and indie, almost experimental in nature but extremely accessible and enjoyable. Wunderbar, 9 pm, $10.
Saturday 2
Volbeat – This Danish metal band infuses an interesting blend of rockabilly and straight up rock 'n' roll into their sound. Founded in 2001, three of their four members remain from the original lineup, including lead vocalist Michael Poulsen. They are currently touring to support their 2013 album Outlaw Gentlemen & Shady Ladies, their fifth full-length. With Anthrax and Crobot. Rexall Place, 7 pm, $44.75 and up.
Sunday 3
Wundi's Fifth Anniversary – One of the city's most awesome rock venues celebrates five years on the scene with an all-day cavalcade of bands, bands, and more bands. Some of the bands scheduled to appear at Wunderbar include Strange Planes, Leap Year, Brendan McGrath, The Worst, Success 5000, and Hellen. Cover charge is by donation to help cover the cost of the out-of-town acts. The fun starts at 2 pm.