MUSIC PREVIEW: Marystown wants it both ways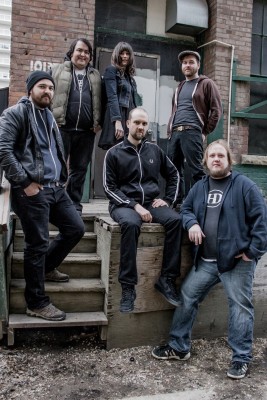 With the steel howling like a lonely train, a rough 'n' ready four-four wheel drive, a rasp of whiskey and smoke and sturdy like blue jeans on Ford trucks comes another worthy contender in the Edmonton indie folk country rock world: Marystown, playing Saturday night at the Pawnshop.
One should look carefully at bands labelled "country rock." They're little bit country, a little bit rock 'n' roll, and they'll take their chances on either depending which way the wind blows. It's like the old joke about bisexuals: They're just being greedy. Make up your minds, people!
Yet the country-rock meld feels honest and true in this Edmonton band that calls itself "gruntry rock." Singer-songwriter Evan Murray, whose kinfolk are from Marystown, Newfoundland, hefts healthy range to go with his rasp – if the whiskey and the smoke don't get to him. The material on the band's 2014 album A Perfect Reality ranges from cry-in-yet-beer salteens like Girl I Love You So; to the mournful and lonesome Anything For You; to the all-out cowpunk slampit that is the closing track, Cracked Out Bitch, as in, "She wants crack, crack and more crack, she's a cracked out bitch!"
Those three tracks kind of tell a little twisted story of their own, don't they?
Opening the show – a video release for Marystown's new single, Carry the Thief – will be Preying Saints, Cowpuncher and Napalmpom. Tickets are $15 advance, BUY
Thursday 7
Fire Next Time – More raspy folk-rock goodness from this local band apparently named for God's warning to humanity after the Flood. They celebrate the release of their new CD of murder songs and similarly grisly cowpunk anthems, Cold Hands. At the Pawnshop, 8 pm, with Stepmothers, Grizzly Trail, Forester and Penske File, $10 advance, BUY
Friday 8
Dead Venues – Clubs shut down. Bands carry on. Need proof? After enjoying the premiere of a new documentary about defunct Edmonton clubs (Sidetrack, New City, etc), the stalwart country punk band Jr. Gone Wild will perform – and they've been around 30 years! Give or take a hiatus there. At the Garneau Theatre for the Global Visions Film Festival, 7 pm, $15, BUY
Gordie Tentrees – From the Yukon, where men are men, women wear parkas, and ravens raid your garbage and taunt your dogs comes this singer-songwriter who fuses folk with country, and at some point down in there it's hard to tell the difference. His new album is Less is More. At the Mercury Room, with openers Jaxon Haldane and John Guliak, 7 pm, $15 advance, BUY
Russell deCarle Trio – You can consider Prairie Oyster the Canadian analog to the Mavericks – long tall cool country music rich in soul and relatively free of the hokey trappings of its commercialized cousin. The Juno-winning group's frontman has enjoyed a thriving solo career for years, now fronting a super cool trio heavy on accordion and sweet, sweet vocals. At Fiddler's Roost, 7308 76 Avenue. Show at 8 pm, $15 advance, $18 at the door.
Darryl Matthews – He's a picker, he's a grinner, he's a midnight sinner … is that how it goes? This local bearded singer-songwriter-helluva-guitarist plays the Yellowhead Brewery for his CD release, 8 pm, $10 advance, BUY
Saturday 9
Roots & Boots Tour – In what can now be considered an "old school" hot country show at the Northlands Expo Centre (originally scheduled at the tent that was shut down at the River Cree Casino; all tickets will be honoured), this show features Sammy Kershaw, Aaron Tippin and Collin Raye, two L's in Collin. It's like the 1997 Big Valley Jamboree all over again! Show at 9 pm, $40, BUY
Joel Plaskett and the Emergency – The frontman of '90s Haligonian alt-rock band Thrush Hermit has earned more attention for his own more recent indie rock work than with his former band, as in "Thrush Who?" Exactly. The poppy postgrunge grunge rock sound of Emergency is where it's at, and he's got a new solo album, too, The Park Avenue Sobriety Test. Don't ask. Union Hall, with opener Mo Kenny, 8 pm, $26-$30, BUY
Jack Semple – Saskatchewan breeds blues rockers like Alberta breeds cowpunks and NDP supporters. Don't ask "what's with that?" Just enjoy the groovy mojo of this veteran Regina guitar wizard who also happens to be a pretty fine soul shouter. He learned his art well – as a one-time charter member of the Canadian R&B legends The Lincolns. He's way better now. At the Blue Chair Café, 8:30 pm, $20
Monday 11
Diana Krall – She is the archetypical piano player and the classy chanteuse who drapes herself seductively over the piano as she sings, quite a feat of contortionism to do both at once. This incomparable Canadian jazz star holds her own – with the help of an orchestra – at the Jubilee Auditorium, touring behind her latest David Foster-produced album Wallflower and all the smoky renditions of pop classics therein. She'll give you chills! 8 pm, tickets from $95. BUY