MUSIC PREVIEW: Sepultura cannot be stopped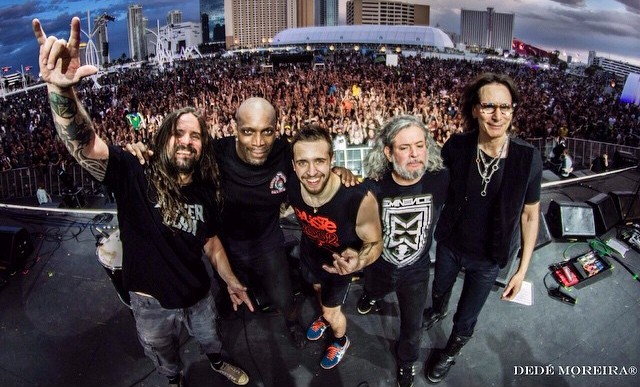 The mighty metal men of Sepultura have been sighted and are expected to launch a monster assault on the City of Edmonton this weekend. Citizens are advised to take all the usual precautions.
Playing Saturday night at the Starlite Room as part of the renowned act's 30th anniversary tour, a five week barnstorming journey across North America, this band lives by only three rules: Fast and hard and dark. They have served the band well.
The Brazilian band features bassist Paulo Xisto Pitno Jr. as the only remaining member from the band's first albums Bestial Devastation in 1984 and Morbid Visions two years later, shortly after which guitarist Andreas Kisser joined. He's been there ever since.
Originally part of the death metal and thrash metal scenes, Sepultura has evolved over the years, participating in the nu-metal wave, as well as hardcore punk and industrial metal. They've certainly been at the vanguard of metal and its many alloys for about as long as they've been around, which includes a total of 13 full-lengths, the latest of which is 2013's The Mediator Between Head and Hands Must Be the Heart. By all accounts, the setlist should feature a lot of the newer material, but assuredly will also not leave long time fans pining for the "old stuff."
Opening the show will be the bands Arsis, Boris the Blade, and Micawber. Doors at 7 pm, $30, BUY
Thursday 14
Gear Seabastian – This local indie act is winning rave reviews in for their eclectic rock sound and live show. They were formed back in 2005 by brothers Andrew and Gregory Tkach in Jarvie, Alberta (a hamlet of around 100 people about an hour northwest of Edmonton), and have been darting in and about the local music scene since 2012. The act has really hit its stride now that local buzz band Death By Robot frontman and longtime friend Jeremy Pudlowski has joined the group as their bassist and backup vocals. Many in the scene feel that this could just be the perfect combination of musical talent and acumen. They recently released an EP they recorded in Morinville, and are undoubtedly one of Edmonton's bands that must be heard and seen, and have their career followed as their musical journey continues. With Call Apollo and Justin Perkins in support. Mercury Room, $10, 7pm.
Friday 15
Secret Setlist – An intriguing concept that showcases some of the city's best acts in the indie, folk, and rock scenes, and records the show for posterity to be broadcast on TELUS Optik later this year. Friday's lineup includes a band discussed a number of times here on GigCity – We Were Friends – as well as Jeff Stuart and the Hearts and Short Of Able. Sunday's lineup includes the much-loved Nature Of, as well as Billie Zizi and Kayla Hotte and Her Rodeo Pals. Mercury Room, $15, 7 pm both nights.
Saturday 16
Black Thunder – This Regina stoner prog rock band is celebrating their third full-length album on this tour through Western Canada, after a well-received EP Coffee and Bronuts last summer. Labradoodle, The Worst, and Borrachera open. Brixx, $10, 8 pm.
Sunday 17
Ashley Hundred – This Calgary act started in 2012 as a purely acoustic folk act, but quickly electrified their sound, and fans, with the addition of a guitar and keyboards, and are now most decidedly on the rock side of the alt-folk vein. Two popular local acts, I Am Machi, and Velveteins, open. Mercury Room, $10, 7 pm.
Tuesday 19
Milky Chance – This German folk duo that blends elements of reggae and electronic elements into their sound had a monster European hit in 2013 with the song Stolen Dance. It charted in North America as well, and still gets lots of airplay on local pop radio. They've acquired a pretty sizeable fan base here in Canada thanks to that one catchy song, and as a result are playing a sold-out show at Union Hall on Tuesday, with opening act Fmlybnd. Doors at 9 pm.