MUSIC PREVIEW: Rainmaker Rodeo to shine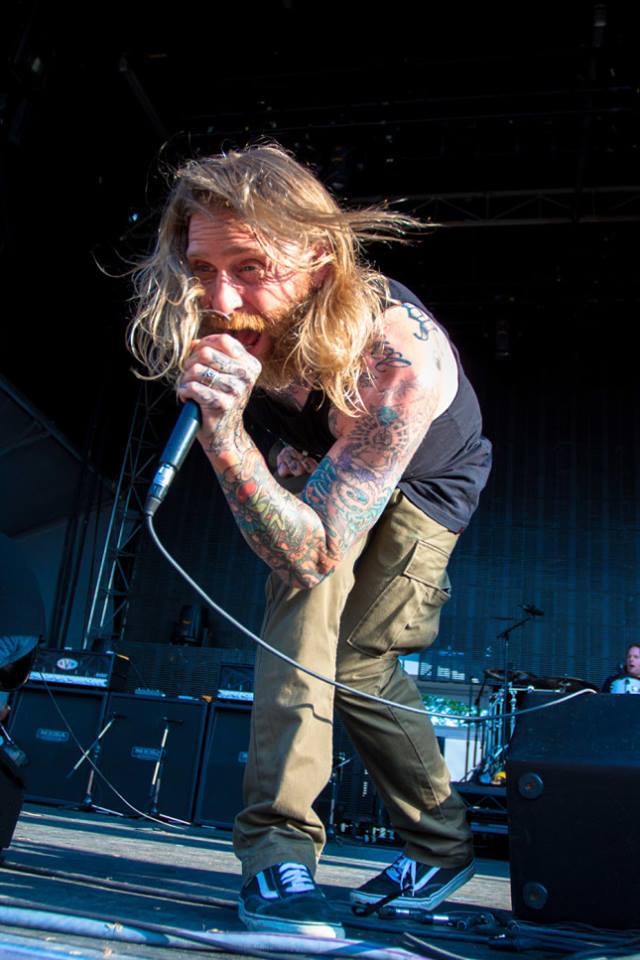 All right, you Rainmaker Rodeo people – we need you to live up to your name!
It's dry as a popcorn fart around here. You can't even make a good bonfire because of the fire restriction that's been in place for weeks, and not only that, singing voices are hoarse throughout the land. We're parched, man! We need some water from the sky, some manna from heaven.
Yet – cruel irony – no precipitation is forecast for what we're calling the first outdoor music festival of the season, and rain would be unwelcome in any case. Take that, Mother Nature!
The annual Rainmaker Rodeo takes place Friday and Saturday at the Kinsmen Fairgrounds in St. Albert. Friday is rock night – topped by the back-from-hiatus I Mother Earth (with singer Brian Byrne, pictured) and Gob, two Canadian bands that were pretty big in the late 1990s and so could almost be called "classic rock." Does K-97 play them? Then they're classic rock. Also performing are the Glorious Sons, Oil City Sound Machine, and Pigeon Park. Gates at 6 pm. Tickets are $48.
Saturday's stage is loaded with rockin' country goodness. Headlining are the Road Hammers – area favourites – with High Valley, Aaron Pritchett, and Kira Isabella. Tickets to country night are more expensive, for some reason: $59. Buy HERE.
The event will take place "rain or shine." Expect shine.
Friday 22
Tom Olsen and the Wreckage – The fascination of seeing a former political newspaper columnist, press secretary to the Premier of Alberta, and government lobbyist turning out to be a mighty fine hurtin' singer-songwriter does not pale with time. These boys are going hard, recording, touring, trying to build a name for heartbreak songs wrought from real-life suffering, heard on a new CD, Subtle as a Hurricane, and the CD release show at the Starlite Room. With Emily Triggs. Doors at 8 pm, $10, BUY
The Newsboys – Something big is going down at Northlands this weekend. No, He is not coming. It's YC, which stands for "Youth Conference," and is described as "a three day multi-denominational Christ-centred weekend featuring great times of worship, teaching, concerts and awesome fun." The biggest name on a bill with dozens of like-minded acts is the Newsboys, the Australian Christian rock band that briefly broke into the mainstream in the mid-1990s – because they're better than your average watered down Christian rock band, as good as Hootie and the Blowfish, at least. Ticket details HERE
SonReal – It is a hip hop kinda weekend. Appearing on the Pawnshop stage is this Juno-nominated Vancouver rapper, an associate of fellow West Coast homies the Swollen Members. He has a new EP called For the Town. With Edmonton's own Brothers Grim opening, along with Dirty Pride, Tassnata, Cashew, and Dunna – and do these guys just pull their names out a bag of Scrabble letters or what? 8 pm, $12, BUY
Saturday 23
Hip Hop in the Park – This is the eighth year for the day-long extravaganza celebrating all things in Edmonton hip hop. There are several components: Emceeing, DJing, beat boxing, break dancing by b-boys and b-girls, and even live graffiti. Rap is the music, hip hop is the culture. Dozens of local rappers and other artists will perform from noon until 8 pm, in the park abutting the new Boyle Street Plaza (9538 103A Avenue), another weird downtown building that looks someone melted a humongous slab of Kraft cheese on top of a concrete box. Admission is FREE!
Sunday 24
Amaranthe – It's a rare weekend that we don't get a visit from one of those delightfully slightly foreign Scandinavian metal bands. This Swedish sextet poses the question: What if ABBA was a death metal band? Touring behind the recent album Massive Addictive, Amaranthe is notable for a "beauty and the beast" thing: a female singer who sings clean, and a growling pit of doom guy who handles the manly gritty bits. At the Starlite Room, with backing bands I Prevail and Santa Cruz, doors at 8 pm, $25-$28, BUY
Monday 25
Charley Pride – This guy broke the colour barrier before the Civil Rights Movement was even resolved (if it ever was) as one of the highest-selling artists since Elvis. Now at age 77 with his son Stephen Pride sharing the spotlight, the country legend is still going strong. Starting in 1966 with the weeper Just Between You and Me – two minutes of solid country gold – Pride scored dozens of No. 1's that hold him and his fans in good stead to this day. Jubilee Auditorium, 7 pm, $80 and up, BUY
Tuesday 26
Reverend Horton Heat – "Psychobilly" before psychobilly was cool – a term meaning rockabilly that sounds a bit crazy – this Texas trio was pulled along in the wake of the grunge revolution in the early 1990s, and continues to thrill its fans with frontman Jim Heath's irreverent songs, the big semi-hollow body guitar sound, the thwomping big butch bass bull fiddle and the breakneck rockabilly beats on steroids, or maybe some other kind of meds. Always an Edmonton favourite whatever your poison. At the Starlite Room, with Nekromantix and The Brains, doors at 7 pm, $26, BUY