MUSIC PREVIEW: Imagine Dragons imagine drums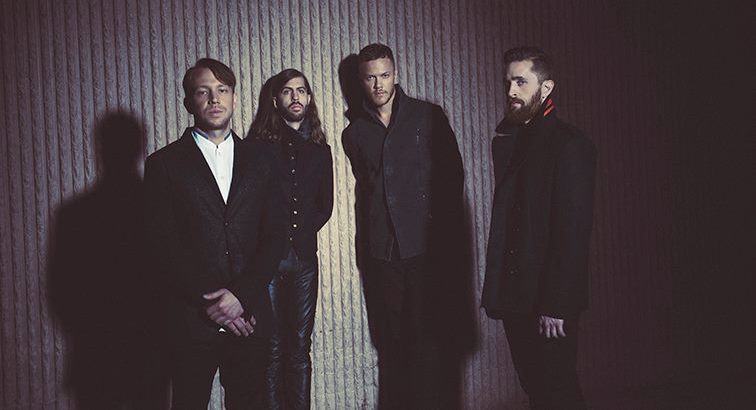 They didn't start it, but Imagine Dragons rides high in the vanguard of a new trend in live performance: Everybody gets a drum! It's exciting when everybody gets a drum.
Try this fun drinking game during the band's show at Rexall Place Saturday night: Take a swig every time you spot someone other than the drummer playing a drum. You might be blotto by the third song. Last time through town, at the Shaw Conference Centre, singer Dan Reynolds and the other musicians hammered big drums, little drums, and humongous Japanese Taiko drums as big around as monster truck tires. During Radioactive, their 2012 breakout hit, Reynolds was hauled by wires to the ceiling, where there was waiting for him – you guessed it – another drum. Their sound is driven by thundering drums.
This peculiar percussive predilection isn't the only reason for the success of this Las Vegas band, but it's a big one. It's a sign of their sense of freedom, of their feverish creativity, of their desire to make every note count, to make every chorus a sonic epiphany, to build every song an anthem, to make every drum circle an all-out primal hootenanny. In short, these guys are not ashamed of overdoing it, or of performing like rock stars – who happen to really like drums.
From clubs to arenas in just three years, Imagine Dragons tours in support of its 2014 album, Smoke + Mirrors, with the opening bands Metric and Halsey. Tickets $38 to $85, BUY
Friday 5
Wet Secrets – This curious hybrid of new wave and uniformed marching band won just over $100,000 for the Peak Performance Project last November – the biggest music prize ever awarded in Alberta – and is on the "Victory Tour" with B.C.'s Good for Grapes. After this gig at Brixx, it's off to Calgary on Saturday for a showcase and the big announcement of the next crop of nominees vying for another hundred grand. That'll buy a lot of cheese blintzes. Doors at 8 pm, $10, BUY
Cryptic – For on this night he knew, all the Who girls and boys, would wake bright and early, they'd rush for their toys! And then! Oh, the noise! Oh, the Noise! Noise! Noise! Noise! … yes, Noise. It's a thing. This Edmonton band abuses accordion along with the usual hardcore rock band instruments for an effect not unlike the Punk Sons of the Nihilist Spasm Band. With Group Vision, Big Ben, and Gorilla Eyesore. At Wunderbar, 8 pm, $10
Dirt Road Angels – A five-woman country vocal group? You had us at country, and there are few sounds sweeter on God's Green Earth than tight multi-part female harmonies on a heartbreak song. The Edmonton group that calls itself "the Canadian Country Spice Girls" plays a single release from its Paint the Town Red EP at the Draft Bar and Grill – same building as the olde Wild West – at 12912 50 Street. 9 pm, NO COVER
Saturday 6
Voice Industrie – It's been 10 years since these Edmonton electronic music pioneers last blooped and bleeped their way into our hearts – with no guitars in earshot. The Kraftwerk-like group that started in 1989 did a lot more than push "play" like some DJ, and promises a "ton" of production for the comeback show at the Pawnshop. But it's not about the fancy gear, is it? It's what you do with it. Show at 9 pm, $10, BUY
The Frolics – Rockabilly with a little spit and grit always works well in a punk rock milieu, and this local female-fronted trio has been doing that "sexypsychosurf" thing long enough that they're quite good at it, as can be heard on three gritty, sexy full-length albums, partly recorded in Nashville (the gritty parts of Nashville) with a fourth in the works. At DV8, 8130 Gateway Blvd, with opening acts Crossroad Renegades and Kyle Cavanah, doors at 8 pm, $10.
Shotgun Jimmie – Contrasting to a name that suggests some kind of psychobilly punk band, say, Manitoba's Jim Kilpatrick is in reality a breezy popsmith known for conversational lyrics, sweet hooks and brisk beats bolstered by fuzzy guitars and bleeping old synths. His music has captured the hearts of fans across North America. Don't you just wanna hug him? Wunderbar, $10 advance, BUY
Sunday 7
Les McKeown's Bay City Rollers – The sad part about all of this is that the guy who sang these songs that made the girls scream STILL hasn't been properly paid. He got screwed on the royalties. It must be galling to see all those boy bands raking in the dough by following his footsteps – and yet bravely he continues, making the best of his life, his music, singing his heart out at the age of 59 and still commanding the attention the loyal Tartan Army – including on this night at the Century Casino. Show at 8 pm, tickets going fast, $55-$65, BUY
READ INTERVIEW WITH LES McKEOWN
Queensryche – If you desire a slightly harder journey down memory lane, check out the return of this veteran pop-metal band perhaps best known for the 1990 power ballad Silent Lucidity. There was a legal battle over the band name, common in classic rock circles, and an on-stage altercation, not so common, but in the end three original members won out, found some stability in their classic rock golden years, and continue to tour with singer Todd Le Torre, the band's fourth lead singer, and even make new albums. The latest, in 2013, is self-titled – which if done well into a career signifies a fresh start. River Cree Marriott Ballroom, doors at 7 pm, $34, BUY