Sinead O'Connor returns to Edmonton folk fest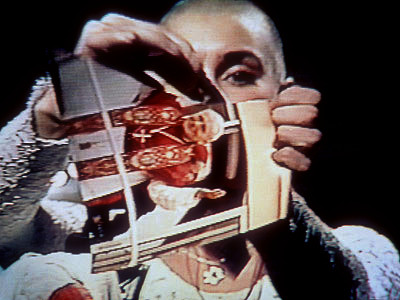 Some people told Terry Wickham it was "very brave" or him to book Sinead O'Connor at the Edmonton Folk Music Festival this summer – her first appearance since 1997.
But as the producer said during Wednesday's annual line-up announcement – revealing an eclectic bill ranging from Of Monsters and Men to Brandi Carlile – Sinead was an "absolute delight" the last time she came. She was. Performing an unconventional show with a quartet of female back-up singers, O'Connor kept thousands in rapt attention during a rainy afternoon set, the real deal in more ways than one. Moreover, Wickham added, regarding all the political stands she's taken over the years – including the career-defining moment of ripping up a picture of Pope John Paul II on Saturday Night Live to protest child abuse in the Catholic Church – "history has proven her right," Wickham said.
While Sinead cancelled a scheduled appearance at the Interstellar Rodeo three years ago, due to her struggle with bipolar disorder, if there's any event where the Irish singer is going to feel comfortable, it's the Edmonton folk fest. Opening the mainstage Friday, Aug. 7 at 9 pm, she's expected to perform material from her latest album, I'm Not Bossy, I'm the Boss – referencing her support of a campaign to stop calling assertive girls "bossy." She seems to be feeling better, and back in form.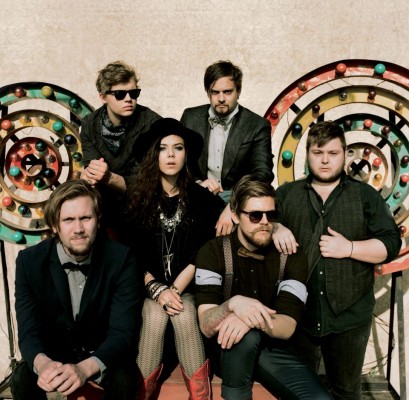 While Sinead's return may be the biggest folk fest news, it is by no means the act that's causing the most excitement – as long as we're talking chart success. Thanks to the smash hit Little Talks, the Icelandic band Of Monsters and Men (right) is at the top of the nu-folk wave that's sweeping the globe at the moment, like Mumford before them. The band's new album Beneath the Skin will be released on June 9.
Courting the youth vote as ever, the folk fest has also booked Edward Sharpe and the Magnetic Zeros, which wowed the crowd in 2011, along with newcomer Laura Marling, the next darling of nu-folk. Other returnees include Brandi Carlile to close on Sunday, the always-entertaining Duhks and the great Richard Thompson, playing solo. Oftentimes fans become snippy when expecting a full band only to just get the one guy, but we will be making an exception in this case. Thompson is brilliant on his own, last in town opening for Emmylou Harris in 2013, and last at the folk fest in 1994.
Wickham pointed out the festival has hosted more than, 1,000 different artists in its history. Many of them come back, "There are some we are not bringing back," he added, "But not many."
With the rest of the main stage rounded out by Bombino, Angus and Julia Stone, Matt Andersen, Lucius, Bear's Den, Lord Huron, and Jenny Lewis, the rest of the line-up reveals a deep bench of "Sessions" acts appealing to hipsters young and old, even if no one will admit to being a hipster. Worth noting is the return of Ashley MacIsaac, who's also feeling better; the indie darlings the Milk Carton Kids; the Carribean band Aurelio playing a mainstage afternoon set on Sunday; and an act called Letts, who plays with Edward Sharpe and whose solo album was produced by Marcus Mumford himself.
On the secret to booking a good folk fest after 27 years at it, Wickham has finally come up with a good answer, "You make sure every artist is really good."
Ticket prices have gone up $10 since last year. It's $179 for an adult pass, $88 for youth, kids 11 and under or seniors over 80 are free. Cheap seniors-only tickets are also available. Tickets will go on sale in person only on Saturday, June 6 at Telus Field. Doors open at 7 am for the ticket lottery, sales begin at 8. Online sales – if there are any left – will commence at 3 pm through Ticketmaster.
See HERE for full schedule.