A Blues Hall of Fame in Edmonton is a natural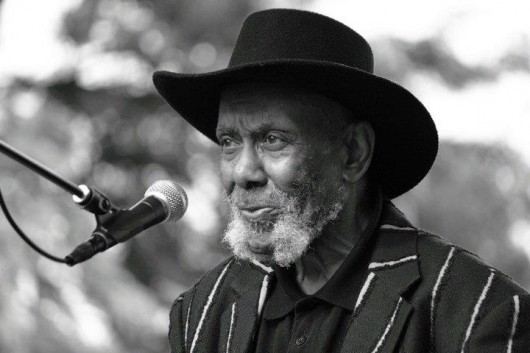 Edmonton has as much claim to be the home of the blues as Cleveland has for the heart of Rock and Roll – and yet here we are.
The Edmonton Blues Hall of Fame will hold its second annual induction celebration Sunday, June 7 at Blues on Whyte; Maurice John Vaughn, Hans Stamer, Nancy Nash and Sonny Rhodes (right) are among the inductees. Tommy "The Senator" Banks will be one of dignitaries attending. He'll play some blues, too.
Hall co-founder Tommie Gallie answers the obvious question of why Edmonton: "We should be a little proud of the people we have and their accomplishments – and I'm cool with that."
Gallie – a local sculptor and blues fan – convinced the city it was a good idea, scored some grant money, and last year launched the EBHoF with such a who's who of area blues people that you might wonder if there's any left. At the top of the list is Clarence Horatio "Big" Miller, a stone-cold for-real Kansas City-style bluesman who settled in Edmonton in 1970 and lived here until his death in 1992. His bronze statue sits in the park near the Yardbird Suite where he often played, with friends like Tommy Banks. Big wasn't born here. He was from Sioux City, Iowa – just a Southbound train away from Kansas City.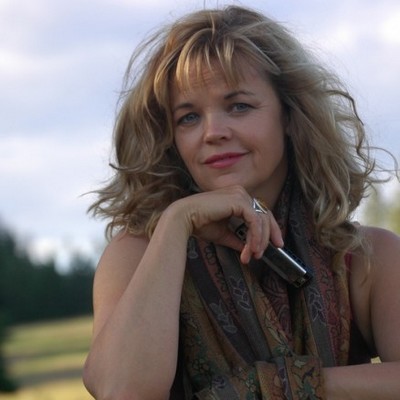 Maurice John Vaughn and Sonny Rhodes aren't from Edmonton – but they sure play here a lot (in fact playing back-to-back seven-nighters this month at Blues on Whyte). They're part of the "Legends" category, Gallie explains, reserved for out-of-town bluesmen and blueswomen whose frequent trips here have helped build the scene, often hiring locals, like drummer and CKUA announcer Grant Stovel, who's played with Vaughn. The 2015 "Builder" category inductees are Edmonton Blues Festival producer Cam Hayden; and Doug Langille, who hosted a blues program on CJSR Campus Radio during the '80s and '90s. The "Performer" category will honour Hans Stamer, the German-born harmonica player and guitarist who's lived in Edmonton since 1962; and Nancy Nash (left), one of the first blueswomen to make a mark in this city.
Talk turns to race. Edmonton doesn't have a large African-American community. Africans yes. African-Americans who invented the blues, not so much. Most of the people playing the blues in this town are white.
Responding to the observation that "white people love the blues, black people have the blues," and that there's a big difference, Gallie says that no one, no race, owns the exclusive right to the blues – a misnamed genre of music full of contradictions and emotions. If one doubts the authenticity of the Edmonton blues experience, check out a blues jam. On one memorable occasion at the Commercial Hotel, a young woman sang her heart out like Janis Joplin. She told her story later: single mom, alcoholic, drug problems, poverty problems, made bad decisions, hooked up with bad men, in short if she didn't have bad luck she wouldn't have any luck at all. On coming to sing the blues once a week, she said, "I live for this." It was a touching moment.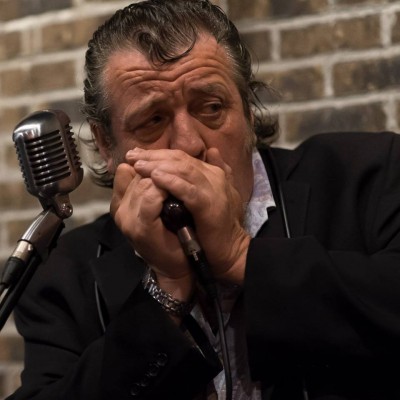 In this part of the world, for some people, Gallie says, "The conditions are almost the same, the context is different: 'I'm working for less than a living wage, I may have an issue with drugs, my marriage broke up, I can't support my kids,' and that's a class thing. Blues is a working class music."
There is no shortage of the blues in Edmonton. There are two dedicated blues venues: Blues on Whyte for the last 40 years, and the new West End contender Big Al's House of Blues, plus a number of smaller venues and regular blues jams. Blues fans also gather annually to get some air at the Edmonton Blues Festival in Hawrelak Park, where programmer Cam Hayden usually puts together a world-class line up. One year it was all white headliners, but still. Edmonton has a healthy blues scene. The Juno-nominated, Maple Blues Award winner Harpdog Brown (above) developed his thing in Edmonton, and though he calls Vancouver home now – like so many former Edmonton artists – he still holds a place in his heart for the town he calls "The Big Onion." He's genuinely delighted we have a Blues Hall of Fame now.
"I am proud to see Edmonton standing tall and celebrating their contribution to the Canadian blues scene. I think it's way overdue," he posted from on the road, where he usually is. "Being raised in Edmonton, I had the privilege to be exposed to some true blues artists in my early years. I've boasted to many about my home town always being in the forefront of all arts in Alberta, let alone the blues. To honor their own is something I have seen in other cities, and now happily in Edmonton."
Harpdog is "on the short list," Gallie says, to be a future Edmonton Blues Hall of Famer. The possibility that there is a long list is a good sign there will be a lot more.