MUSIC PREVIEW: Ed Sheeran sheer brilliance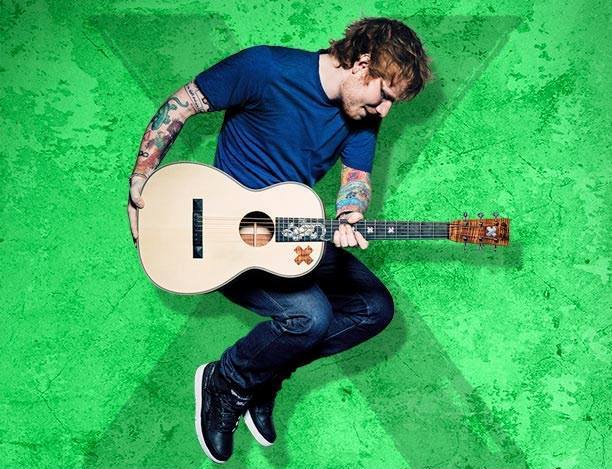 Is there anyone hotter in the music world right now than Ed Sheeran? That's a rhetorical question. You don't need to answer: Of course he is.
No surprise. Sheeran has a knack for attracting all manner of fans with all manner of musical genres. He's definitely got the pop melodies down pat. His love of the acoustic guitar gives him a singer-songwriter feel, and yet he plays it with such reckless abandon and sheer mayhem that he also gives off a rock 'n' roll vibe. He experiments with hip hop, rap and electronic music. Add in some brilliant, heartfelt, soul-pouring songwriting, and well, you've sort of got a can't miss No. 1 draft pick, don't you?
The British pop-folk superstar plays a show this Sunday at Rexall Place, in the midst of a Canadian tour that includes 10 dates across our country. Just 24 years old, Sheeran first broke through in Britain in 2011 on the back of an EP called No. 5 Collaborations Project, followed by his breath-taking full-length debut "+", featuring the singles The A Team and Lego House. The same year he won two Brit Awards.
His sophomore album, "x", featured more of the same lush pop sensations, reaching No. 1 one in pretty much in every country in the world, including here in Canada, along with three top-10 singles Sing, Don't, and Thinking Out Loud. He's also written a song for One Direction, done a duet with Taylor Swift, and, well, let's face it, he has his pick of collaborators on a go-forward basis. Pretty damned good for a self-described "very, very weird child", hey?
With the opening act Rixton – fellow Brits – a few tickets remain for the 7:30 pm show, $80 or $90 and on sale at Ticketmaster.
Thursday 11
Shania Twain – Speaking of musicians at the top of the food chain, this legendary Canadian artist ruled the roost for a lengthy period of time across the country, perhaps even the continent. And, like Sheeran, Shania had a knack for meshing genres. The country-pop legend is heading out on tour for the first time in 11 years – her farewell-and-comeback tour in one – and the Edmonton stop is one of the first, with the inaugural show just six days prior in Seattle. She's also planning on releasing a new album sometime later this year, so one should probably expect some new material. But even if not, she's certainly got a plethora of hits to choose from within her discography, from her first No. 1 on the Canadian country charts, 1995's Whose Bed Have Your Boots Been Under, to You're Still the One, to Man! I Feel Like a Woman, to her last top 10 hit, 2005's Don't! Rexall Place, Thursday and Friday shows both at 7:30 pm. $71.75 and up.
Craig Cardiff – This Ontario singer-songwriter has released more than 15 albums since 1997, and was nominated for a Juno in 2012. 2013's Love Is Louder (Than All This Noise) Part 1 & 2 was the first time Cardiff recorded an album with a full band. Ever the experimenter, one of his albums – Mistletoe (Kissing Songs) was recorded entirely on an iPod. Ken Stead opens. Mercury Room, 7 pm, $20.
Friday 12
Veil Of Maya – This Chicago deathcore band was founded in 2004 by Marc Okubo (guitars) and Sam Applebaum (drums). Other members of the band come and go (their current vocalist is Lukas Magyar from Arms Of Empire), but the striking monolithic nature of their music is extraordinarily hard to be bested. The band is currently touring to promote their May release, Matriarch. Pawnshop Live, 6:30 pm, $25.
Sebastian Bach – The once-frontman for the heavy rocking Skid Row during their heyday in the late 1980s and well into the 1990s, Bach has three solo albums to his name, including his most recent, 2014's Give 'Em Hell. He's also been seen on television a lot over the years too, of course, what with various reality shows, and his stint on Gilmore Girls as lead guitarist for the show's fictional band "Hep Alien". Century Casino, 8 pm, $60.20.
Sunday 14
Edmonton Music Awards – This annual affair, in its fifth year, celebrates the best of the best of the city's music scene. Bridget Ryan hosts the gathering, which will feature performances by Ann Vriend, the Dungarees, Ego the Jackal, Joe Nolan, Marystown, Mitchell Lawler, and Royal Tusk. Royal Alberta Museum, 6 pm, SOLD OUT.