Pallbearer brings light to doom at Farmageddon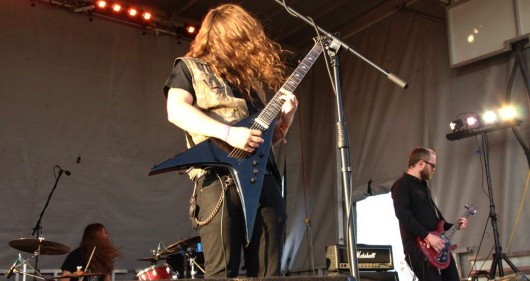 A strange thing happened at the Farmageddon heavy metal festival on Sunday afternoon, during a set by the black metal band Xul: The sun came out.
This put an end to the pall of heavy rain clouds that had set a stormy pastoral scene on the farmer's field near Ryley, Alberta, hosting metal acts from BC to the UK and drawing nearly 500 campers for the third year of the Western Canada's largest open air metal festival.
While the final day was slow to start, the solid foundation of metal that had built throughout the weekend managed to fill the air in a place not normally witness to anything louder than the distant train whistle. The expansive farmer's field is a different backdrop for the doom-laden riffs of Pallbearer and high pitched screams of Xul. And though bands slept in rain puddles and drenched tents throughout the weekend, by the time Pallbearer took the stage, the setting sun provided a rare and dreamy scene for one of doom's most popular acts.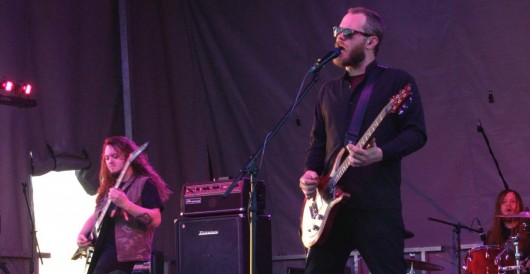 The clash of images couldn't have been more striking throughout the weekend. Leather, spiked metal and jean jackets crowded around the small stage, a red farmhouse in the distance. The line up was just as striking: The technical death metal of Archspire played before the progressive black metal of Noire on Saturday. And Sunday saw Calgary's groove metal False Flag in a line up with more traditional metal of Gatekeeper and the death metal founders Aggression. Metal fans of every genre, despite sleeping, eating, standing, and moshing in the rain, were just as pumped on Sunday to stay through the day to catch UK's Grim Reaper.
"It ended up being beautiful and perfect," says Pallbearer's vocalist Brett Campbell during a short interview. "This sort of thing is very different for us being out here in this beautiful field."
Pallbearer is on a world tour celebrating its popular 2014 album, Foundations of Burden. Caught without a bass player, whose border issues prevented his joining, the three members managed to fill out the heavy doom sound found on Foundations of Burden and their first album, Sorrow and Extinction. Campbell's soaring vocals on The Ghost I Used to Be complimented the retreating clouds and purple pink stretching across the sky. Ending on the intricacy of 2012's Foreigner provided the perfect soundtrack to a swaying crowd under a setting sun.
While Farmaggedon has focused on local and Canadian acts in the past, for the festival's third year the line-up was rounded out with more acts from the US and UK. Founders of their genre such as death metal's Aggression, from Detroit, and Grim Reaper, which hasn't played this far west, roused fans from the potential damage of the rainy weekend.
"You get to hang out and have a beer with bands," says Stephanie Bell, a board member with Farmageddon who brings her two daughters to camp out the weekend and meet some of her favourite bands. "It's an intimacy you can't get anywhere else."
For a genre that enjoys dividing itself into subcategories, it's quite a sight to witness fans come together to watch progressive black metal as intently as classic new wave.
"There's a little more freedom and you can breathe a bit more." says Russ Gauthier from Calgary's False Flag.
Fans were even able to shake hands with the members of Pallbearer, who could seen thrashing along to Grim Reaper at the end of the night. With such a small stage set up, there was no traditional "backstage" and fans could witness the guitarist from Aggression chat with death metal's Incantation – two leaders in their genres.
Bell, also a member of Edmonton band Kryosphere, hints that next year's headliner will have metal fans excited.
"It's going to do nothing but grow," says Bell.