MUSIC PREVIEW: Festival upon festival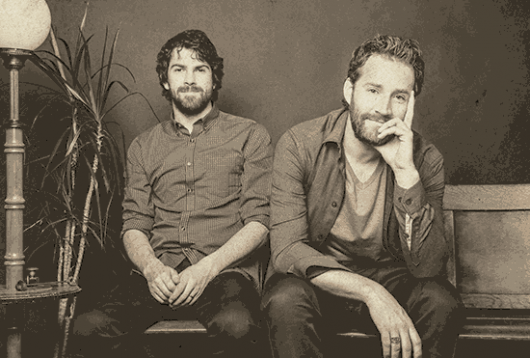 Yellowknife and Edmonton share a kinship of mutual insanity that develops every summer – because we're all desperate to get as much fun out of it as possible. They even have midnight sun festival called "Raven Madness Days."
We can relate. Doesn't get dark much around here, either, and this solstice weekend is when festivals start to blur together. Literally.
A short way off down South is the Beaumont Blues and Roots Festival, with The Harpoonist and the Axe Murderer (pictured) – one of the hippest neo-blues bands in Canada – on Friday night, country rock with Doc Walker on Saturday and the eccentric and brilliant Hawksley Workman on Sunday. Not your daddy's blues fest, eh?
Starting Friday is the 10-day Edmonton International Jazz Festival, featuring the world's greatest back-up singer Lisa Fischer (June 22, Winspear) and avant-garde atonalists The Bad Plus with Joshua Redman (June 26, Winspear); plus an incredible line-up of talent both international and local on seven different stages. Daily jazz in Churchill Square is free – in cost if not form.
Meanwhile, the cool kids have left town for the annual North Country Fair – by far the coolest, most easygoing, most douchebag-free outdoor music festival IN THE WORLD. It feels like you're on top of the world on the shores of Lesser Slave Lake where it will only get really dark for an hour, tops, to the tune of a more or less continuous bill of excellent and eclectic live music. Among the dozens of hand-selected performers this year are Fred Penner, Geoff Berner, Romi Mayes, Big Rude Jake, and Edmonton's own Old Reliable. While there may be monoculture of political viewpoint – NDP voters, let's say – all genres of music are represented. Read more about this year's North Country Fair HERE.
There are too many other festivals and community events happening this weekend to list. But if you're suffering from Festival Overload, sometimes it's good to get away and just see a regular old gig. Or irregular, whatever. We don't judge.
Thursday 18
Charlie Major – Long before bros came honest, wholesome and defiantly hatless Canadian country stars like this triple Juno winner who made a big splash in the mid-1990s. Between fatherhood, Nashville dreams, Canadian settling-down and such, the 60-year-old singer continues to record and tour, his latest from 2011, On the Evening Side (a nod to his first and most successful record, The Other Side, in 1993). Expect deeper, more singer-songwriterly fare when he performs at the Draft Bar and Grill. Show at 7 pm, $30, BUY
Friday 19
Deerhoof – These guys make Primus look like Def Leppard. Just really weird is the general idea here – wonderfully weird, combining punk rock, noise, jazz, electronics and what sounds like alien beat poetry into a feel-good riff-n-groove fest that'll blow your mind. Actual results may vary. Active since 1994, they tour upon their latest record, La Isla Bonita. Starlite Room, with openers Gary Debussy, Faith Healer and Service:Fair, doors at 8 pm, $20, BUY
Monkeyjunk – The new Canadian bloozers on the block are blazing a mighty trail of broken hearts and broken beer bottles – metaphorically speaking – and collecting awards in their wake, including a Juno in 2012, with their raucous, swampy brand of blues-rock, as can be heard on their three studio albums. Just three. Just babies they are. Big Al's House of Blues, show at 9 pm, $30, BUY
Saturday 20
Fall City Fall – This young metal band from Calgary is getting a lot of attention with its brutal, throat-ripping, shredding-guitar, double-kick-you-in-the-head, post-apocalyptic sound. Two screamy vocalists assure a non-stop barrage of ARRRRGH to go with the DOOM. Lots of fun for the kids for this matinee show at the Pawnshop. Opening for hardcore's Slumlord, also with Protosequence and Break Beat, 4:30 pm, $10, BUY
Senseless Live – With live singing and tracked grooves, this local electronic music duo of John Glassey and Kim Sykes is described as "deep house" in one of the many minutiae of EDM music subgenres. Could also call it "chill" because it is. They release their new recording, The Ricochet EP, with a show at the Mercury Room. With opening DJs, 7 pm, $15, BUY
Sunday 21
Pigeon Breeders – When the mice are away, as they say … and there seems to be a current of eccentricity lurking in some of the club shows this weekend. Bohemia, a club that's no stranger to such goings on, and the Pigeon Breeders, a local "noise" act, are expected to bring experimentation to its zenith on this night. With prOphesy sun, Bong Sample and violin duo The Olm. 'Tis the jazz fest weekend, after all. 8 pm, $7 at the door.
Gaythiest – They say you shouldn't judge a book by its cover. Judging a band by its name is another matter. Whether they are in fact gay atheists doesn't matter. It's clear this hardcore punk rock trio from Oregon aims to shock squares and delight its fans. In short: punk. At Brixx. Doors at 8 pm, $10 advance, BUY
Monday 22
Steven Wilson – Why are the smart ones always so glum? It's a question for the sages, and maybe for this brooding British singer-songwriter-producer. Kind of a modern day Brian Eno, and founder of the band Porcupine Tree, his ethereal, haunting and did we say smart music is spookier than the most deathly of the death metal bands. Expecting intimate magic at the Myer Horowitz Theatre. Doors at 6 pm, $35 and up, BUY
Goatwhore – Back to that judging-by-name thing, how can you go wrong with a band called Goatwhore? If you can, you're in the wrong place. More hardcore punk-metal goodness of the highest order is on tap at the Pawnshop, from this New Orleans group that's been hammering its dark muse for almost 20 years. With Black Breath, Ringworm and Theories, 7 pm, $20, BUY