REVIEW: Steven Wilson far beyond prog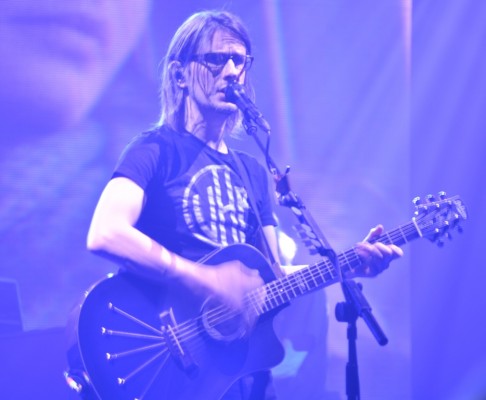 Steven Wilson represents something quite rare in today's music industry: An artist who's remarkably creative and actually writes interesting material – in case you thought they were all dead by now.
More than 700 prog rock fans sold out the Myer Horowitz Theatre Monday night to see their hero perform his first-ever gig in Edmonton. The London, UK artist, 20 years in the business, will soon be back in Europe for festival season.
Wilson's music is primarily mood-driven with melodies, generally brief repetitive keyboard lines of several bars, weaving in and out of the songs. What's different about his compositional style is that his melodies serve his song, not the other way around, as occurs with more conventional artists concerned with "hooks." These parts form pieces of a much greater, much more satisfying whole.
Wilson and his band may be labelled "progressive rock," but apart from having a keyboard-heavy sound, their style goes beyond the borders of labels.
Apart from a handful of solos, guitarist Dave Kilminster's role was supportive, to add to the soundscape, as if to augment the object being sculpted. No pointless widdly widdlying or lame rock posturing, Wilson's band needed no ostentation. Proof enough of this was bassist Nick Beggs playing the Chapman Stick, the many-stringed bass-guitar combo made famous by Tony Levin of King Crimson. And while keyboardist Adam Holzman may not have looked or acted like Rick Wakeman from the prog originators of Yes, he was the standout musician of the evening. His solo during a song called Regret #9 was a highlight.
Wilson mostly played his new album, Hand. Cannot. Erase in order, minus a few throw-ins from his storied musical past. He stole away about three minutes for a run-through of Lazarus by his pre-solo band Porcupine Tree, which ran in contrast to the rest of the evening's moody and dissonant dirges. The song was structured around a simple, pretty piano line, not unlike No One Can by fellow British progsters Marillion.
For practically any band not named Slayer, having so few songs major key songs would generally cause fans to run for the exits. Not with Wilson. Why? It's because his compositions are so interesting and intelligently constructed. Upstairs there's a pretty astute, albeit morbid mind up there. The darkness of much of Wilson's material is evinced in the origin for the idea behind Hand. Cannot. Erase, which is based on the case of Joyce Vincent, a British woman whose skeleton was found watching TV. Her body sat for two years before being discovered.
The theme also took form in the song Index, with Wilson's angst-driven vocals telling the tale of someone who takes the hobby of collecting way too seriously, and he was more than convincing in the role. The Watchmaker weaves a story of someone's clinical, detached, and way too mechanical view of the world. Perhaps it's God who's speaking? Or a neurotic, controlling spouse? This morose lyrical material was fanned into a controlled psychotic flame by Wilson and his band.
In a betwixt-song monologue Wilson admitted his own confusion with the difficult to define "prog" label. It's evident that while his music takes on the style of acts like Van der Graaf Generator, King Crimson, and some of Emerson Lake and Palmer's less naff material, Wilson is much more than some old bands rehashed. He took time to identify his other influences – specifically '80s Britpop and '90s "shoegazer" grunge. Trying to distance himself from the uncool crowd? Perhaps, but judging by present material, Wilson seems incapable of writing a bad song, whatever style he's performing. For some prog fiends, saying you like Joy Division might be akin to admitting you like New Kids on the Block, but as in the shoegazer era-dedicated song Harmony Korine, he finds a way to make it work. Wilson is gifted artist in all genres he works in.
Rolling Stone magazine, not usually the best judge of quality material, has taken notice, listing Hand. Cannot. Erase. in the top 15 albums of 2015 so far. If he wasn't noticed before on these shores, that has to change now.
Wilson ended the evening with another elegant dirge called The Raven That Refused to Sing, a 10-plus minute piece that was just as captivating as any other of the many highlights – a capper on a solid evening of astutely composed, competently performed, highly engaging rock 'n' roll the likes of which we may not see again.
He promised, "I'll be back, Edmonton." While it may have been polite stage speak, let's hope for the sake of all that is right in the world of music that he follows through.