MUSIC PREVIEW: Swervedriver returns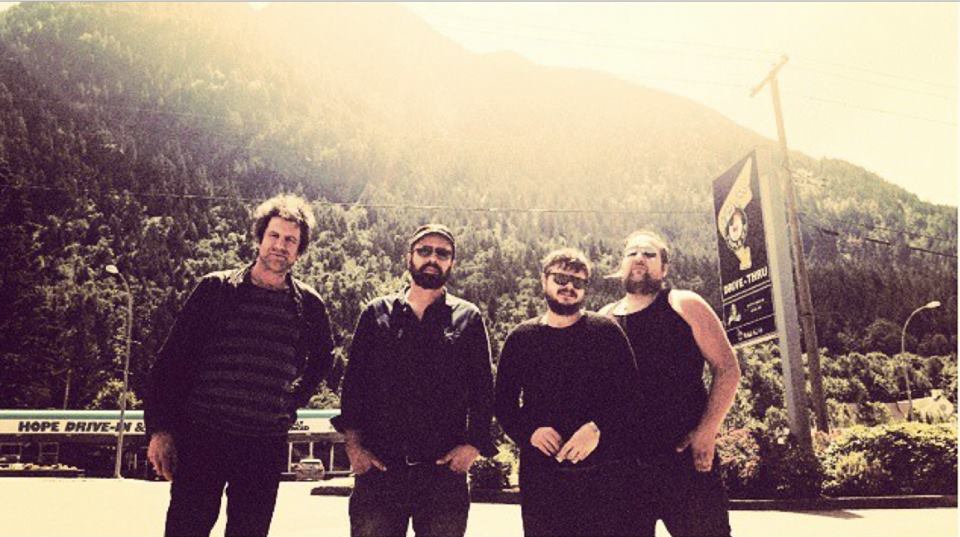 Swervedriver puts the shoe in shoegaze – or maybe it's the gaze.
Either way, this British band formed in 1990 by Adam Franklin and Jimmy Hartridge was considered to be in the vanguard of the anti-grunge genre's quick spark and peak, with their first full-length Raise being released in 1991, followed by a 1993 sophomore Mezcal Head, that set the tone for shoegaze to come. The reunited band plays the Starlite Room Thursday night.
Quickly evolving their sound to encompass heavier influences as well as psychedelia, their third album found them with a new bassist (Steve George, who remains in the reunited band). Their fourth full-length 99th Dream came out in 1998 before a lengthy hiatus. Very lengthy. Since reforming 10 years later, the band has released their fifth album, I Wasn't Born To Lose You, that introduces the band's fifth drummer, Mikey Jones. Reviews for the new album have been positive, although not overwhelmingly so. Even then, I mean, come on, new Swervedriver! And they're touring!
Opening up for the occasion is Saskatoon's Slow Down Molasses, one of that province's most incredible musical acts currently active. An astounding indie rock band, in fact, with a raucous party attitude, and a subtle folk sensitivity, the band has been putting out records since 2007, and their 2015 release Burnt Black Cars was produced by Jace Lasek of Besnard Lakes. It's actually shaping up to be a career-changing week for the Saskatchewan natives, opening up for Swervedriver both here as well as in Calgary on Wednesday, and then they're back in Saskatoon Friday playing with Viet Cong and the New Pornographers at the Saskatchewan Jazz Festival.
Tickets to Thursday's Swervedriver show, meanwhile, are $20 in advance, on sale here.
Thursday 25
Courtneys – Beautiful, timeless fuzz pop is the order of the day for the for this band, with Courtney Loove's dreamy guitar riffs (yes, that's what she calls herself), Sydney Koke's hypnotic basslines, and an unusual lead vocalist-drummer combination in Jen Twynn Payne. Brixx Bar & Grill, show at 9 pm, $10.
Wooden Sky – This Toronto noise-folk project is no stranger to our city. They have a pretty robust following, so expect a raucous crowd that to turn up for a display of incredible musicianship and gorgeous sounds that have just the right amount of fuzz built in. The band is touring to support their most recent full-length, last year's Let's Be Ready. Nature Of opens. Mercury Room, 7 pm, $17.
Friday 26
The Bad Plus Joshua Redman – One of the headliner shows for the Edmonton International Jazz Festival, this project finds the Minneapolis avant-garde trio The Bad Plus, comprised of pianist Ethan Iverson, bassist Reid Anderson, and drummer Dave King, joining forces with a longtime collaborator of theirs, and a favourite tenorman of Edmonton jazz fans, Joshua Redman. They now tour together, and just recently released a debut album. Kneebody opens. Winspear Centre, 7:30 pm, $51.85 and up.
Bry Webb – This singer-songwriter is probably best known as being a vocalist/guitarist with The Constantines from 1999 to 2010. He then stepped away from the project to focus on family, had a son a short time later, and has since been focusing on more subtle and folkier material, with two solo albums now to his name, 2011's Provider and 2014's Free Will. With Cayley Thomas. South Side Memorial Chapel, 8 pm, $13.
Troyboi – Another artist here in the province because of Sled Island, this London musician/producer breathlessly combines European club music with American hip hop. Starlite Room, 9 pm, $20.
Saturday 27
Bad Religion – One of the gigs salvaged from the cancellation of the Tail Creek Festival which was supposed to have happened this weekend, this punk rock act began in Los Angeles all the way back in 1980. It wasn't until the early 1990's, though, that they began to find mainstream success, thanks to the 1993 release Recipe For Hate, with both American Jesus and Struck a Nerve becoming major hits. The band has continued to put out albums since then, with their most recent being 2013's True North. Three of the band's original members remain, with vocalist Greg Graffin, guitarist Brett Gurewitz, and bassist Jay Bentley. Gob and Plague Vendor open. Union Hall, 8 pm, $39.50 and up.
Sunday 28
Teethmarks – This thrash rock act from Toronto headlines a bill that also features Vancouver's M16 and Brass. DV8, 8pm.
Juan Waters – This New York singer-songwriter has been receiving a lot of ink recently in the music press, for good reason. The Uruguay-born artist moved to America as a teenager, and his music now reflects an intriguing blend of folk, New York rock, and world sensibility. Wunderbar, 9 pm.
Monday 29
Crosss – This noisy grunge metal project from Toronto-via-Halifax is appearing at Sled Island Saturday night, and then makes the journey up to our fair city for a gig Monday before continuing on to British Columbia. Denver's no-wave act Homebody, and Edmonton's own OJ Pimpson are also on the bill. Wunderbar, 9 pm, $10.