Jom Comyn coming along with new cassette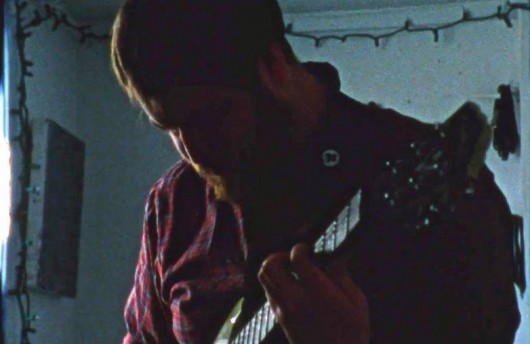 Jom Comyn must've played everywhere last summer.
People in this city couldn't get enough of his new album, In the Dark on 99 (All the Time, All the Time) – solitary, ambient and so perfectly Edmonton. Creator Jim Cuming worked so hard that he decided it was time to take a break, start saying no, and regroup for a while.
"At the end of last year, I had the big record and big release and I was thinking 'how professional am I going to make this and what do I want out of it,' so it was good to leave it for a while," says Cuming.
Nearly eight months later he returns with the EP Black Pits. Actually written before In the Dark on 99, the atmosphere of Edmonton's quiet nights remains, but early tracks on the six song EP bring a grungier feel. Cuming also experiments with his usually baritone vocals on the track Life Long. Recorded and mixed by different producers, the six songs hold similar thematic elements to his more well-known work and come across in Cuming's simply poetic lyrics. And as always his powerfully melodic baritone won't let you go.
"Most of this EP is just little diddies for fun, so they weren't ones that I thought I really needed to put in my regular rotation," says Cuming.
The release of Black Pits at Wunderbar this Thursday is set up to incorporate those two edges to Cuming's music, a set for the grungy rock sound and a set of prettier, more melodic sounds. He's taken more laid back approach to releasing Black Pits. Cuming didn't feel the pressure of the album's success, but the time off between releases and playing helped to remind him of the importance of putting out music just for himself.
"It was mostly just a small EP for me. I wasn't going to make it a big release," says Cuming.
Appropriate to the smaller affair, Cuming decided to release Black Pits on tape. The more affordable recording option makes sense for the prolific singer-songwriter, who still has material he's written a year ago he'd like to release. He also says he just prefers the sound of the tape.
"The first album I ever bought was on a tape," says Cuming. "I'm nostalgic for that certain quality of tape because it's the first time I listened to music."
Black Pits is being put out by Calgary's Bart Records, the project of musician Kevin Stebner, whom Vice has called "Canada's hardest working musician."
"He was doing cassettes before everyone was writing articles about the return of cassettes." says Cuming. "He agreed to do it before he heard the EP so I hope he likes it."
Cuming's two sets will be paired with Mauno, a project by Nick Everett from Halifax.