SNFU: And everyone wanted to play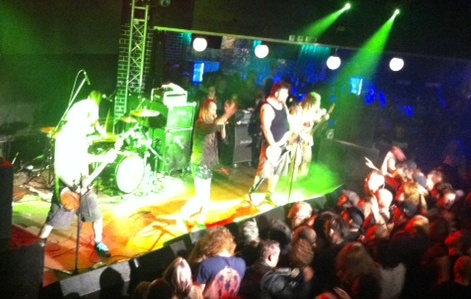 We now have to call SNFU "The Band That Would Not Die."
So put your devil horns up, or extend your middle fingers in the universal punk rock language of "live long and prosper," and let us salute these aging heroes of hardcore. Their stamina and persistence is inspiring – especially lead singer Chi Pig, aka Ken Chinn, the only remaining original member of these seminal Edmonton punk rock legends. He was ironically the most frail-looking person at SNFU's show at Union Hall late Saturday night. If there's something sad about this, it was lost in the sheer joy of delighted punk rock fans bashing around to Chi's every word.
Gone were the outrageous antics of yore, the stage-diving, the wild gyrations that sometimes resulted in injury. As Henry Rollins of Black Flag (which SNFU once opened for) said, "Performance and art, in my opinion, should leave a mark on the performer. It should cost. In order for the work to be good, you have to bleed some."
Chi has bled plenty in a long and stormy career. During Saturday's show, at times the skeleton-thin 52-year-old singer seemed to tire, leaning on the monitor for support. But while his body might be weary, his voice, his wit, and his spirit were strong. Resplendent in a sequined skirt, Chi remained the charismatic source of a maelstrom of furious speed-metal that turned the dance floor into a non-stop mosh-pit filled with punks of all stripes, spikes and ages, slam dancing the crap out of each other with delirious abandon. One crowd-surfing girl fell beneath the dangerously careening punks at one point, only to be immediately rescued, unharmed, and borne to safety by groping hands. For all their apparent ferocity, this was a loving crowd, and one that proved the love for SNFU runs very deep around these parts.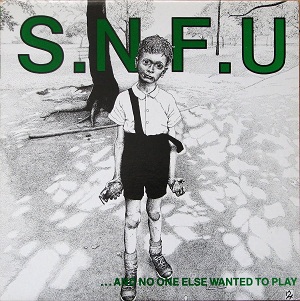 The occasion of the hometown gig was the 30th anniversary of SNFU's 1985 debut album, And No One Else Wanted to Play, played in its entirety – all 29 minutes of it. They added a few extras, like an a cappella butchery of Don't Worry, Be Happy – "I hate that fucking song," said Chi afterwards – to make an hour-plus set, with encores.
In addition to killer opening acts like the Raygun Cowboys and their glorious smash-up of punk and rockabilly, there was a sturdy band to back up Chi Pig (who now lives in Vancouver), including Dave Bacon on bass (who was on the second SNFU album), guitarists Randy Steffes and "Dirty" Kurt Robertson, and the hard-hitting drummer Jamie Oliver from the UK Subs. Nothing frail about their performances. The songs from the 1985 album, including such hardcore gems as She's Not On the Menu and Cannibal Café, along with telling tales like Seein' Life from the Bottom of a Bottle, and Loser at Life/Loser at Death, came to furious life: short, sweet, angry and very, very loud. Chi didn't miss a note. Close your eyes and you could've been in 1985, at least with 20-20 hindsight.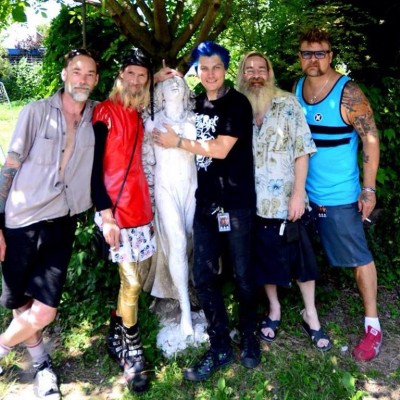 From among the many former SNFU members, current whereabouts of most unknown, original bassist Jimmy Schmitz, aka 'Roid,' sat in for one tune before exchanging a warm hug with his former singer. Touching moment.
Edmonton's prodigal punk son was visibly moved by the tide of devotion. In between the usual punk rock expletives, middle finger salutes, not to mention his own self-introduction: "And you got a toothless Chinese faggot sucking on a beer!", he got real. "It's so great to be here. Thanks for coming out," he said – words you don't expect to come out of his mouth – adding for effect, "It's my fucking hometown, motherfuckers!" That's more like it!
Even given the apparent poor health of the frontman, there's no reason to imagine SNFU won't be back in the old hometown once again. They did have eight studio albums, after all, and maybe more to come. The Band That Would Not Die is going strong.