Edmonton's finest at Interstellar Rodeo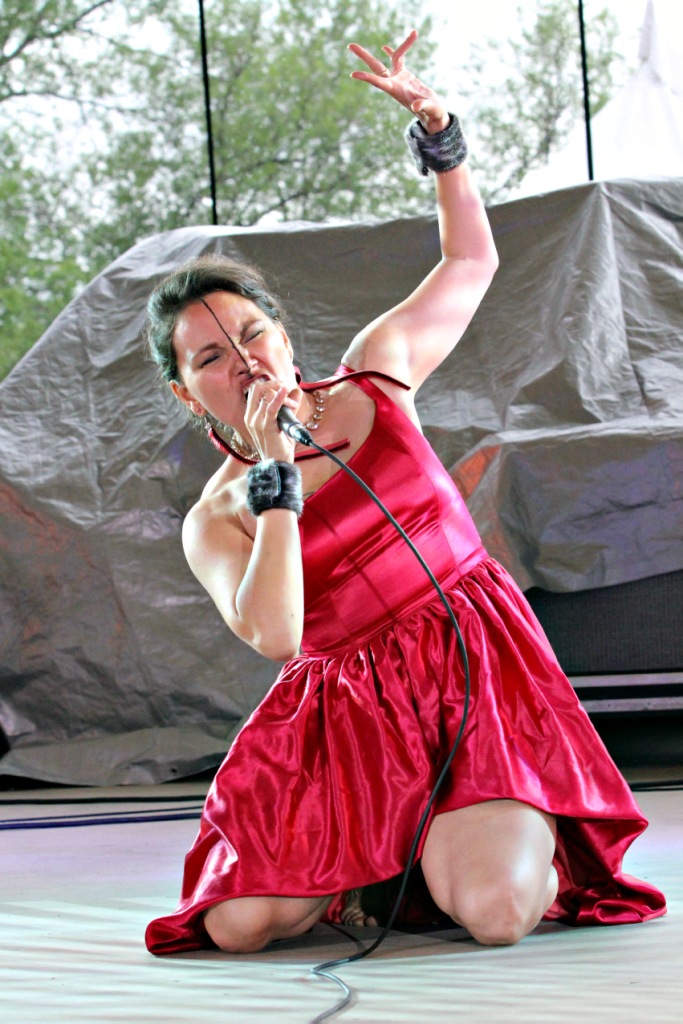 Many festivals have come and gone: Boonstock, Open Sky, Rockfest, Jeff's Magical Festival Of Smells (that last one never existed). They either dragged on too long, or were stretched too thin when it came to the quality of artistic content. Sometimes both.
Interstellar Rodeo does neither.
Even when it comes to the visual artists displaying their work while cool bands play all weekend in Hawrelak Park, there seems to be some thought behind it, not just someone selling half-assed -landscapes. Maria Pace Winters jumps to the forefront. Texturally rich, her paintings are full of ripe colours and her work does Edmonton proud. There is also artisanal work, with the first coming to mind being the artist "Smithstine," or as the cool kids call her, Kristine MacDonald. Her copper jewelry and accessories are functionally and fundamentally Edmonton because they are fashioned as such. From an outline of the North Saskatchewan River to the city's skyline, she makes art out of the city.
The food was local as well. Food trucks, cheese cake carts, fruit stands – all from the Winter City.
What is the point of mentioning all this? It's because so many festivals are "Edmonton" yet not in any way "Edmontonian," just generalized monotony sold to the highest bidder, just another booth with another person who bought power crystals from a website. Nothing local about that.
At Interstellar, it's inspiring to see Edmontonians represented this way. Not even the rain could ruin this feeling, oh, and the rain did try.
Musically, Interstellar Rodeo showcased some of Edmonton's finest. From the Wet Secrets to Colleen Brown to Joe Nolan to Mike McDonald, Edmonton was visibly relevant and fit right in amongst the headliners. For an international festival, Interstellar does the local crew good.
With St. Vincent closing on Friday and soul singer Charles Bradley scheduled to close Sunday night, Saturday favourites included NQ Arbuckle and Father John Misty, but there were some big surprises. I'm pretty sure I lost my mind virginity to throat-singer Tanya Tagaq (above). Never in my thousands of years on this planet have I ever seen anything that encompasses her multifarious levels of artistic expression and nuance. Who knew that throat singing could be so mesmerizing? Her (completely improvised) performance still lingers.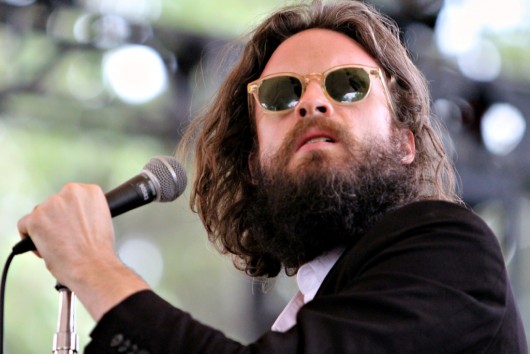 Saturday's closer Father John Misty (left) did not let down, either – mostly because of the polarizing effect he had on people. One young lady said if plays here next year, "I will bring a megaphone to yell at him to not be such a dick." Others loved him – and his gimmick. His rock idol moves, his penchant for curtness, his bass drum stand in the first song, all these elements are a part of his gimmick. Father John Misty, who is not ordained, is masking the bareness of his sincerity in aggressiveness and comedy. He sure rocked out with a cocksure attitude.
The only weirdness was the port-o-potties. They seemed to be on a precarious perch with a discombobulating backwards lean. In short, it made for an exciting pee.
Thumbs up to Six Shooter Records to throwing a great party that just wasn't about them, but showed how good their taste was – particularly in the arts and artists of Edmonton.