INTERVIEW: Shakey Graves on Shakey Graves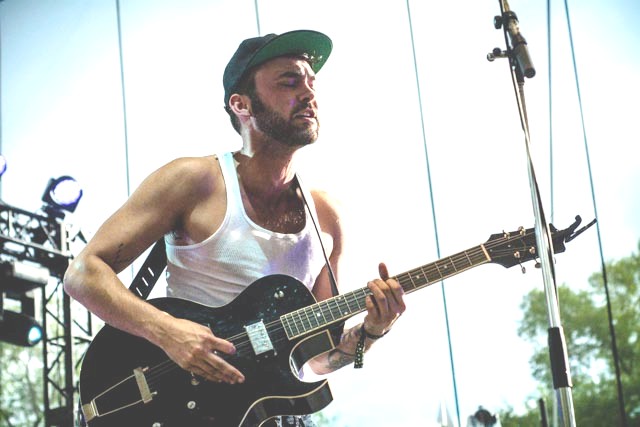 Bullets of sweat drip down his face, soaking his classic white wife-beater shirt, and onto the stage. In his fist he clutches his gleaming sunburst guitar, as he leads the crowd in a rousing chant, "Yeah, you should've been a better friend of mine!"
That's Shakey Graves – aka 28-year-old Alejandro Rose-Garcia – during a stimulating Interstellar Rodeo set last Friday in Hawrelak Park. The song was called Pansy Waltz, a song, an actual waltz, about not having the courage to get out there and do what you want to do. A lot of people can relate.
The Texas-born musician has gained quite a following with material like this. Shakey Graves has played just about every major North American music festival except Coachella. In a departure from his usual one-man-band setting, where he plays a suitcase drum kit with his feet (which he had to create out of monetary necessity), he now features a drummer and bassist for his more electric/rock-oriented songs.
During a post show interview, Rose-Garcia says playing with other musicians is liberating.
"Being in a band now gives me the freedom to move around and freak out for part of the show," he says – and freak out he did, making every guitar face in the book while swinging his guitar in pure emotion during some his improvised guitar riffs.
His newest LP And the War Came, released October of last year, is definitely more of a bluesy-rock album at its core than his previous full-length album, Roll the Bones, recorded lo-fi and solo. Rose-Garcia's musical taste is across the board, ranging from loud aggressive noise rock to hokey acoustic pop music.
"I love a ton of different genres of music, so my stuff will always be evolving," he says. "I'd really like to be in cheesy synth-pop band," he laughs, then quickly turns serious.
He does admit that his genre switch with his new album did have some negative responses. "People have told me 'man this is not the Shakey I want, this is not my jam.' People are very opinionated about the jams. They take it very personally," he chuckles. "In the end I know that some people would never have discovered me and my music without the newer sound."
As he walks off stage from the screaming crowd, he immediately begins packing up his musical belongings and patching up his red makeshift suitcase drum's battle scars with man's best friend – duct tape.
Back in hometown Austin, Texas, Shakey Graves actually had a day dedicated to his music. He uses the day to release rare-recordings of his music from his vast repertoire of close to 300 songs. "I'm always compulsively recording stuff and making demos and I like to revisit it from time to time," he says, though he admits he has to re-learn a lot of them for the stage.
It should come as no surprise that Rose-Garcia has an acting background, and that he's come to think of his Shakey Graves stage persona (a nickname he picked up at a festival in 2007) as a different character, though they are a lot alike. "I'm fine being Shakey and I can act differently as him, and if I wanted to make a Shakey Graves costume, I would know what that looks like."
Some of his bigger acting roles include 2003's Spy Kids 3-D: Game Over and last year's newest Sin City: A Dame to Kill for.
"It's funny," he says, "all this acting stuff and doing countless auditions actually gave me time to sit down and write my music after I was just stranded with lack of artistic output. So that's what I did, I just funneled it all into the music."
He has no plans to slow down. While he is a humble man, Rose-Garcia had no doubt in his mind that he would become as well followed as he is now.
"I think it's important to believe that the music you're writing is the best in the world," he says. "I would say that my next plan is to make the best album I have ever created and ride that."