MUSIC PREVIEW: METZ next bezt betz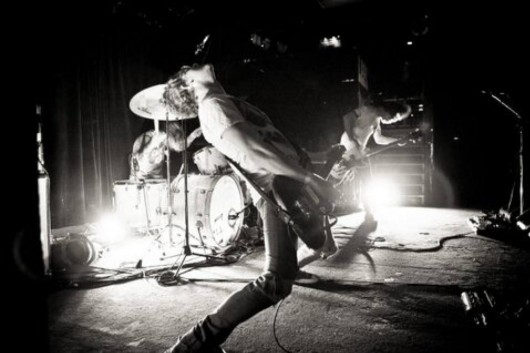 After a bowlful of festival-related gigs last weekend, this weekend turns back to the great indoors – including one of Canada's biggest buzz bands of the past few years, METZ.
The Toronto noise rock-punk band is touring to support their sophomore release from May, Metz II, as they embark on a whirlwind tour of Canada and the Western States after concluding a spring tour of the other side of the continent (they're also doing a whole mess of European dates in the fall). Actually, whenever METZ is involved, it's less of a whirlwind and more of a cataclysmic F5 hurricane. If they could, they'd probably crank every knob on every amp and every pedal and every guitar past the breaking point, and then snap them off so nobody could change them.
Recorded in various facilities throughout Ontario and produced by Graham Walsh (Viet Cong, Great Lake Swimmers), the new album gives the Sub Pop-signed trio that much more of a catalog to destroy your very essence with their sonic vibrations. The opening single Acetate has made mincemeat of many a speaker, with its towering guitars, crazed feedback, and frenetic drum beats.
You've been warned. The band plays the Starlite Room on Saturday, along with Big Ups and Dilly Dally. Doors 8 pm, $15, BUY
Thursday 30
Pigeon Park – These Vancouver alt-rockers are supporting their newest five-track EP called Stripes. The band, formed in 2008, recorded this release with famed producer Garth Richardson (Red Hot Chili Peppers, Rage Against the Machine). Gibson Block, Hungryhollow, and Van Funk are also on the bill. Mercury Room, 7 pm, $12. BUY
Saturday August 1
Friend Of Foes – You can see this Saskatoon indie rock project twice today, once from 4-6 pm at Black Dog's Hair Of the Dog showcase (admission free), and then again at night headlining our beloved Wunderbar (8 pm, $10). Saskatoon seems to have a gift for churning out great guitar-based rock bands with sensuous vocals and emotional outpourings, don't they?
Sunday 2
VERA – This local indie-pop act was formed around five extraordinarily talented musicians. Their sound continues to evolve as the artists continue their journeys, though much of their sound feels like an effortlessly comfortable couch in a bluesy-rock basement bar. On the Rocks, 9 pm, $5 cover.
Tuesday 4
Taylor Swift – Back in town for another two nighter at Rexall Place, this artist got her start when she moved to Nashville at 14 to become a songwriter. One thing led to another, and now she's one of the biggest selling artists in the world. Every one of her five albums (the most recent of which, 1989, was released last October, and for which this world tour is named; it's the year she was born) has sold at least five million copies. Yes, five million. A few tickets are still left for both Tuesday's and Wednesday's shows. BUY