COMMENT: WTF at the BVJ?
It was one of those weekends at the Big Valley Jamboree, the BVJ – a WTF weekend. As in, "WTF did I just hear? WTF did I just see?" And mostly importantly, in the words of one obscenely intoxicated youth, "Just what the f— is a Corb Lund, anyways?"
It's not surprising that the BVJ is BB. That's Big Business, which is pretty boring most of the time. On stage at the Camrose Exhibition Grounds this August long weekend were popular mainstream acts like Dallas Smith and Brad Paisley, with Lady Antebellum scheduled to close Sunday night. Corb Lund was set to play Sunday afternoon.
Trying to play it safe, you know how it works. Organizers warned of what to do if a storm hits, like the one that swept through the site in 2009, causing the stage to collapse, killing one fan and injuring dozens more.
Before Reba's set on Friday night was a rather condescending PA riff on the dangers of – this is serious stuff, folks – drinking when it's hot outside. When someone speaks slowly and loudly at a large group of people, it becomes rapidly clear they think their audience is deaf, dumb, or both, and generally results in large numbers of said audience tuning out. Something for main stage announcers to note for next time.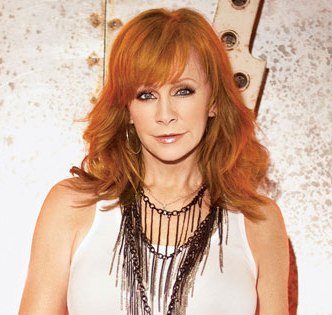 They did a good job closing loopholes, but they've missed a big one – a blindingly obvious omission regarding the recent report about the obesity rate in Alberta topping 60%. Since 100% of BVJ attendees appeared to have their asses plunked in chairs for the entirety of the festival, with their only exercise all weekend being lifting a beer can from their cup holder to their mouths in a continuous back and forth sequence, it's only fair for festival attendees to be subjected to a public service announcement with some tips on how to maintain proper cardiovascular health while sitting in a chair and drinking for 72 hours straight. Don't want a lawsuit on their hands.
Wandering around the main stage area, I was wondering when they were going to turn off the Muzak and start the music. It was then that I noticed the music HAD started. The Band Perry was playing, and judging by their pretty duds, this band is not country at all. Their set list included Michael Jackson's Beat it, and Queen's Fat Bottomed Girls, and then they tried to pawn off their pop rock style as legit country by doing Glen Campbell's Gentle On My Mind. It didn't work. Hopefully this isn't the future of country music. The only thing this band accomplishes is making lovers of real country music hate phony pop schlock like this even more.
It begs the question: Why do so many country artists perform classic rock songs? This doesn't happen in any other genre of music. When was the last time you heard Slipknot whip out the banjo midset to slay out a version of Okie From Muskogee? Metallica has covered pretty much everybody, but they'll do Engelbert Humperdinck before they'd ever touch a Willie Nelson song. It's clear rock isn't interested in being country music's friend, so it's a mystery why country artists try to pretend a relationship exists. What's so wrong with doing your own thing? Apparently being "country" is an issue for country artists. From so many artists not writing their own material, to the endlessly covering other artists' work, to the Def Leppard-with-fiddles sound of Shania Twain, you'd first have to define what "country music" is, and there might not be an answer to that at the BVJ.
The most impressive part of Reba's show was the work of the front-of-house guy. To get a band to sound that good at a festival that big is nothing short of mind blowing. Generally, the larger the festival, the worse the sound, but they countered that one. Unless of course they were playing to tracks, and if so … just ignore the last couple of sentences.
Given her 40-year career, Reba played songs that burned into my brain forever thanks to my mom's old country music cassette tape collection. Twenty four hours later, I'm still angry I can't get Whoever's In New England out of my cranium. I wasn't the only victim. Hours after the show, a shirtless blonde teenager was boisterously serenading his girlfriend with Little Rock. The breakup song was perhaps not the best choice of tunes to be romantic, but cloyingly catchy it still is, almost 30 years after it was recorded.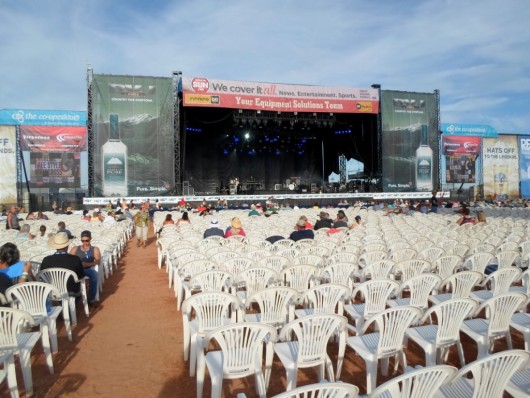 Country fans are different from rock fans in that they don't seem to actively participate while listening to live music. Not only are there are no mosh pits at country festivals, but it's impossible to get within 2 km of the BVJ stage due to the endless sea of white plastic Walmart chairs – reserved seating. Staring at a giant screen that's still so far away you need to squint to see is still sufficient entertainment for most. Maybe country fans are just too respectful to go storming to the front to displace a polite, soft spoken middle-aged couple from Vegreville because they just think Reba totally kicks Megadeth's ass and are going to country hard all weekend. It is really hard to be an asshole when people are so nice.
If you didn't bring a chair, it was hard to find a place to sit down.  So one does what folks do in small towns everywhere, which is walk up and down "main street," meeting the same people again and again, "Hey, haven't I seen you before?" BVJ's Main Street was stocked with vendors hocking all kinds of curios, oddities, and various WTFs. One guy was selling plus-size lingerie. Another vendor was an oxygen bar. Didn't that fad die out in 2003?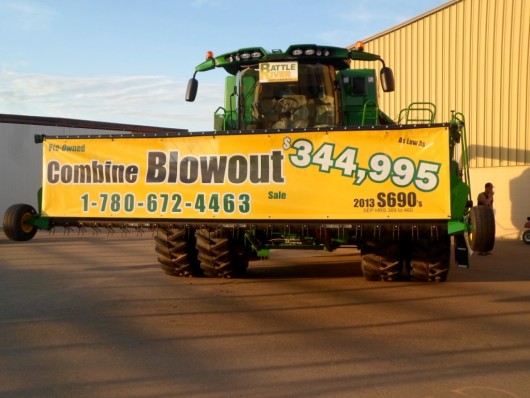 In a nearby sales pavilion, there was a mini trade show. Apparently there is a market for glass jars of pickled beans at music festivals. Also, tractors. There were a few astute market nichers, like the two guys selling the Stay Cold Towel ("get it wet, wring it out, and it stays cold!"). No idea if it actually works, but a smart idea. It was one of the few. There was an elderly fellow trying to put on a high-energy Ron Popeil-inspired infomercial style cooking show – in an approximately 6 x 8 foot space. It was like a time warp trip to 1992. The "get me out of here now" looks on the faces of some of the children present told me that I wasn't the only one wondering WTF was going on.
The biggest WTF moment of the festival was on the bus shuttling back to the car. Some moronic yokel decided he wanted to entertain everyone else on the bus IN THE LOUDEST POSSIBLE VOICE with this call and response song starting with "Hey Baba Reba!" My first question, quite naturally, was WTF is a Baba Reba? A fellow passenger said she thought the chant may have been "an army thing." The song's crude sexual commentary made me wonder why every woman on the bus went along with it without saying a thing. It's hard to imagine a bunch of wiry punk chicks putting up with that in silence.
This festival was the whitest place I have ever been that is not called Oklahoma City. The stultifying uniformity in the main stage grounds could have been jazzed up with a "La-Z-Boys Only" section – but then the mindful folks at the production company thought of that one already, with a sign outside the festival gates that reads, "No household furniture allowed."
WTF, guys … honestly.