A Taste of Edmonton Folk Fest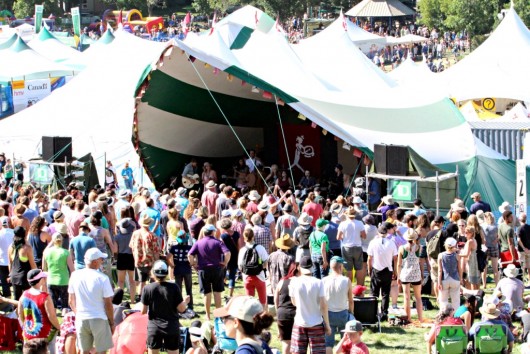 There are many things to the Edmonton Folk Music Festival besides the music. Jam thousands of people together in one fenced in area and you are going to find some unique situations. Here are a few samples seen on Saturday:
First, the easy part …
The Music
Old Man Luedecke was one of many highlights this year. He's a unique breed of story teller and musician. Sure, most bands and singer-songwriters have their stage presence, but this Nova Scotian makes you feel like you are crashing in his living room. By talking to the audience and not at them, and by sincerely sharing his experiences, he feels like a friend – a friend who can rip-ass on the bluegrass banjo. This Juno winner offers shots of whimsy while breaking your heart and filling it full of hope.
The Art
While never admitting to having full blown dendrophilia, a fine artistic interpretation of trees is always personally inspiring. Enter the art stand called "Rogue Goat," a mixture of scroll saw creativity, mixed medium painting and a beautifully timed mistake.
"My husband and I were trying to make some wooden earrings," artist Allison Hill said. "And he didn't do it 'right'. But, in doing it 'wrong', he opened the door to this style that we call our own."
One part ornate scroll-sawed root system, another part epoxy finished tree design, the work offers a world of dreamscape redemption that is rich in feeling and texture.
The Fist Bump Kid
There was a little scamp running around getting fist bumps from people. When questioned as to how many bumps he got so far, he replied, "I don't know. Like one hundred."
"So, comparative to one hundred or approximately?"
"Like one hundred," he repeated.
Then after fist bumping another passerby, he turned back and said, "Like one hundred and one."
One more win for the Fist Bump Kid.
The Fashion
There isn't any obvious cultural appropriation faux pas at this year's version of the EFMF, but one thing that is disconcerting is a weird twitch that can only be attributed to a popular fashion. Either that or sitting on a hill all day long causes one's garments to "ride up." Whether it is part of the look or a design flaw, the high waisted tight crotched jean shorts have more than one lady tugging at their junk. It is a veritable baseball league worth of crotch play at the festival this year. But hey, they look good doing it.
Things overheard in the beer garden:
Girl: "What are those?"
Guy: "Those are stilt walkers."
Girl: "I know, duh. I've only had two beers."
***
Girl: "He didn't beat him up because he was gay. He beat him up because he was an asshole."
***
Guy: "What I love about famous people is sometimes you don't know who they are."