CONCERTS: Hey Rosetta! and Andrew W.K. to hit Edmonton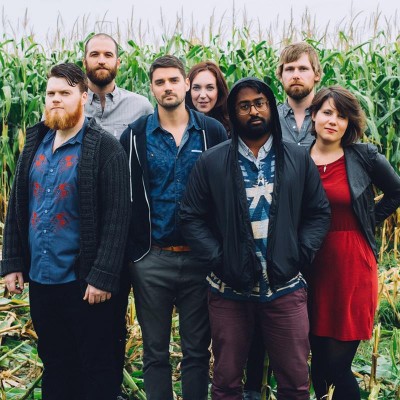 How did the folk fest miss booking Hey Rosetta!?
This Newfoundland group has all the right assets: Sorta rootsy, sorta rock 'n' roll, a large, multi-instrumental band with a Peter Gabriel-ish lead singer, political activist aspirations and a predilection for worldbeat-pop-folk fusions – and they even have some minor hits. Not too big (yet), not too small. Just right.
But until they play "the hill" – and we're still high from the folk fest, you can tell – Hey Rosetta! pulls its expansive sound into the Winspear Centre on Monday, November 9. With Yukon Blonde opening, tickets are $25-$32.50 and go on sale Friday at the Winspear box office.
The band tours upon its latest album, Second Sight, released last year, with music representing yet another step in Hey Rosetta's every-expanding musical outlook (and membership roster, now up to a seven-piece). In addition to the deployment of strings and horns, they tend to flit around genres, making them difficult to pin down. Safe to say they seem to have gone the opposite direction from Mumford, which abandoned its grand folk roots for a more stripped-down, straight-ahead, alt-rock sound – just like Hey Rosetta! used to be, at least to judge from their first aforementioned minor hit, Welcome. They've come a long way, figuratively and literally.
Andrew W.K. at Starlite
Also going on sale Friday is a "Very Special Solo Show" from the one and only Andrew W.K. at the Starlite Room on Monday, Oct. 12. The Old Wives will open. Advance tickets are $24.50-$28.50.
Hard to pin this guy, too. On one hand, he's known – before anyone had ever heard a note – for the cover of his debut album, I Get Wet, in 2001 that pictured the Los Angeles-born singer with his face all jacked up, with blood streaming out of his nose. He backed it up with raucous party songs such as We Want Fun, Fun Night, Tear It Up, and Long Live the Party, sensing a theme here. His solo show promises he will be "armed with only a microphone, a keyboard, and his unstoppable party songs." The press release continues, "Andrew is bringing the party chaos to a town near you! Dance with the man who taught the world to party and celebrate being alive."
That last bit is a clue to his other side: He has become a renowned motivational speaker, rock 'n' roll guru, the new Henry Rollins – and has helped countless young people with the art of celebrating being alive in his many writings and broadcasts. He's said to be working on a new book to be called – you guessed it – The Party Bible. But there may be more to this gig than party songs.