Styx with Dennis DeYoung steps up to headline Rockfest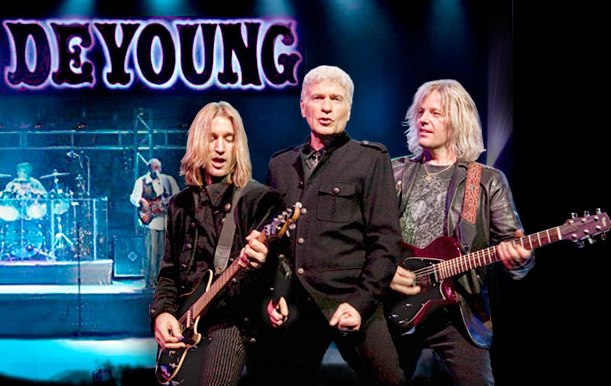 OK, Edmonton Rock Music Festival fans: the show must go on – no matter who's playing and who's in what band. Behold the stamina of classic rock.
The version of Styx featuring original singer Dennis DeYoung will perform the Saturday closing slot in place of Pat Benatar and Neil Giraldo, who had to cancel due to Giraldo's eye injury. Refunds will be offered for those who want them. Email info@edrocks.ca by no later than 4 pm on Saturday and you'll be taken care of.
The other fill-in to note for the event that takes place Friday and Saturday at the Hawrelak Park Heritage Amphitheatre is Sweet, which replaces the Friday headliner Dr. Hook and Ray Sawyer after the singer suffered a leg injury. Rounding out Friday's line-up is The Stampeders, and Edmonton's Punch Drunk Cabaret; Saturday features Kenny Shields and Streetheart, Rik Emmett from Triumph, along with local cover band The Joint Chiefs, and Vancouver Heart tribute band Barracuda.
Classic rock has become the new classical music! Tribute bands draw crowds, and broken up classic rock bands often spawn two or more bands playing the same songs and bickering over the name. Sometimes the sons get involved. Who wins? The fans, that's who. They don't really care as long as least someone in the band has some connection to the original members – and can play their favourite seminal classic rock hits convincingly. Is this Styx the "real" Styx? The other one has been here a bit, featuring Canadian secret weapon Larry Gowan on lead vocals. This Sweet is the North American version; there's a British one led by another original member, and they both close with Ballroom Blitz. Kenny Shields can't legally use the name Streetheart without his name attached, ditto Dr. Hook and Ray Sawyer. By the way, whither Triumph? And Dennis DeYoung has to call his touring act "The Music of Styx."
The details are too complicated to get into here, and you know what? We don't care. Rock on!
Weekend passes are still available, for $100, or $55 for Friday and $65 Saturday separately. BUY