ROCKFEST REVIEW: Classic rock to die for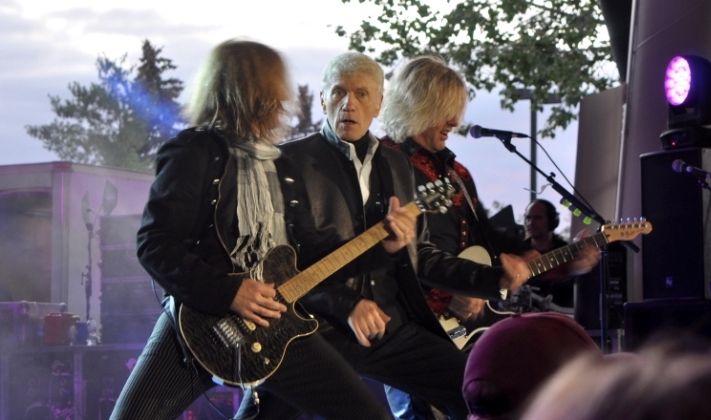 Dennis DeYoung of Styx couldn't have captured the zeitgeist of the 2015 Edmonton Rock Music Festival better than when he sang the line, "Our memories of yesterday will last a lifetime."
For this was the best of times long past for the city's classic rock community.
For all the flak DeYoung taken in the press before and after the dissolution of Styx proper, he comes across as an immensely likable fellow, a humourous commentator with a quick dry wit.
"How many people here were in high school between 1975 and 1984?" he asked the crowd at Hawrelak Park on Saturday night – giant roar – "That's too many."
Many people might have been scratching their heads as to why he's billed as "Dennis DeYoung plays the music of Styx" and not just plain old Styx. The reason for that is simple: he lost a lawsuit to the "other" Styx, lead by guitarists James Young and Tommy Shaw, and featuring Canadian Larry (Criminal Mind) Gowan on vocals and keyboards.
Despite his issues with them as individuals, DeYoung knows that Young and Shaw were visually and sonically a large piece of the band's success, and perhaps by pulling a Journey and attempting to re-create that might bring some legitimacy his way. So, he drafts two guitarists who look (and sound) oddly similar to Young and Shaw, except quite a bit shorter – mini Young and mini Shaw. Mini Shaw was adeptly played by a fellow named August Zadra, of Styx cover band "Mother of Pearl." Zandra took the lead vocals on Shaw's song Blue Collar Man, Renegade, Crystal Ball and Fooling Yourself, and sounded just like Shaw. The part of mini Young was played by Jimmy Leahey, his hair fluffed out just like Young's. Imitation is considered a form of flattery, and this is reasonable enough admission to the old guys that Dennis knew Styx had it going on back in their heyday of the late 1970's. Also in the band was DeYoung's very young wife, Suzanne.
The Best of Times, Babe, The Grand Illusion, Rockin' The Paradise, and of course Come Sail Away – fans got all the big hits and singalongs to help ease us all into the future. Growing old sucks, right? Doing it while listening to some great songs of yesteryear sure helped a few thousand swallow that jagged and unavoidable pill.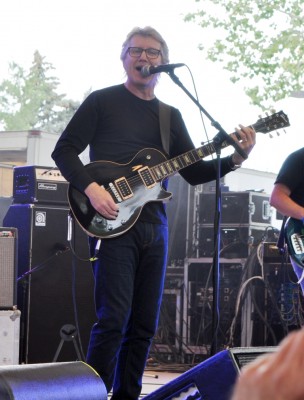 Fans loved Streetheart, too. These Western Canadian musical icons have Edmonton five times in the last year alone. According to singer Kenny Shields, Edmonton is the band's biggest – his term – "market." Nice to know he thinks so highly of us. Should anthropologists of the future want to learn some examples of common behavior of Albertan 50-somethings in 2015, they'll surely need to include pogo-ing to One More Time; you'll never seen that many physically active people over 50 in one place at one time. Cardiovascular health of the elderly aside, it's hard to understand this act's appeal. They look and sound painfully lame. Guitarist Jeff Neill did his best attempts at legitimizing their rockingness, but the flapping triceps mid windmill sort of killed the mood. They had some catchy tunes – What Kind of Love Is This, Snow White, Look In Your Eyes, One More Time – but drenched in the standard 80s farting keyboard sound, it was more like one of those dreams where it's 1983, you're stuck in a roller rink and you can't find the exit. By how much the folks enjoyed it, it's clear Streetheart's greatest hits will be stuck on repeat in the old folks homes of 2045.
Triumph's Rik Emmett (right) put on a solid, entertaining set in a style remarkably prescient of DeYoung's. Emmett, also overflowing with intelligence and wit in his between song banter, put it humourously simple for folks in attendance.
"Since I can tell that none of the people here today have bought a single one of my solo albums, I think I'm just going to play Triumph's greatest hits," he said. Umpteen hits later – Somebody's Out There, Hold On, Magic Power, Rocky Mountain Way – the black bespectacled professor demonstrated instrumental prowess on his black Les Paul. While it's evident the rock style bores him now, this attitude didn't show during his set, and he came across as playful and respectful to his past material. While having moved on in his musical life thanks to his interest in jazz and classical guitar, he still knows rock pays a pretty large chunk of the bills. The set highlight had to be Emmett's humorous aside that he wasn't going to play the silly rock game of "hiding behind a curtain and waiting for you to cheer louder" and instead just launched into Fight The Good Fight for the encore. Who said a classic rock act couldn't be original?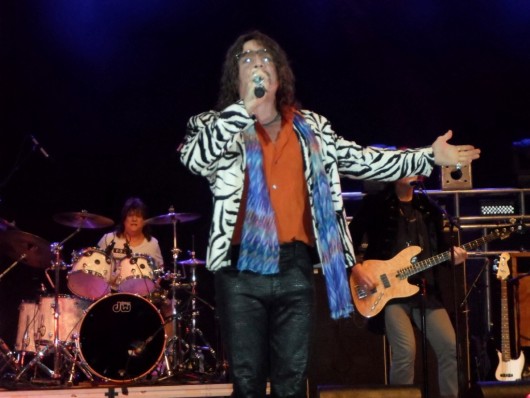 Friday night's headliner Sweet – or more accurately, Sweet Tribute Band (right), given the absence of sole remaining original member, bassist Steve Priest – tasted pretty fine for its age, not to mention rocked surprisingly hard, especially given their lead guitarist sat on a chair for the majority of the set, and the drummer, who was a dead ringer for Steve Priest circa 1989, was sweating so profusely that he looked like he was going to keel over of a heart attack at any moment.
The band toured through all their early to mid 70's hits in Teenage Rampage, ACDC, Hellraiser, Set Me Free and obligatory set closer ever there was one in Ballroom Blitz to a very responsive and appreciative crowd. But what got the loudest response – it might have been the cow bell – was the very early 70s bubble gum hit Little Willy. This tune turned one 60-something fan into a bouncing teenager, which he would have been when this song was a hit.
This is the best reason for classic rock's continued fervent fandom. We all are going to get old and die someday, so why not crank up Sweet, Styx, Triumph, and for all those Western Canadians who just don't know any better, Streetheart, and go loudly into that good night? We've partied, drunk beer, had sex to all of these songs, so why the hell not die to them, too.