Amber Nash puts a little 'Pam' in Fringe play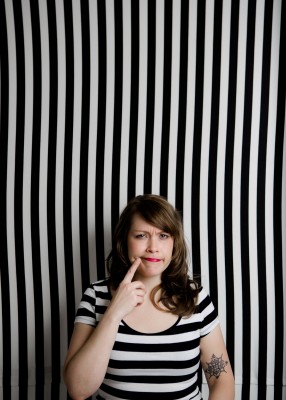 The name Amber Nash may not mean anything to you, but her voice undeniably will. The American actress voices the curvaceous, openly bi-sexual, hedonistic, human resources director Pam Poovey in FX's hit adult-animated espionage satire cartoon Archer.
Nash is in Edmonton for her one-woman show What's Wrong With You? during Edmonton's 34th International Fringe Theatre Festival. The show is an all-out, foul-mouthed journey about the struggles of becoming an entertainer. While Nash switches from voice to voice, she is ridiculed about acting and has to wrestle strippers to get to the top of the acting world. The play also features Nash's own version of ghetto dance move known as the "motor booty." You have to see it to believe it.
During her fan signing at Happy Harbor Comics last Wednesday, the Atlanta, Georgia actress and improviser had a chance to talk about her experience voicing the character that brought phrases like "shit snacks," and "shut your dick holster," to TV. With Archer soon to be in its seventh season, the actress has enjoyed watching the development of one of the show's most popular characters.
"I was surprised on how much of a fan favorite she became," Nash says. "Now when our writer Adam writes and a character needs to do something crazy he always like, 'let's have Pam do it.'"
She's done everything. Pam now has a background as a highly accomplished drift car racer earning her the Yakuza title Shiroi Kabocha (The White Pumpkin). She has had sex half of the main characters in Archer. Her Siamese fighting fish Germaine has earned her a $14,000 debt in the underground fish fighting circuit. She paid for her college tuition by participating in an underground fight club. By season five, known as Archer Vice, she became addicted to eating cocaine. She can also drink anyone under the table whilst having her own version of a white Russian called the "Green Russian," which is loaded with Absinthe.
Nash says, "Now it's like, 'what can't she do? I'm always so surprised by what we can get away with on Archer. Especially with the shit Pam says. I think that one line 'masturbate until my fingers bleed,' was the one line where I was like 'how the hell is this going to make it on the air?'"
But it did. It's cable.
Nash admits that she wishes she were more like Pam in her day-to-day life. "We have a couple similarities. Like I have a lot of dude friends and I also have a really dirty mouth, but Pam is way cooler than me… she's a beautiful big gal and she don't give a fuck about what people think. She can even beat you up if she doesn't like you."
Archer is a show that earns its "dirtiness" honestly.
"The show is filthy, but we earn it," Nash says. "You have to look up some of the references or just know a shit ton of random smart information to find the show funny. I think that's why a character like Pam is used as the raunchy comic relief."
Nash has acquired a substantial fan and cos-play following for her work on Archer. At various comic cons Nash has noticed many cos-play Pams walking around: "The one thing I have noticed is how much Pam has helped the whole body positivity movement. She's a bigger lady and now women come up to me and are like 'thanks for giving me someone to dress as that isn't 'fat Cinderella.'"
Nash also confesses that she uses the character of Pam as something of a spirit guide and role model in her own life.
She says with a laugh, "Whenever I need extra strength in my life or a boost I'm always like, I can do this because Pam can do this!"