COMICS: Heart of Wonderdick in Edmonton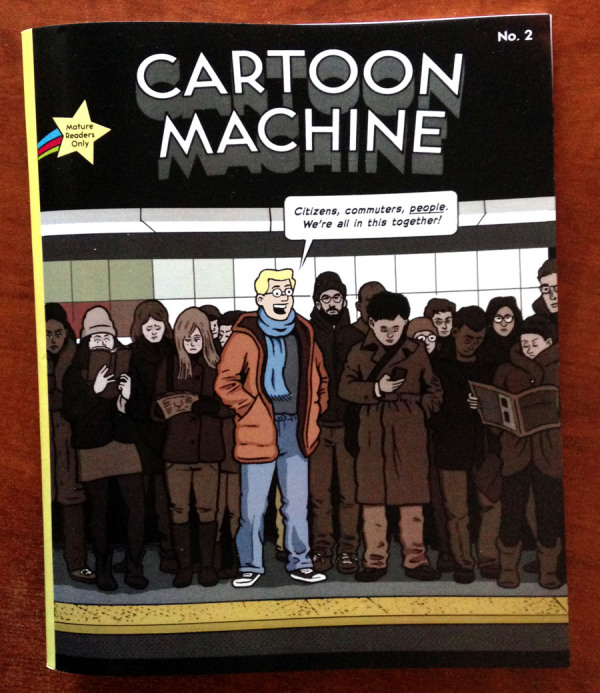 A Torontonian taking the piss out of Edmonton? Break out the machetes!
Relax, it's just cartoonist Mike Winters, who may call the Centre of Canada home now, but his heart clearly resides in Dirt City. Winters' weekly comic strip Cartoon Machine offers up caustic views on millennials, toxic relationships and … Edmonton Oilers draft picks?
"I probably pre-limit the audience for these strips, but hey, if I like the idea, who cares?" says Winters on the occasional Edmonton-centric strip.
An intricately drawn comic of a Second World War fight plane strafing yuppies on 124th Street may cause any reader outside of Alberta to scratch their heads, but Winters rotates his cast of demented characters week-to-week, based on whim. While Space Mavericx is a despondent take on sci-fi and Time Professor reimagines Back to the Future as a violent, perverse comedy (which Winters admittedly kiboshed after discovering the existence of the similarly themed TV cartoon Rick & Morty), it's the adventures of the pretentious Wonderdick that has caught on with readers.
"It's a parody of big-city myopia, so I think it doesn't really matter that it's so Toronto-centric," says Winters of Wonderdick, who he once illustrated passing out in a flurry of vomit upon discovering a condo development going up on West Queen West.
"Urbanism is a more recent phenomenon, or at least the self-conscious, earnest version of it that is hyper-local and progressive that's prominent on blogs and Twitter, so I think it's a newly identifiable cliché at its most excessive, which I think people respond to."
Denying that Wonderdick is based on any one specific Toronto urbanist, Winters, however, does admit to borrowing from a general Twitter sentiments for comic ideas in addition to bits and pieces from his life.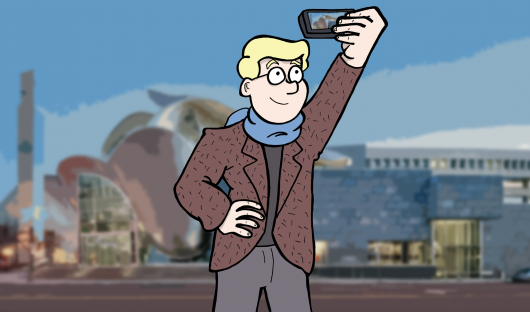 "People wonder about Pair Bond sometimes," says Winters on his perpetually squabbling comic couple, "but it's not based on real life because if that were my life I'd drown myself in Lake Ontario."
Having recently released his second "best of" compendium of Cartoon Machine, Winters – a self-proclaimed "print guy" points to online outlets such as Twitter for propelling his comic's reach far beyond the hipster elite of Edmonton to garnering praise from acclaimed cartoonists such as Michael Kupperman and Ruben Bolling. Winters credits the University of Alberta's Gateway student newspaper's comics as a big influence, recalling bringing the paper home when he was in high school during the late 90s, the height of alternative comics; contributors included Fish Griwkowsky (Bill Benson, Space Cat), Adam Thrasher (Space Moose) and Stephen Notley (author of Bob the Angry Flower, and also Premier Rachel Notley's brother).
"They were simply the funniest comics I had ever seen," Winters says. "Although I don't want to sound haughty about penis gags, my own naïve attempts back then were heavily influenced by the sex stuff in Robert Crumb and Space Moose, which makes for an embarrassing read now, but it makes sense when I think of what inspired me."
After a stint of cartooning at the Gateway, Winters found himself illustrating a comic strip for the Edmonton Journal that ultimately turned him off comics.
"It was a bad fit: wrong kind of readership in a pandering 'youth' section and I was still very amateurish and not confident about what I wanted to do."
It was a month-long cartoon-a-day contest in 2010 which spurred Winters to pick up the pen again. Those comics led to SEE Magazine approaching him to create a weekly strip.
"I realized I needed a format that didn't rely on one character or premise, which really helped me find some direction, oddly enough."
From there Cartoon Machine was born, where it can now be read in Vue Weekly and online at Vice.ca – two alternative-media outlets with nary a mention of organized sports, except for when Winters takes on his beloved sad-sack Edmonton Oilers. Winters didn't appear worried when presented with a scenario of the Oilers finding steady success on the ice and rising above its laughing stock label.
"Edmonton's cultural identity has long been tethered to its hockey team, which gives ownership carte blanche to do almost anything, like, for example, make empty threats to move the team when in it wants a tax-funded arena," says Winters. "So the Oilers will always be funny just for their strong-arm tactics, clunky PR and oddball Howard Hughes owner. But I'm a fan of the team itself, and always will be, whether I like it or not, and that's just the way it is."
Purchase the latest Cartoon Machine compilation at Mike Winters' website.