MUSIC PREVIEW: Sonic Boom blows up real good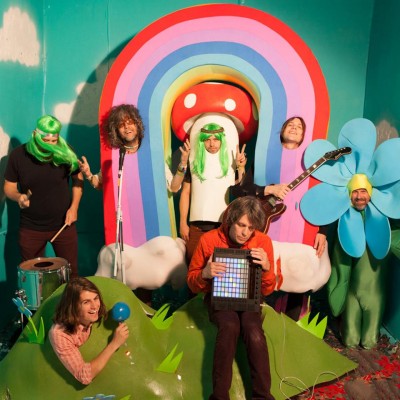 Borden Park hosts the city's last big music festival of the year this weekend, as the now veteran Sonic Boom takes its position front and center in amongst a bevy of other music gigs.
Now entering its eighth year, this has become without a doubt one of the city's most important festivals, close to par with the folk festival in many people's eyes. With a much, much different-looking lineup than its older sibling, of course.
Saturday is headlined by Ellie Goulding, the British singer-songwriter who first came to prominence in Canada on the back of her 2011 single Lights. Her biggest hit to date, though, is Love Me Like You Do from the Fifty Shades Of Grey original soundtrack. Goulding's music combines a generous and heady mix of folk, electronica, and indie pop.
Also on Saturday's bill is Brandon Flowers – frontman for The Killers – who released his sophomore solo album in May called The Desired Effect. Also playing on this day is TV On the Radio, a hugely popular group in the indie rock realms, Kongos – known most for their song Come With Me Now in 2011 – and St. Lucia.
Sunday's anchor tenant is Alexisonfire, celebrating a reunion after four years off the tour circuit, with Sonic Boom being one of their ever so few dates this year. The group is led by Dallas Green, who of course releases solo music under the moniker City and Colour. BC indie darlings Mother Mother, who've had many chart toppers across the country, including Hayloft, The Stand, Bit By Bit, and Monkey Tree, will also perform. Other big names on the day's bill include the Flaming Lips (pictured), Big Data (known for their song Joywave), Tokyo Police Club, and Eagles Of Death Metal. The latter's next album will be released in October, so expect a bunch of new material during their set.
Tickets are still available, with weekend passes starting at $199.99, and single days at $109.99. BUY
Thursday 3
Polaris Panel – Kind of a cool little event on a Thursday night; hosted by Polaris Music Prize Founder and Executive Director Steve Jordan, three local jury members will discuss and answer questions on the short list for this year, as well as the process. The panelists include Julia LeConte (freelance/Edmonton Journal), Renato Pagnani (Pitchfork), and Sandra Sperounes (Edmonton Journal). Yellowhead Brewery, 7 pm, no cover.
Jr. Gone Wild – This local cowpunk/alt-country project goes back into the annals of the Edmonton music scene. Way, way back. Releasing three albums between 1984 and 1993, the band is now back together, playing regular gigs and getting ready to release new music. They should be in fighting form. Mercury Room, 7 pm. They play a second show on Friday at 8 pm. Tickets $25. BUY
Friday 4
Janet Jackson – The one and only Janet Jackson – whose music has ranged from badass dance tracks like Nasty Boys in 1986 to kinder and gentler more recent music from a forthcoming album – finds herself in Rexall Place on Friday night for the Unbreakable World Tour. 8 pm, $29 and up. BUY
Concealer – This new folk-punk project, led by Old Reliable's Mark Davis, and also featuring Miss Mannered, hosts a release CD party for their debut effort, feted:fetid. It's dazzling headspin of experimental punk, folk, rock, and ambient noise, woven into an extraordinary audio and visual spectacle. With Rae Spoon and Atlaas. Brixx, 8 pm, $15. BUY
Saturday 5
Christian Hansen – This ex-pat and his partner Molly Flood moved to Toronto a few years back. Most known for their single Cocaine Trade off their 2009 release Power Leopard, the band hasn't made a full-length since 2012's follow-up C'mon Arizona, though they did release a four-track EP last year. With Port Juvee and Big Ben. Starlite Room, 8 pm, $18. BUY
Dannic – This DJ from the Netherlands, known to his friends as Daan Romers, only started his career in 2009, and has been on the rise ever since – and occupied the No. 30 spot in the 2014 Top 100 DJ Poll. AVO and BYRKS are also on the bill. Union Hall, 9 pm, $20. BUY
Sunday 6
Harpdog Brown – This Canadian blues legend has been active since 1982, and is currently touring to support his 2014 release, and seventh of his career, What It Is. The ex-Edmontonian (now Vancouver native) was awarded the harmonica player of the year award in 2014 by the Maple Blues Awards. With Little Victor. Brixx, 8 pm, $19. BUY
Madball – This New York hardcore group also dates back to the 1980s. Fronted by Freddy Cricien, the group's only original member, they've release a total of eight albums over the years, including last year's Hardcore Lives. Union Hall, 8 pm, $25. BUY