MUSIC PREVIEW: The Tea Party brews anew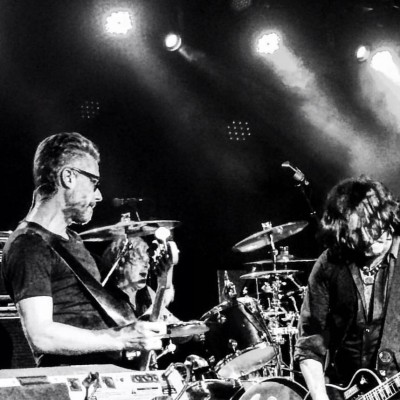 After a multi-year sabbatical, The Tea Party is back at it and strong as ever. A new album and a new tour take the darlings of the 1990s Canadian rock scene to the Winspear Centre on Friday.
Hard rock with heavy influences of blues, progressive rock, and world music, the group took the country by storm with their double platinum album Splendor Solis in 1993, and followed that up with six more releases, including last year's The Ocean at the End. A number of their songs have had major radio airplay and been very successful singles, including Temptation, Heaven Coming Down, and The Messenger in the 1990's. Lullaby and Soulbreaking off their 2001 album also performed very well for them, and have remained entrenched in many people's minds since.
The band broke up in 2005 due to creative differences, with Jeff Martin pursuing a solo career (in Ireland), then founding two new bands, the latter of which – Jeff Martin 777 – had an album make it onto the Canadian charts as well. With drummer Jeff Burrows and bassist Stuart Chatwood, The Tea Party reunited in 2011 to play a number of live shows, which subsequently resulted in last year's album, recorded in Australia – where Martin currently lives.
The band's tour celebrates the reissue of their 1995 album The Edges of Twilight – which will be performed in its entirety.
A number of tickets remain, so don't miss your chance to see this CanCon rock staple. Show at 8 pm, tickets $27 and up, BUY.
Thursday 24
All Time Low – This Baltimore pop-punk project has been going strong since the early 2000s, reeling off the odd hit here and there like For Baltimore in 2012, and this year's two singles Something's Gotta Give and Kids In the Dark. Prone to the fantastical, two other hits have included the Peter Pan inspired Somewhere In Neverland, and Painting Flowers, from a multi-artist project album inspired by Tim Burton's film Alice In Wonderland. Now with six albums to their name, including Future Hearts from earlier this year, the band's four original members remain committed to the project. Yep, in a world where band members seem to change like the seasons of the year, the same exact four members that started the band remain in the band. Set It Off and Nova Rockafeller are also scheduled to perform. Union Hall, 6:30, SOLD OUT.
Revocation – Another band from the American East – from Boston this time – Revocation fuses two sub-genres together, "technical" death metal and "thrash" metal, into a sound that seems to leap past even the bounds of metal itself. Around since the turn of the millennium (under the name of Cryptic Warning until 2006), the band has released five full-lengths, each getting successively more attention, not only in the metal scene, but on rock and indie charts as well. Last year's release Deathless finds lead vocalist David Davidson as the only original member of the project. With Cannabis Corpse, Archspire, and Black Fast. Starlite Room, 7 pm, $23. BUY
Audio/Rocketry – Our friends over at Vue Weekly magazine are hosting a little shindig to celebrate their 20th anniversary. Congratulations. And hey, an awesome band to do it with, too. Audio/Rocketry's has a folk-punk sound that almost perfectly defines what the Edmonton's music scene is all about. With The Uncas and Sam Spades. Denizen Hall, 8 pm, $10. BUY
Friday 25
Die Mannequin – This Toronto alt-rock project is fronted by Care Failure (born Caroline Kawa), and is touring to support last year's Neon Zero album. Ms. Failure has recruited a number of members into her backing band over the years, and this year marks an entirely new lineup on every instrument. The band has had three singles that have done pretty well on the alternative charts, the most well-known of which is 2009's Bad Medicine. Not to be confused with Bon Jovi's song of the same name. With Fake Shark and one of Edmonton's favourites, Cygnets. Brixx, 8 pm, $15. BUY
Saturday 26
Bombproof the Horses – This four-piece is a great little indie rock effort out of Edmonton that's been getting some pretty decent local radio airplay. Melodic and riffy at the same time, they have one release so far, an EP from last year called The Ground the Sky. The band is starting to work on some new demos with an eye to recording next year, so they may be sporting some new material as well. Empress Ale House, 4 pm, no cover