What is Madonna going to do in Edmonton?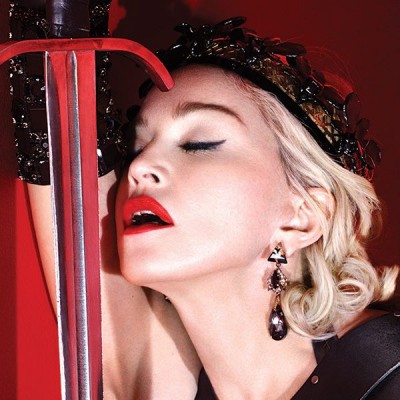 Expect a full press court when Madonna comes to Edmonton next week. A paparazzi red alert! She's never been here before. How do we look? How do we look?! We just need a few more minutes, OK, days, weeks, months, OK, years. The place is a mess. The roads suck, construction everywhere, all those tacky "old" buildings that need to be torn down. Oh, well. Make the best of it.
Madonna starts a two-nighter at Rexall Place on Sunday, Oct. 11 which means she'll have some downtime. What will she do in Edmonton? This is the most important question of our day. Barring any philanthropic visits, which her publicist says none are planned, media opportunities (no), a presentation of a truck nuts purse like they did for Oprah (please no) or official Mayoral proclamations of "Madonna Day," which the Mayor's office says someone has to ask for and so far no one has, we don't have a clue. So of course this piece is pure fantasy – more a story about Edmonton than Madonna. Because in reality she's probably going to do what any sensible 57-year old woman does during her time off – rest.
But it's still fun to imagine being Madonna in Edmonton for a day.
While in the River City, our guest should be staying at the elegant Fairmont Hotel Macdonald, in the Queen Elizabeth II Suite named for when QEII stayed there in 2005 (formerly known as the Mick Jagger Pad) – enjoying 2,400 square feet of "unsurpassed luxury and magnificent cathedral ceilings." The suite also includes a dining room enough for eight, two-and-a-half baths, and two levels with a living room spacious enough to accommodate a grand piano – if they could get one in the elevator – plus a luxurious master bedroom on the upper floor, king sized bed – "fit for a Queen!"
For clues of plausible Madonna-worthy activities, one needn't look further than those "Celebri-wiki" sites that compile exhaustive stats on all your favourite celebrities, as if they were brands, which of course they are. Standing at 5' 5" with her favourite colours given as black and blue, the dog-loving singer is said to be into macrobiotic food, a dietary regime high in whole grains and fresh vegetables and low in animal products or processed foods. It promotes longevity. She'll probably have her own chef, but if a dinner out is desired, Padmanadi may be recommended. Vegan stars like Moby, Orlando Jones and Ras Kass the rapper have eaten there.
"We get a lot of rock bands – most of them just get take-out," says manager Maya Paramitha. "I'm not trendy at all. I have no idea who most of these people are." But of course she would know Madonna if she happened to pop by. "I'd ask her to sing," Paramitha says.
Madonna is reportedly into yoga, which goes hand in hand with "ayurveda," an ancient East Indian science concerned with balancing the five bodily elements of fire, air, earth, water and ether necessary for optimum health. There's more to it than that. It's complicated. It's a lifestyle. Turns out that a number of Edmonton yoga studios teach it.
"The goal is to increase health and longevity," says Amanda Whiting of the Prana Yoga Studio, "health being the biggest one. Both yoga and ayurveda promote being present in the now and being aware of your body. When you're more aware of your body you're more aware when things are in or out of balance."
For spiritual connections, Madonna, raised Catholic, is said to be a follower of Kabbalah, an offshoot of Judaism. Rabbi Kliel Rose of the Beth Shalom Synagogue hastens to correct a misconception, "When people like Madonna started to express interest in Kabbalah, there was a thought that it was something completely separate from Jewish practices, and that's not at all the case. It's part and parcel." Again, it's complicated: More about ancient mystic principles applied to your spiritual practices and outlook on God within the Jewish faith.
Rabbi Rose adds, "One of the positives in Madonna's interest in this is that it's given more exposure to Jewish mysticism and Judaism in general. So personally, I'm grateful to her for giving more publicity to many of the positive aspects of Jewish life and culture."
How about shopping? Ha! Madonna has shopped or deployed surrogate shoppers in the world's finest stores, London, Paris, Rome, why wouldn't she blow a few bucks here? While many natives avoid Edmonton's greatest tourist attraction as New Yorkers eschew the Statue of Liberty, West Edmonton Mall boasts several "high end" retailers where price is no object for their well-heeled customers. Anonymous clerks at stores like Tiffany's and La Maison Simons (anonymous because they deferred media requests to PR people in Toronto, who didn't return calls) unanimously agreed they'd welcome a visit from the queen of pop. What else are they going to say? Get out of here, lady! Madonna's favourite perfume is apparently her own brand – oh, everyone likes their own brand, don't they? – Truth or Dare, a white floral with notes of tuberose and gardenia. It's available for $50 for 50 ml. at No Xcuses, WEM and Kingsway Mall.
Hey, weren't we supposed to get a Sak's Fifth Avenue in WEM? And how long until that luxury Ice District highrise is built?
We're not ready!
Tickets to Madonna's Rebel Heart Tour, Sunday and Monday, Oct. 11-12, at Rexall Place, are still available, from $90 to $355, at Ticketmaster.