MUSIC PREVIEW: The Milk Carton Kids are all right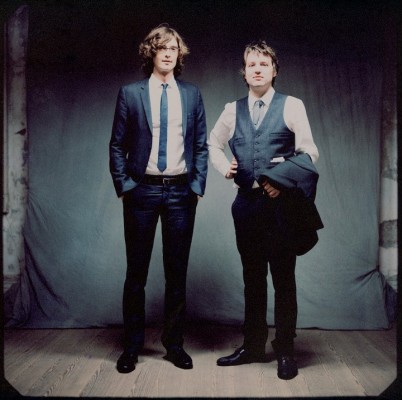 Some weekends are a little light on the big name schedule. Some weekends are a little heavier – like this one, with everyone from Madonna to Jason Aldean to Slash to Viet Cong performing on various stages throughout the region.
One group that could very well be the highlight of the weekend is the Milk Carton Kids, which performs Friday night at Winspear Centre.
The indie folk project from Los Angeles, comprised of singer-guitarists Kenneth Pattengale and Joey Ryan, have found their fortunes skyrocketing on the back of some of the most compelling storytelling albums of the past decade. Both play vintage guitars, Ryan a 1951 Gibson, and Pattengale, a 1954 Martin, and musical attitude follows suit with the resulting sound of their four albums captivating lovers of both traditional and modern folk. Their albums appear on a vast array of top 10 lists every time there's a new release, expect this spring's Monterey to do likewise. With a gorgeous-sounding duo in one of the most brilliant-sounding music venues in the city, this concert is sure to amaze everyone in attendance.
Thursday 8
Chris de Burgh – This British-Irish singer-songwriter first came to prominence in the early 1980s with the singles Don't Pay the Ferryman and High On Emotion, then followed that up in the middle of the decade with the massive hit Lady In Red. He has continued to make music since then, of course – releasing his 20th full-length The Hands Of Man last fall. Shaw Conference Centre, 8 pm, $69.50 and up. BUY
CROSSS – This "future-grunge" project from Toronto has caught the attention of a lot of music fanatics and industry throughout North America. Sludgy, dark, dank, rusted psych-rock with a subtle uber-complexity gives way to short bursts of guitar frenzy, or equally as mesmerizing, weaving, dodging epic journeys of sound. Gary Debussy and Banshee are also on the bill. Wunderbar, 9 pm, $10.
Friday 9
Jason Aldean – This Georgia-born country star also released an album in 2014, called Old Boots New Dirt. The Burn It Down Tour, named after the lead single of the most recent album, is nearing the end of its Canadian leg. Three singles from the album, including Burnin' It Down, have scored in the top two on the Canadian country chart, a common occurrence for Aldean, the winner of too many country awards to even begin to list. Rexall Place, 7:30 pm, $49.50 and up. BUY
Sumner Brothers – The Up + Downtown Festival takes place this weekend as well, and includes this gig featuring the alt-country-folk group out of Vancouver. Also on the bill are Ontario indie-rocker Kalle Mattson, and local piano/pop sensation Jenie Thai. CKUA Performance Space, 8:30, $12. BUY
Saturday 10
Viet Cong – This Calgary post-punk-noise-rock band has found an equal amount of extraordinary stardom this year – and controversy. Their debut eponymous full-length will undoubtedly be on almost an infinite number of year-end lists this year, though by that time they'll probably have a new name, something they finally pledged to do a couple of weeks ago on Facebook, after some complaints. This gig is also part of the Up + Downtown Festival. Starlite Room, 8 pm, $23. BUY
Slash – This British-born mega-guitarist (who moved to Los Angeles when he was five) has had a winding and meandering career that started with Guns N' Roses back in the '80s and '90s. He then developed the side project Slash's Snakepit, before forming the supergroup Velvet Revolver with Dave Kushner (Wasted Youth) and Scott Weiland (Stone Temple Pilots). He's since released three solo albums, including 2014's World On Fire, which he recorded with singer/guitarist Myles Kennedy (Alter Bridge), the latter of whom is also on this tour, as is Canadian Todd Kerns (Static In Stereo, Age Of Electric), who was born in Estevan, Saskatchewan. Jubilee Auditorium, 8 pm, $35 and up. BUY
Black Dahlia Murder– Truly the defining band behind the melodic death metal sub-genre, this Michigan act is touring to support their September release, Abysmal. With Iron Reagan, Harm's Way, and Maruta. Union Hall, 7 pm, $24.50. BUY
Sunday 11
Madonna – This superstar is in town for two shows this weekend, Sunday and Monday, to support her newest album, March's Rebel Heart. One of her few albums not to hit the No. 1 spot south of the border, it did so here in Canada, with support from its most well-known single to date, Bitch I'm Madonna, featuring Nicki Minaj. Of course, she's much more well-known for her past hits, which range from 1984's Like A Virgin and Lucky Star, through the more upbeat and U2-esque Ray Of Light in the late 1990's, and then 2005's Hung Up, and 2008's 4 Minutes featuring Justin Timberlake and Timbaland. Rexall Place, Sunday and Monday, 8 pm, $40 and up. Sunday Ticket Link Monday Ticket Link