MUSIC PREVIEW: Hail Halloween Howler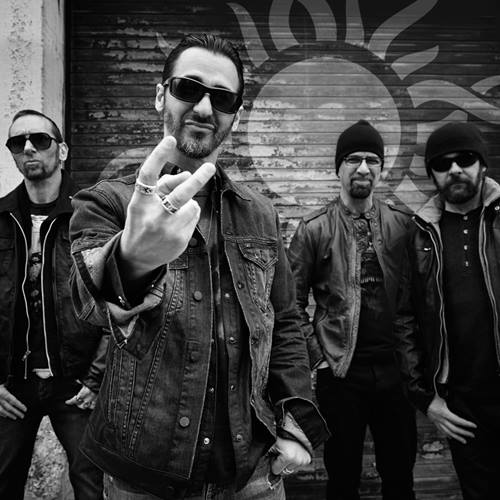 It's Halloween weekend – always a good excuse to get out and see a live gig, and dress up in the process. Though really, there's always great music to be had out and about in this city, so you shouldn't really need an excuse to go out. Or to dress up.
The most famous of Edmonton's Halloween parties is of course The Bear's Halloween Howler, this year headlined by Godsmack.
The Massachusetts hard rock project founded in 1995 continues to gain steam here in Canada, as their last two albums, 2010's The Oracle and 2014's 1000hp, have both scored in the top two on the Canadian charts. A number of their singles have also done quite well north of the border, including I Stand Alone, Whiskey Hangover, and Something Different.
Founder and frontman Sully Erna is an extremely talented individual, not only singing for the band, but also playing harmonica, guitar, and piano. The other original member is bassist Robbie Merrill.
Buckcherry, a hard rock project founded in California in the mid-1990's, and probably most famous for their song Lit Up from around the turn of the millennium, will perform opening duties.
That's Saturday night at 8 pm in the Shaw Conference Centre. Cash prizes will be awarded for the best costumes. Tickets are $59.95. BUY
Thursday 29
Needles To Vinyl – This local group led by Nick Martin combines indie rock with more alt-classic and classic rock influences. The name also reminds one of The Needle, a new music venue that was supposed to open earlier this year, and for which the opening got delayed until this fall, and now apparently until next spring. With Sole Pursuit and Stereo Villains. Mercury Room, 7 pm, $10. BUY
Friday 30
Gob – This Vancouver punk act formed in 1994 had a good run for a while, including a Juno nomination in 2000, and their songs were hugely popular in video games, particularly sports-related ones, in the early 2000's. Boids, Old Boys Club, and Worst Days Down open. Starlite Room, 8 pm, $21. BUY
Zolas – This indie project released a new EP earlier in October, and are currently criss-crossing the continent, having recently performed in Philadelphia, New York, Toronto and Vancouver. The ever-popular Sister Gray is the opening act. Mercury Room, 8 pm, $16. BUY
Tuesday Nov. 3
Mac DeMarco – The indie circuit has fallen head over heels in love with this Edmonton-bred, Brooklyn-living artist over the last couple of years on the basis of his stellar 2014 release Salad Days, featured on a swarm of top ten lists for the year. There are those that aren't sure if his sound, a mix of jangle-pop and garage-folk, has staying power, and his mini-LP released in August of this year has not had near the same buzz level associated with it, but he's an extremely talented musician and songwriter, and whatever he decides to do next will certainly be followed very closely regardless. Sure to be a great show. Union Hall, 7:30, $30, BUY