MUSIC PREVIEW: Wunderbar spirit lives on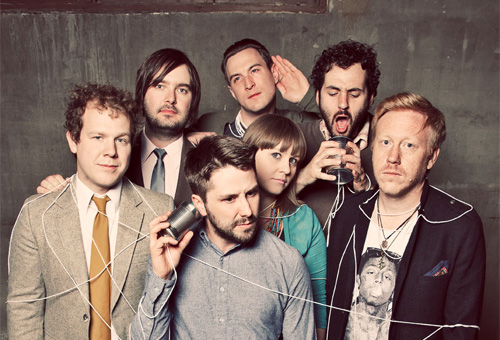 Sadness walks through the halls of the city's music scene in desperation of its awesomeness – for this is the city's first weekend in almost six years without Wunderbar.
Everyone knew it was coming, of course, it was only the exact timing of when the off-Whyte live music venue would close that nobody knew for certain – not even owner Craig Martellica himself. Anyways, he asked us not to mourn publicly, and honestly, what needed to be said about Wunderbar, and about our live music venues and scene as a result thereof, has already been said. Craig wanted us to move on. So let's move on.
As an aside, almost all of the shows scheduled at Wunderbar have been moved elsewhere, so just poke around if there was a show you were hoping to see. It's probably just moved venues.
Thursday 5
Parkway Drive – This Australian metalcore/deathcore band may remind you of that old adage: why do we drive on parkways and park on driveways? Regardless, the hard-hitting Australian project has released a slew of albums Down Under. They've had limited success breaking into North America, but this tour is sure to help out on that front. Miss May I, Thy Art Is Murder, and In Hearts Wake will open. Union Hall, 7 pm, $26. BUY
LeE HARVeY OsMOND – This Canadian acid/psychedelic folk project is led by Tom Wilson, and was originally a bit of a supergroup project, as it included Michael Timmins (Cowboy Junkies) and Josh Finlayson (Skydiggers). The current touring band includes Wilson on guitar and vocals, Aaron Goldstein on guitar and pedal steel, Cam Malcolm on bass, and Brent Titcomb and Ray Farrugia on percussion and drums, respectively. The band is currently touring to support the project's third album, Beautiful Scars, which was longlisted for this year's Polaris Music Prize. Festival Place in Sherwood Park, 7:30 pm, $30 and up. BUY
READ INTERVIEW with Tom Wilson of LeE HARVeY OsMOND
Friday 6
Library Voices – One of Saskatchewan's very best bands (top picture). They're indie. They're pop. They're folk. They're rock. They're everything. To everyone. They released their newest album Lovish on November 6th. If you miss them you'll be sorry. Surf Dad opens. Brixx, 8:30 pm, $12. BUY
North Of Here – This local indie-folk project that includes Caleb Sinn, Luke Jansen, Ian St. Arnaud and Will Holowaychuk is hosting a CD release party that includes Lucas Chiasson and Ariana Brophy as opening acts. Mercury Room, 8 pm, $13. BUY
Michael Jerome Browne – The Canadian Folk Music Awards are in town all weekend, and there's a major showcase every night. Friday's headliner is a blues/roots artist out of Montreal, whose newest release Sliding Delta came out earlier this year. Recorded live off the floor in just three short days, it is a beatific tribute to the rural blues, with Browne playing an assortment of 6- and 12-string guitars, banjo, mandolin, and rack-harp. Sarah MacDougall and Jon Brooks will also perform. Parkview Community Centre, 8 pm, $20. BUY
READ MORE about the Canadian Folk Music Awards
Saturday 7
Jory Nash – CFMA's Saturday showcase features this indie-folk artist out of Toronto, along with Young Novelists and Jocelyne Baribeau. Parkview Community Centre, 8 pm, $20. BUY
Sunday 8
CFMA Gala Awards – The culmination of the weekend ends up at the Citadel Theatre for the gala itself, hosted by Connie Kaldor and Benoit Bourque. Performing artists include the always-electric (but also acoustic) Tequila Mockingbird Ochestra, as well as Jeffrey Straker, Trent Severn (featuring Emm Gryner), Melisande, and folk fest favorite John Wort Hannam. 7pm, $48. BUY
Monday 9
Hey Rosetta! – These darlings of Canadian indie rock bring their hyperenergetic live show and incredible songwriting talents to Winspear Centre, along with another well-loved band on the indie circuit, Yukon Blonde. Both bands have deep catalogues, so expect a great, great show. 8 pm, $27 and up. BUY
Wednesday 11
Rich Aucoin – Speaking of the indie circuit, and when aren't we, this experimental rocker is also beloved by many. He's at the Starlite Room, along with The Elwins. 8 pm, $18. BUY