Century-old Vimy Ridge song brought to life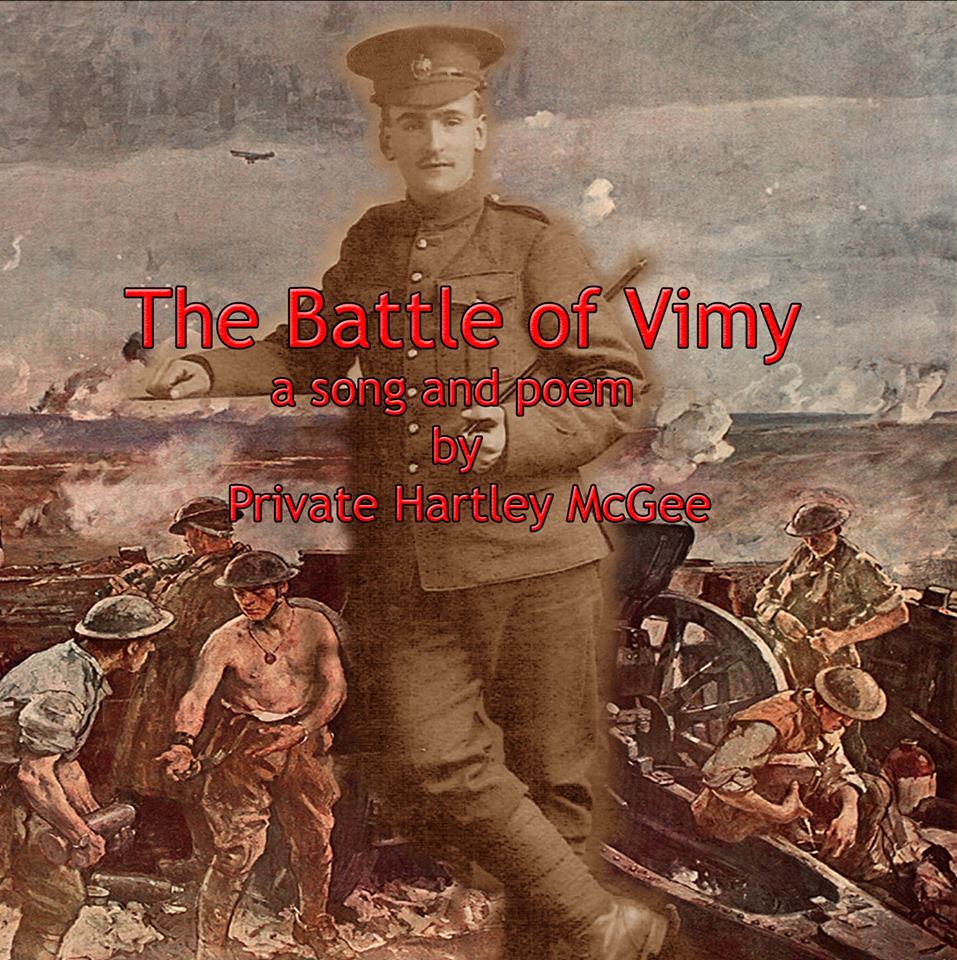 Remembrance Day always seems to bring out the best in people – even if they're no longer alive.
Maybe especially so, for Nov. 11 is the one day a year to offer a moment of silence to remember soldiers who fought – and died – to protect freedom. It's the least we can do.
Ken McGee never met his grandfather, Private Hartley Charles McGee, who fought with the Canadian forces in World War I and died a year before Ken was born – but they have recently become connected through a song that hasn't been heard in almost 80 years, brought to life by two local musicians. It's called Battle of Vimy, written by Hartley after he survived the battle at Vimy Ridge that claimed the lives of thousands of his comrades in 1917. His impression includes lines like this: "A few of the boys came back and the rest wait for Judgement Day … and then you stay there three long years, feeling sick at heart, and you wish to God you'd see the man that caused the war to start, and then the war, it ends at last and you are homeward bound, not the boy that joined the ranks, but an old man, broken down."
No one knows what the song originally sounded like, or what musical instruments would've been available at the time. Private McGee, who clearly had musical skills, apparently performed the song on CBC radio after the war; Grandson has had no luck trying to locate a recording, if any were made. All Ken had to go on his grandfather's handwritten sheet music, discovered quite by chance through a cousin. Ken gave a rough copy of the chart to his friends, Edmonton musicians Mark Puffer and producer Laurence Pugh, with instructions to do their best.
"I wanted to commemorate my grandfather I never knew," says McGee, a construction worker who grew up in Alberta and was born in New Brunswick. "I wanted to put him in the limelight. He was an interesting man. He was obviously talented, a musician and a songwriter, he worked for CP Rail, and was the first fire chief in the village of Harvey (New Brunswick)."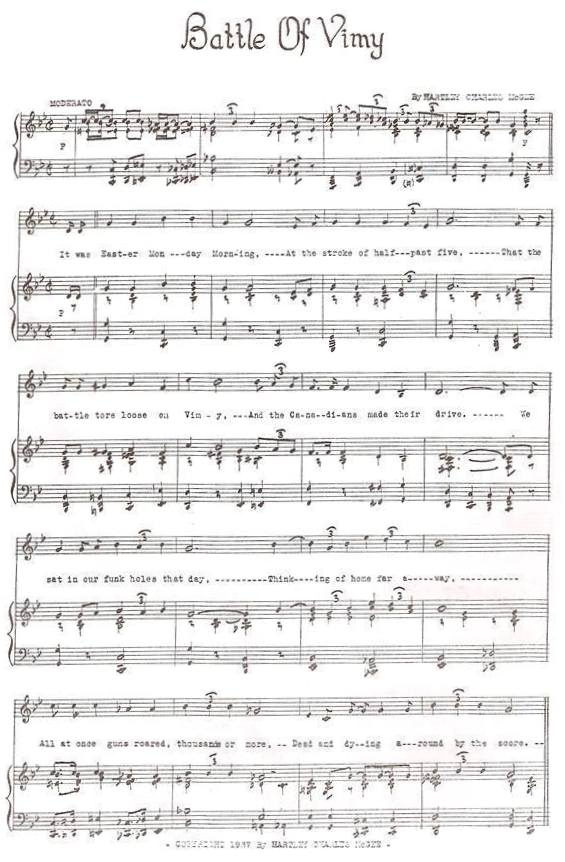 Hartley McGee volunteered to join the 104th Canadian infantry regiment and go overseas when he was 16 years old, Ken continues, "as a lot of people did, which was illegal, and he came back a very changed man. It was quite an arduous journey, as you can imagine, living in trenches with the rats and sleeping in mud up to their knees. It didn't affect him in a way where he was mean, but like my father said, he came back a very changed man. He went a boy, as it said in the poem, and came back a broken man."
The job of assembling a new performance and arrangement of Battle of Vimy fell mainly to veteran local guitarist Mark Puffer, who plays with multiple CCMA winner Gord Bamford.
"It was kind of an odd feeling," Puffer says. "Just the fact that it was written by a veteran all those years ago, I felt like I was the first one to hear it … I had to put a little bit of my own spin on parts that I couldn't decipher. It definitely isn't the type of song I usually sing, so I did my best to make it sound authentic. Not sure if I succeeded!"
It does sound authentic: quaint, drawn from the music hall styles of the tine, and clearly meant for piano accompaniment. They added some military snare drum, and appended the poem, as Hartley had originally written it. The result is an honest and frankly eerie first-hand account of one of Canada's worst war losses.
Ken says he gets chills when he hears it.
"I never really felt akin to my grandfather, knowing him only from stores when I was a kid and that he was my namesake," he says, "but this has brought him more to forefront of my life. Now I think of him more often, and I know him a little better."
McGee, who commissioned the project for his family and the New Brunswick Historical Society, pressed a limited run of CD singles available free to anyone who wants one. Digital downloads of the song are also free from Soundcloud.