MUSIC PREVIEW: Born Ruffians, living large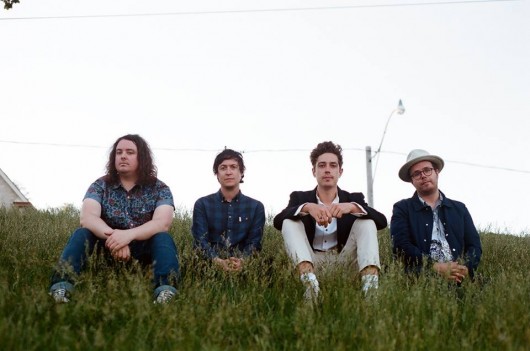 The Born Ruffians have had some curious peaks in their career – including an appearance on the British teen drama Skins as a fictional band named Hummingbird, and having their single Little Garcon appear in an American Express commercial.
It all adds up on the buzz meter. The Ontario band plays Friday at the Starlite Room.
Originally known as Mornington Drive, the band features frontman Luke Lalonde and has released five studio albums to date, including this year's Ruff. Both aggressive and melodic, the indie rock outfit's first claim to fame was their debut single This Sentence Will Ruin/Save Your Life, which garnered considerable airplay on the nation's most preeminent indie station, CBC Radio 3. Though, to be fair, the radio station has gone through some significant revisions this year that have left it a little wanting.
Opening the show will be Young Rival, from that indie hotbed of Hamilton, Ontario, touring to support their 2015 album, Interior Light. They've only had one single on the charts, the Canadian Alternative one at that, with Two Reasons in 2012. Good friends with Born Ruffians, the two bands have been touring together since 2007.
Tickets to the 8 pm show are $17.50, BUY.
Thursday 26
Texas In July – This Pennsylvania metalcore band is calling it quits after a final North American tour which includes our fair city, all presaged by the departure of vocalist Alex Good and guitarist Christian Royer in early 2014. The band has four full-length albums to their credit, the last of which features J.T. Cavey on vocals. Reflections, To the Wind, and Invent and Animate are also on the bill. Mercury Room, 7 pm, $22. BUY
Friday 27
Lee Aaron – This Ontario rocker with secret jazz predilections saw the peak of her success in the late 1980's with the album Bodyrock, which spawned the hit singles Whatcha Do To My Body and Hands On. With Prism. Century Casino, 7 pm, $49.95, BUY
Brett Kissel – Coming out of Flat Lake, northeast of Edmonton, this country artist saw his first four studio albums struggle a little bit, then saw immense success with his last pair of albums, Started With A Song, and 2015's Pick Me Up. Expect him to add to his Juno and CCMA haul next year (he's already won one of the former, and three of the latter). Shell Theatre in Fort Saskatchewan, Friday and Saturday at 7:30 pm, both shows SOLD OUT
Saturday 28
MercyMe with Edmonton Symphony Orchestra – This contemporary Christian/indie rock band out of Greenville, Texas, is doing a tour across North America with symphony orchestras. Formed in 1994 and releasing six independent bands before signing to a label, they've now released a total of 10 full-lengths, including this year's MercyMe, It's Christmas! Yep, it's Christmas album time. Here in Edmonton, they're doing a two-night affair with the ESO at the Jubilee Auditorium, Saturday (7:30 pm, $49 and up, BUY) and Sunday (7:30 pm, $49 and up, BUY).
WeUsedToBeFriends – This local rock band formed in 2013 with this new moniker after a short hiatus, the name taken of course from the legendary song by The Dandy Warhols. The band calls their sound "textural atmospheric crunch", which is contextually intriguing, don't you think? Low Frequency Angels and Market Forces open. Big Al's House of Blues, 9 pm, $10. BUY
Monday 30
The Weeknd – Another Ontario performer, Abel Tesfaye is a modern R&B-pop artist with significant dark overtones that saw his career take off after a mention by Drake. Since those initial tracks on YouTube, Tesfaye has released two studio albums, including this year's Beauty Behind the Madness, which hit No. 1 around the world. It's also spawned two chart-toppers north and south of the border in The Hills and Can't Feel My Face. Halsey and Travis Scott open. Monday at Rexall Place, 7:30 pm, $39.50 and up, BUY