The Christmas Carol Project: The UNTOLD story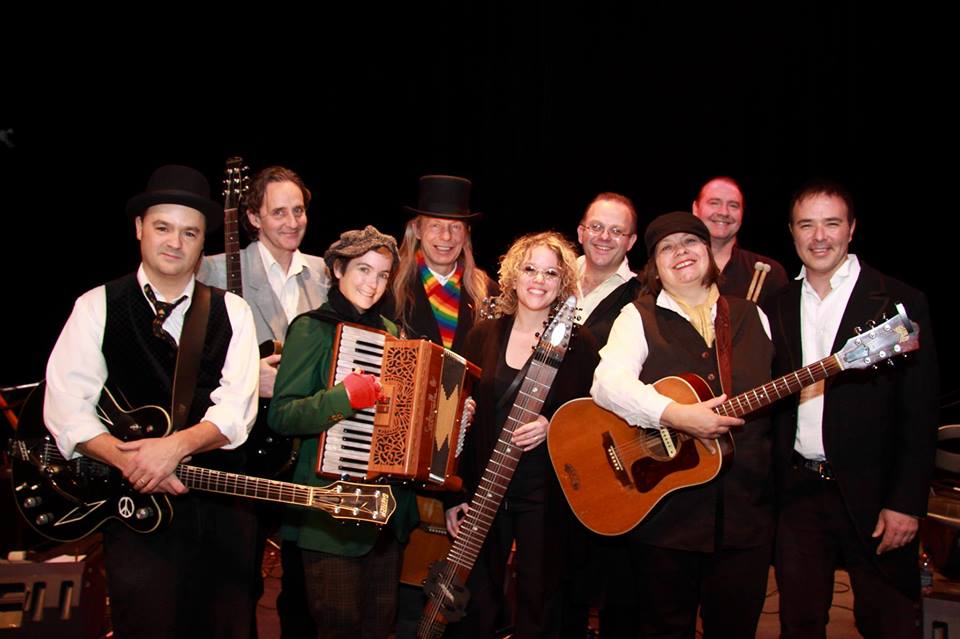 Spend 20 years with eight other musicians immersed in blithering holiday wholesomeness and you'd come up with some twisted ideas about Christmas, too.
The Christmas Carol Project is an Edmonton tradition. Area fans flock every December to see this inventive and heartwarming take on the Charles Dickens classic, in which each character performs their own part of the story – in song! It plays its last shows ever Dec. 4 at Festival Place (sold out), Dec. 18 at the Arts Barns Westbury Theatre and Dec. 21-23 at the Pumphouse in Calgary.
The idea for an R-rated parody was hatched in rehearsals and backstage – as these things are – and has never been revealed to the public, until now.
After some cajoling, creator John Armstrong spills the beans on Blue Scrooge, the Show They Never Gave: "Marley is a drug dealer, Wings of the Wind becomes Life on a Whim and He Will Fly becomes He'll Get High. The Ghost of Christmas Past is a dominatrix, so When Times Were Good becomes I'll Tie You Good and Promise becomes Safeword. Bad, Bad Man becomes Bad, Bad Boy. Tiny Tim, who is the curmudgeonly drunk, sings God Damn You, Everyone. And the ghost of Christmas Future is a flasher. Down on My Knees, Oh Jacob doesn't really need a new name."
There you have it. Armstrong says it's like The Aristocrats, the private joke getting filthier every year. Of course you'd have to know the real show for these titles to mean anything. The Christmas Carol Project is an Edmonton thing – and OK, Calgary, too – at 20 years barely qualifying as a tradition, but close enough for rock 'n' roll. It stars Juno winner Bill Bourne (Scrooge), accordionsmith Maria Dunn (Tiny Tim), rootsman Al Brant (Ghost of Christmas Present) and other Edmonton singer-songwriters, plus their latest narrator Dave Clarke, noted local British person and the only actual actor of the bunch.
The Project has yielded many sold-out shows, an original cast recording on CD, an award-winning TV show, and DVD, "for posterity," Armstrong says.
It's been the same core members the whole time. That's part of why they're pulling the plug. One, or more, of the cast – Armstrong won't say who – wants to quit. Twenty years is a hell of a run. To replace anyone would be as sacrilegious as, say, Blue Scrooge. Of course anyone is free to pay them to franchise the show – as one company in Saskatoon did for two years running – but for this group (who could barely watch the Saskatoon troupe's show), they wanted to go out on a high note. It will have been exactly 100 shows when the run is over.
"I guess I would need to sit on it a little bit," Armstrong says on the idea of continuing. "We've talked about it a lot. There are some in the cast who would be just as happy to see it carry on. But if we would replace any one person, that would be difficult – although not impossible."
Hey, if they could be talked into carrying on what has become an Edmonton (and Calgary) tradition, then maybe they could take a silly idea of Blue Scrooge and make it real. It would make at least one little boy's Christmas wish come true.