MUSIC PREVIEW: Classic rock rules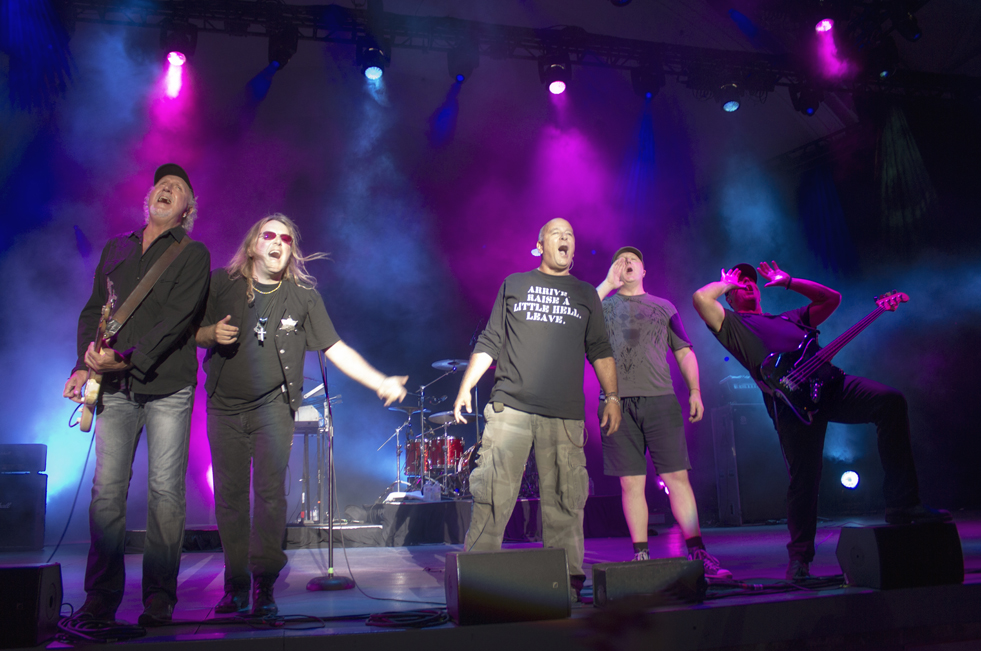 Raise a little hell, raise a little hell, raise a little hell …
With that immortal prose from a more innocent time was launched a Canadian Classic Rock institution, the legend known as Trooper – who are literally troupers, depending how you spell it, as the band enters its fifth decade of dependable rockin'. The Vancouver band plays a double headline bill (which is of course impossible unless they both play at the same time) with the equally legendary Kim Mitchell at the River Cree Casino Saturday night.
Neither of these acts have much resemblance to the disposable "one hit wonders" running rampant today. These grizzled veterans worked hard, paid their dues, never strayed from their path. Trooper, besides the hell raising song, is known and loved for songs like Boys in the Bright White Sports Car and the delightfully politically incorrect sexist anthem for modern times, 3 Dressed Up As a 9. Which could apply to both sexes, come to think of it. Mitchell, meanwhile, has fertile ground to plow from both his Max Webster days and a booming solo career that produced the unofficial Canadian national anthems Go for a Soda and Patio Lanterns, among others. Kim Mitchell loves playing casinos, by the way. He loves the happy ca-ching-ca-ching of the slot machines. Just ask him. In fact, we did.
There aren't many rules for a classic rock show, but something to keep in mind is that when the band says "we're going to do one from our new album now," don't all leave to go to the bathroom at the same time, OK? That's just rude.
Tickets to the 8 pm show are $50, BUY
Thursday 3
Revolution Engine – New rockers on the block love Rage Against the Machine maybe a little too much, but at least they picked a good band. They play one of Edmonton's musical "incubators," the Mighty Mercury Room, with the Fronts and Jet To Theory. 8 pm, $10 advance
Friday 4
Noble Thiefs – Swampy groove rockers from the centre of Wheatfield Soul – yes, it's Winnipeg – are making themselves known across Canada, following in the footsteps of bands like Big Sugar and Wide Mouth Mason with that funky music and slide electric guitar. So satisfying. Mercury Room, 8 pm, $10 advance
Cygnets – Nothing like a little new wave to make you nostalgic for the old wave, and what year is it again? Edmonton's own synth-rocking Depeche Modean group named for juvenile swans gets sweaty and intimate at Filthy McNasty's at 8 pm. NO COVER
Saturday 5
Carrie Day and Kyler Schogen – What's going on with the old Royal Alberta Museum, you ask? Even the PR person doesn't know what's going to happen to this historic building after this weekend's closing party, and you think she ought to know. Better not tear it down. The "Goodbye Hello" event starts Friday at 5 and runs continuously for the next 48 hours with free live entertainment for all. Saturday at the Royal Alberta Museum Theatre features two local singer-songwriters, playing alternating sets between 10:30 am and 3 pm. Admission is free.
Cancer Bats – In the netherworld betwixt punk rock and heavy metal there lurks a genre known as "hardcore," which verily embodies the best of both worlds. Moshing upon crazily tilted floor will surely commence when the Toronto band (which also plays for fun in a tribute band called Bat Sabbath) plays the Starlite Room, touring on their latest album Searching For Zero. Lord Dying opens. 8 pm, $21 advance
Rebecca Lappa – She's eighteen years old and already has seven recordings, an award for best "adult alternative" album and was the only Edmonton winner at the recent Canadian Folk Music Awards. Now can she pull it off live? A lot of people are very curious. No pressure. Black Dog, 4 pm, no cover.
Morewine – Don't you love it when a band sounds like its name? Breezy, refreshing, a little dark, rich and full-bodied with notes of citrus, this local indie band has a sexy little single on bandcamp layered in ah-inducing major seventh chords (for all you musicians keeping score at home): All The Time, as in "I wanna do it all the time with you." From their Old Dust EP. They play at 9910, a new venue in the basement of the Common at 9910 109 Street. With Shukov and Feverfew, 8 pm, $10 advance
Jarvis Church – Why he changed his name from Gerald Eaton and left behind the 1990s Canadian groove phenom the Philosopher Kings is a mystery – but probably not so mysterious that he couldn't be asked about it. The singer-songwriter-producer hasn't been heard from much lately because he's been busy behind the scenes, collecting Juno awards and Grammy nominations for his work with Nelly Furtado and others, but has decided to pop up for a string of Christmas shows with his new band Soul Station. Funky, soulful Christmas shows. Festival Place, 7:30 pm, advance from $40
Tuesday 8
Dragonette – What is it with songs called Hello? This Torontonian electro-pop band had a big hit with their song Hello in 2010 – well before Adele's Hello and Hedley's Hello – with more hit paraders where that came from on Dragonette's last album, Bodyparts, and stray singles ahead of a new album coming soon. With Young Empires and Dirty Radio. Starlite Room, 8 pm, $27.50 advance