Getting in Rolling Stone the best Revenge
Posted on December 11, 2015 By Mike Ross Entertainment, Front Slider, Music, News, news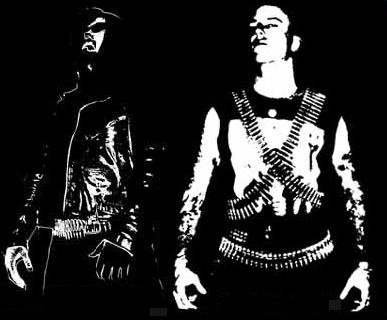 A mysterious and sinister Edmonton band you may never have heard of has wound up in Rolling Stone magazine's 20 Best Metal Albums of 2015.
This list includes the usual suspects: Lamb of God, Clutch, Napalm Death, Slayer, and at No. 1, Marilyn Manson for Pale Emperor. Coming in at lucky No. 13 is a record called Behold.Total.Rejection by the locally-bred metal band Revenge. They've recorded five full-lengths and four EPs, and last played their hometown almost a year ago as the third act at the "Black Metal Warfare" show in the Starlite Room. Revenge has quietly – noisily – become one of the world's top "war metal" bands, a subgenre similar to black and/or death metal. They tour all over the world.
The blurb by Rolling Stone critic Hank Shteamer reads, "James 'J.' Read, drum tornado and vocalist of Edmonton, Alberta's Revenge, is one of the metal underground's most chaotic and pulverizing bashers. But he's also an auteur who wields filthy textures and brutish riffs as skillfully as Max Martin employs pristine sheen and unshakable hooks. In the macro sense, every Revenge album since their 2003 debut sounds exactly the same: Read's percussive shitstorm, guitar used as a siren-like noisemaker, shuddering blasts of distortion (the Revenge equivalent of a dubstep drop) and effects-heavy vocals that can suggest field recordings from a pigpen at feeding time. Behold.Total.Rejection, the band's fifth full-length and first for Season of Mist, follows suit but achieves an exemplary balance of harshness and coherence."
Based in Marseille, France, the record label Season of Mist represents many like-minded metal bands so frightening that some of their logos are terrifyingly illegible. Revenge's name can hardly be discerned. The heaviness of a metal band is directly proportional to the scariness of its font, as a rule, and Season of Mist hypes Revenge as "one of the most extreme bands in existence."
The label rep responded to requests for comment, "Unfortunately James and the b and have refused to do any interviews for this album cycle. I would be more than happy to send you digital promos for the band's new album for your consideration and review, but I'm afraid I cannot do more than that presently."
No music videos or good photographs of the band seem to exist, either. Very mysterious.
The music is easy to find, though. You can stream all of Revenge's albums free from multiple sources.
This must be what it takes to become a "popular underground band" – not as oxymoronic as it sounds.