MUSIC PREVIEW: Freecloud Records marks 30 years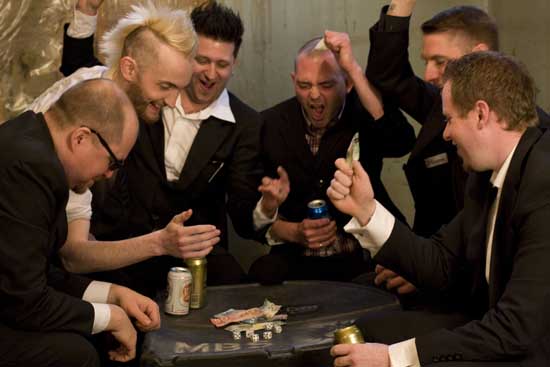 The man who runs one of Edmonton's last remaining record shops is also the frontman for Mad Bomber Society – so of course Rich Bomber gets to play for his own Freecloud Records' 30th anniversary shows this weekend.
The concerts happen Friday at the Rocky Mountain Icehouse with the Mad Bombers, the Cygnets, the Fuzz Kings and Ben Disaster; and Saturday at Filthy McNasty's with the Whiz Kidz, Wares, Abuse of Substance, and Cutoffs. And of course Mad Bomber Society again.
Thirty years! Imagine a time before the Internet when record stores sold records because everybody bought records.
Where other stores have struggled and closed, vinyl's revival has done a lot for Freecloud, which has stuck to the format since the beginning in 1985, and especially since Bomber bought the place in 1992, going from customer to part time employee to manager to owner. A vital part of the local music scene, for giving rack space to bands, for employment to local musicians and for musical education for anyone who pops by, Freecloud has catered to vinyl enthusiasts the whole time.
"We're a record store, we're record collectors, and records came back – so it's been fun," says Mr. Bomber.
Tickets for Friday are $12 advance, and it's $12 at the door for Saturday.
Thursday 17
We Were Friends – A lot of bands use money made from gigs to finance album projects – whether or not they call said gig an "Album Fun-Raiser" or not. Good to know, though. This worthy Edmonton power pop band has one EP so far, on which is the rousing single Waves and a tender ballad called Bullshit, and is aiming for the next level with this show at the Buckingham. With Lutra Lutra and Railtown Park, 7 pm, $8 advance
Mitchmatic – This local rapper known for unusual twists and turns headlines "An UnCommon Christmas Party" at – where else – the Common at 9910 109 Street (upstairs from the new venue called "9910" – it's two venues in one). Also performing will be Gray and The Honorroll and Bud Frasier & The Electric Razor, 7 pm, no cover.
Jesse Werkman – More fresh blood! The music industry can eat its young like sharks chew through chum, but for a select few who value art over money, it doesn't really matter. Harken, then, to the smoothly adult alternatively pop-rock chill-balladry of this singer-songwriter-hyphenated-violinist, who will perform music from his pensive debut EP, All You've Lost, and more, at the Mercury Room. With the Mad Orca and Between Brothers, $10 advance
Friday 18
Captain Tractor – Formed by theatre students for free beer before the Internet existed – imagine – these guys have been sailing the prairie oceans with their exuberant brand of Celtic rock for more than 22 years. They're like Great Big Sea without the Sea, like Spirit of Not All the Way West. The proudly Edmonton band celebrates, with a bittersweet note, the release of its CD Live at the Roxy, recorded at the venerable local theatre that burned to the ground almost a year ago. Mercury Room, with Collective West, 8 pm, $20 advance
Christmas Carol Project – And so Ebenezer Scrooge was visited by the ghost of Bob Marley, and merry minstrelsy did ensue … wait, that's not it, is it? This is a different take on the Christmas classic, an evening of original songs written and sung from the point of view of the characters in the Charles Dickens' tale, played by a who's-who of local folk musicians, including Juno winner Bill Bourne as Scrooge. Sadly, the cast is calling it quits after a 20 year run. This night at the Westbury Theatre Arts Bans is the last time Edmonton will get a chance to see this unique and heartwarming show. 8 pm, SOLD OUT
The Provincial Archive – Near the top of the list of Edmonton bands named for area streets, buildings, or other landmarks, this terrific trio is a specialist in "indie-pop" – a genre named for pop music that isn't pumped to death by major labels but just as catchy. It's honed to a beautiful edge on the band's latest self-titled release, celebrated at Studio 96, with the opening acts Billie Zizi and Diamond Mind. Advance tickets are $13 – which comes with a free download code for the new record.
Our Darkest Moments – Every weekend needs a designated metal show, and this five-piece "metalcore" unit from Leduc – verily the scariest of all Edmonton suburbs – should fit the bill nicely. Playing at Rendezvous Pub, they have one recording, A Broken State of Mind – fast, furious, frightening, and that's just the F's in the metal critic's glossary. With the openers Forsaken Rite and Bury Me Jack, 8 pm, $15 at the door.
Saturday 19
Raygun Cowboys – Pumping out a horny (as in horn section), seamless, and rowdy fusion of old-time rockabilly and new-time punk rock, these guys commanded the stage opening for SNFU a while back and are back to headline the Starlite Room. They look the part, too, like they'd be in a 1950s street gang if they weren't in a rock band, and are without a doubt one of the best bands in all of psych-dom. With The Gutter Demons. 8 pm, $20 advance