Super silly satire a spectacular success
Posted on December 18, 2015 By Mike Ross Entertainment, Family, Front Slider, life, Music
Ben Spencer didn't plan to become a children's entertainer. He kind of stumbled into it. And now it could become his true calling.
The Edmonton singer-songwriter, who's just moved back home after 10 years in Montreal, with a French wife and two toddlers in tow, is a little new at this. The release show for his new album Songs for Terrible Children was staged at a bar in Toronto. No children allowed.
"This music seems to go over equally well with kids and slightly drunk adults," he reports.
It all started with one song, as these things often do. Spencer wrote Better Tasting Friends for his niece. It's a jaunty fable about a little girl named Elizabeth whose friends – bird, shrew and duck – get eaten by predators one by one because they taste better than she does. The obvious moral of the story: To stay safe, "Always surround yourself with better tasting friends." The concept grew into an album from there.
Songs for Terrible Children is satire – for kids. Spencer, who has no professional experience in early education or child psychology, says the songs are meant to teach critical thinking. His own four-year-old daughter thinks it's "super silly." However, he says, "Even if the kids' reaction to the music is nothing more than, 'I don't know what's going on here, but I know that's not right,' it's working. Even if it brings a little more awareness for the next thing they hear or see, whether it's a shampoo commercial or another song, it's kind of an exercise in doubt.
"The sooner kids can start thinking about how reliable the messages they come across are, maybe the better, particularly now when they're exposed to so much media at an early age. It's kind of like media literacy education, exposing kids to satire."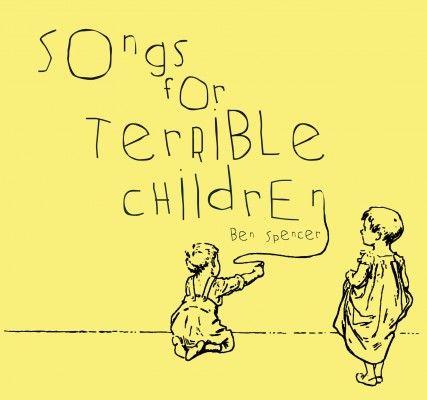 It sounds complicated only when he explains it. The music itself is elegantly simple, smart, fun and indeed super silly. There's a sad folky song called Sheriff Captain Tough Guy Big Shot about a kid who would rather tear down his tree fort than share it, which of course mirrors current events. Another, with wheezy accordion and merry melody and Ben's gentle voice perfectly suited to children's music, is called You and I are Different (and it Terrifies Me). He's exploring the roots of racism. The album ends with Lullaby for Terrible Children, which will no doubt have its young listeners exclaiming, "I'm not a terrible child! I will not go to bed!" while exhausted parents try not to verklempt with emotion.
Spencer is glad to be back in Edmonton, noting less brick and more concrete than the last time he was here. He found what he needed in Montreal – family, education, inspiration – and while he says that cool city has a great arts scene and cheap rent, it's more transient than he expected because of all the college students living there. Edmonton is "more grounded," he says, and has just as rich an arts scene, if a bit smaller.
Songs for Terrible Children is Spencer's third album, but it's the first where he served a higher purpose.
"This is a whole album meant to do something for someone," he says, "rather than just be a male songwriter with ideas and feelings and hoping people like those sounds that emerge from those feelings and ideas, so there was a feeling of usefulness that I've never felt with any of my previous projects."
Move over, Raffi.
Spencer will perform live at the "Flying Canoe Festival" Feb. 5-6 at La Cite Francophone. Songs for Terrible Children is available for free streaming, and for purchase online.