10 Edmonton Bands Pushing the Envelope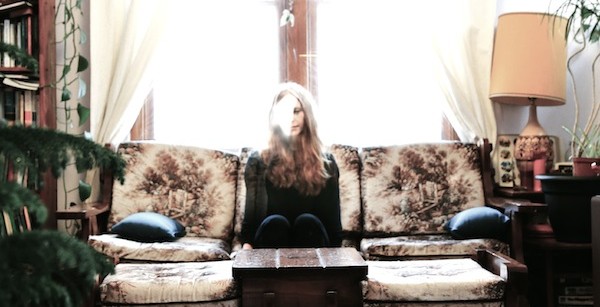 The Top-10 list is a little different this year. Rather than extolling the virtues of the best albums, we're tackling a list of a different sort – the who's who of the Edmonton scene that's pushing the limits of normal, tackling the experimental and laying down glorious chaos for the rest of us to follow.
In a city where our venues are in constant upheaval, these are the cats that help us forge ahead.
Faith Healer
Jessica Jalbert (above) has been doing a few different things over the last few years, but hit a home run with this project and its debut release, Cosmic Troubles, earlier this year. Oh, who's kidding who, it was a bottom-of-the-ninth-grand-slam, and got noticed across the continent. Every time you'd look at one of the major blogs, every time you'd listen to satellite radio, somebody would be talking about Cosmic Troubles. The album was hitting it big at almost exactly the same time as Viet Cong from Calgary, propelling Alberta into the musical spotlight for a short, but joyous time. Jessica's been a focal point of the music scene for a while now, and her peers are overjoyed with her success. The music website Stereogum ended up ranking the album at No. 35 of everything – everything – released this year; a bevy of smaller music sites ranked it in their top 10. Here, too!
Pyramid//Indigo
Perhaps it's trite, but it's true: the term "experimental" is going to come up a few times. This local duo released a four-track cassette in August that dabbles in delicious melodies, a complex array of instruments and sound, and spoken word. Definitely on the cutting edge, and as a bonus, we're pretty sure your parents will//would hate it.
Pigeon Breeders
Some extraordinary lineages give this band an incredible musical foundation, and from there the trio – comprised of Will Scott (Brazilian Money, The Wicked Awesomes), Tyler Harland (The Wicked Awesomes), and Myles Bartel – twist and entangle their music in every which way, the result of which is an experimental noise rock offering that is at once chaotic and extremely listenable. One of those bands that you can list as one of your favourites and people just nod at you like, "Oh yeh, them, they're pretty rad."
Weird Year
Definitely on the more experimental side of hardcore punk, and there's that word again, with musicians whose roots extend throughout the local music scene, including current and ex-members of, among others, KALI, Maus, Wolfgot, Crippled Children, Book Of Caverns, Spaewife, and Tuques. It's kind of a hardcore take on sludge in many ways. The band's debut six-song EP from May is a chaotic, and louder-than-loud introduction to the band and their unique sound.
Fire Next Time
Here's a super cool little punk-folk project that's been going strong for six years, and every single time they do something new it just gets better. Lead singer James Renton has this voice that will just drown out everything else in your entire universe when you hear him.
Marlaena Moore
A staple of the local music scene, this artist is another one of those individuals where you just want to know what she's going to be do next. Perhaps she's a singer-songwriter at heart, and would've been a pure folkie back in the day, but since it's the 21st Century, she loves to dabble and experiment with the best of them. Her Live At Wunderbar release was the perfect tribute to one of our favourite venues of the last few years.
Choir and Marching Band
A project that's at once on the cusp of just about everything, but still putting out cool music that most in listeners can relate to. Indie pop done right, with glorious futuristic/space overtones.
Borscht
Their name may remind you of your grandmother, but if you put that out of your mind, you realize the band's doing some pretty cool things. It's a mix of folk and pop, with the grunge and dirt turned up to about eight, and propelled with the fierce vocals of Maria Elena Martire, the resulting in what could best be described as grunge-pop or garage-pop. Sort of like a modern day Cub (Vancouver 1990s indie band) in many ways.
Wares
It's interesting how many of these bands revolved around the circle that was Wunderbar. Wares' most recent release, recorded live at the off-Whyte bar as well, is the "solo" project of Cassia J. Hardy, with an ever-changing sound. Sometimes it's driving power rock, sometimes more like an indie-pop feel, and other times more grounded in her upbringing of the singer-songwriter vein. Regardless of where she positions her music, it's a deeply emotional, rich entanglement of vocals, guitars, music, and lyrics. Cassia is without a doubt one of the most musically gifted individuals in the city at this current moment.
Rebuild/Repair
Another glorious genre-mixing project, this time taking doom/sludge metal and hardcore punk and inflecting it with a modern civility. Well, chaotic civility, if you will. Yet another project that appeared at Wunderbar on a regular basis, the band graciously label themselves as "post-stoner skate-sludge." Frontman Randall Graves, who does vocals, plays guitar, and writes the band's songs, has a voice that is at once both lush and abrasive. Perfect for the material he writes.