MUSIC PREVIEW: Animal act launches Almanac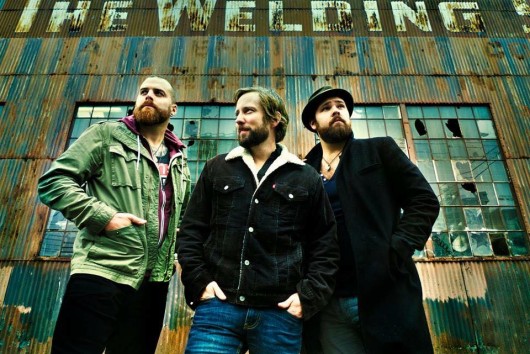 There always seems to be a natural ebb and flow to the music venues in this city, doesn't there? Sure, we lost a lot of live spots last year, but they are slowly being replaced by new ones popping up around the city. Perhaps for the smaller spaces, the current state of the music business doesn't allow operators to hold on to their venues any longer than a few years before money issues crop up. Who knows?
Regardless, a great band called The Lion The Bear The Fox open up the city's newest showroom, The Almanac (10351 Whyte Avenue) on Wednesday, Jan. 13. While the band is no stranger to our fair city, they'll be strangers just like the rest of us in the new music space – a narrow but long room in the back of the building, complete with wet bar. Its capacity, at 80, mirrors what the Wunderbar could hold – and often did for many of the more popular touring groups that came through the now-closed venue.
The Lion The Bear The Fox is a peppy, fun-loving alt-folk rock trio from B.C. comprised of three singer-songwriters (Christopher Arruda, Cory Woodward and Ryan McMahon) who found extraordinary chemistry playing with each other and playing each other's songs, and have been touring ever since. They always put on a great, great show, and their songs are at once both wholly cohesive, and yet stand alone on their own in perfect stead as well.
Tickets to the 7 pm show are $15, BUY
In case you're keeping score on the new venue front, 9910 (in the basement of The Common) continues to grow in popularity, hosting Calgary's Crystal Eyes next week, as well as regular DJ/Dance artists. And the good folks running The Artery have finally confirmed a new location – The Aviary will also be opening soon over on Edmonton Avenue. Last but not least, The Chvrch Of John is hosting what they call a "soft opening" this weekend, with what looks like a performing DJ both Saturday and Sunday night. It is located in the basement of the Grand Hotel, 10260 103 Street.
Friday 8
Eternal Prophecy – This Edmonton metal band headlines a fundraiser for YESS and the SPCA. Founded in 2012, the "future space groove" artists' debut eponymous EP was released in September. The remainder of the evening's entertainment includes WTHCNVCTN, Dead Honey, Within the Fury, and No Room For Subtlety. Mercury Room, 7 pm, $10. BUY
Saturday 9
Jared Epp/The Olm – DIY music distributor Wyrd is doing a little showcase in the afternoon at Listen Records (10443 124 St.). A pair of local artists are performing: minimalist Jared Epp and drone artists The Olm. You can grab some hardcopies of those bands releases along with Wyrd's other wares too, of course. 4:30 pm, no cover.
Minstrels On Speed – This local indie-rock band had its heyday back in the 1990s, opening for such luminaries as The Doughboys and Fleshtones, and even had one of their videos in rotation on MuchMusic. Back when MuchMusic actually showed videos, of course. They reunited once in 2003, and have done so again now, though don't expect, like, any lengthy tours or anything. The guys just like to play. Night Committee, Counterfeit Jeans, and Wares open. Brixx, 8 pm, $14, BUY
Gear Seabastian – It's officially an indie rock weekend in the city, what with this band headlining another rock solid gig from stem to stern, along with three other bands – White Hot Lizard, Styrofoam Apache, and Tyler Simmons – that will make you realize once and for all that the local music scene really does have something going on. Cha Island, 7 pm.