MUSIC PREVIEW: Taking it to The Royal Streets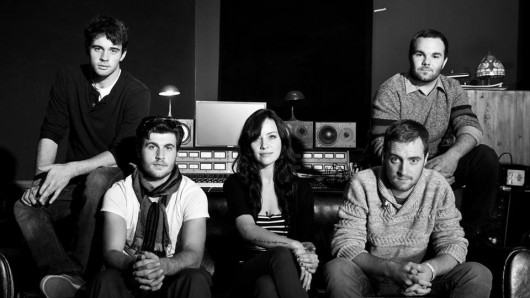 Sprung from the ashes of the Full Moon Folk Club, the New Moon Folk Club is well in gear for its first season – and they were lucky enough to score The Royal Streets as this weekend's headliner.
This Waterloo, Ontario group's sound is hitting all the right chords with the nation's music crowd, with an ethereal folk-pop vibe that makes people simultaneously both contemplative and need to dance their faces off. Their debut album in early 2014, Kings & Queen, was a gorgeous introduction to the band, featuring the singing duo of Algemon Friolet (who also plays guitar) and Jillian Dowding, who has a voice reminiscent of Elle King.
The band released a follow-up EP late last year after an insane touring schedule, but did find enough time to record a sophomore full-length with producer Dan Hosh (City and Colour). It should be released this spring, but in the meantime, one would expect there to be plenty of the new material in their set list for Friday night at at St. Basil's Cultural Centre (7 pm, $22).
Also on the bill for the evening are the local folk duo of Ella Coyes and Jasper Smith, led by Ella's incredible voice and songwriting talents. The duo released an EP late last summer where their incredible musicianship was at the forefront. Jesse Northey of Jesse and the Dandelions played drums, bass, wurlitzer, and electric guitar on the EP (no word if he will be performing with the two this weekend). Definitely a project to be on the watch for this year.
New Moon has two more shows this season, Cecile Doo-Kingue on February 5th, and the Bills, on March 4th. More details on their website.
Wednesday and Thursday
Blue Rodeo – This tour has been receiving rave reviews already, with founding members Jim Cuddy, Greg Keelor and Bazil Dorovan (plus four other excellent musicians, including Colin Cripps) performing up to their impeccable standards. Though 1989's release, Diamond Mine, and 1993's Five Days In July, may be their most popular to date, they have continued to release new music ever since, including 2014's holiday effort, and 2013's In Our Nature. From those same reviews, though, you will almost definitely be able to hear your favourite track from the earlier years, which included their breakthrough hit in 1987, Try, as well as the title track off Diamond Mine, Til I Am Myself Again, and How Long. Jubilee Auditorium, 8 pm, $29.50 and up, BUY
READ: Interview with Blue Rodeo
Friday 22
J.P. Cormier – This Canadian folk/bluegrass icon got his musical education in Mississippi, at a college that, though extremely rare at the time (and probably even more rare now), featured a specialty in bluegrass instruments. He's been releasing material since 1995, and he has appeared at any number of popular festivals over the years, including appearances at our esteemed Edmonton Folk Music Festival. Arden Theatre in St. Albert, 7:30, $34 BUY
Meaghan Smith with the ESO – This Ontario singer-songwriter has four studio albums to her credit, and her music features a combination of jazz, swing, country, and folk, with some modern club influences as well. Her latest album, 2014's Have a Heart, is definitely more on the pop side of things. The evening will feature a variety of Smith's songs performed by her and the Edmonton Symphony Orchestra. Winspear Centre, 7:30 pm, $24. BUY
Striker – This local metal band is playing their first show since winning the third annual $8,000 Edmonton Music Prize earlier in the month. They're also releasing their newest album, Stand In the Fire, and the gig also happens to be the kick-off show for a European tour with German speed metal project Primal Fear, beginning in February in Spain. That's a lot to be thankful for, and a lot to be proud of for the entire metal and music community. Starlite Room, 8 pm, $20. BUY
Saturday 23
Choir and Marching Band – Trevor Rockwell has been part of the local music scene since the mid-1990s, combining new and old influences to forge a very modern but familiar indie sound. Ben Spencer also performs. Filthy McNasty's, 4 pm, no cover.
Rault Brothers – Lionel and Ron have been performing more regularly together recently, and this weekend are playing the Edmonton Blues Society's first gig of the year. Their shows are moving to a new venue for the year, at the German Canadian Cultural Centre. Hot Cottage also performs, 7 pm, $15.
Fort Knox 5 – Mixing elements of funk, reggae, hip hop, and electronica, this group has been releasing music since 2003 out of Washington, D.C. Also performing is Funkanomics, a live bass trio out of Germany. Starlite Room, 9 pm, $25. BUY