NEWS FLASH: Nerd culture now pop culture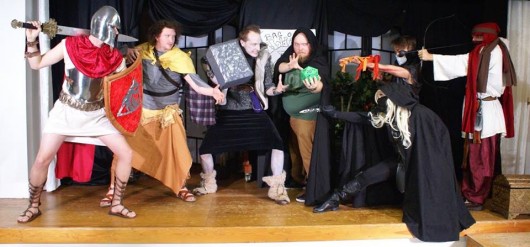 It's not surprising that a local nerd has taken it upon himself to catalogue the myriad of nerdy things in town – comic stores, gaming clubs, fantasy fiction, anime, cosplay, you name it. Some nerd was bound to do it. And it's no shock that the Edmonton Nerd List has taken off so quickly – from dozens to hundreds of subscribers in just a couple of months.
"I thought it would be slow," says webmaster Kelly Froese, "Something that would maybe be useful for my friends, but it's bigger than I thought it would be."
It might be because there are so many nerds. It is now possible, for example, to play in organized Magic: The Gathering card game leagues seven days a week. A local comedy improv group called Yeg DND (above) plays Dungeons & Dragons in front of a live audience. There's something called the Northern Nerd Network that runs a weekly nerdcast. Nerd activities abound. When Sonic Radio ran a "Nerd Week" and asked listeners to reveal their favourite nerdy pastime, the phone lines lit up. Froese called in to say his nerdy hobby is "collecting other people's nerdy hobbies."
With a goal to preserve and organize local nerd culture "until my daughter is old enough to enjoy it with me," Froese aims to list anything local that that represents a "classic example of what a nerd can be." It's a lot more than just comic books and card games. "It's all so mainstream now," he says. "You can't really call video game players nerds because there's so many of them."
Nerds weren't always cool. Guys who played Dungeons & Dragons were once ostracized, comic book collectors were belittled, and don't let anyone see your "action figure" collection or they'll think you're playing with dolls. Even the Bible has something to say about this: "When I became a man, I put away childish things" (Corinthians 13:11). Nerds never had a hope of getting a girlfriend, needless to say. And that's another thing: Female nerds? They didn't exist.
At what point, inquiring nerds want to know, did the tide change? Was it the advent of video games? The release of the third Star Wars movie? Was it after the 1984 comedy Revenge of the Nerds, which depicts both the nerds and the jocks who bully them as extremely unpleasant people? Or was it 9-11? No one wanted to grow up after that.
Actor Mark Meer, age 45, is considered the King of Edmonton Nerds, voice of Commander Shepard in the popular Mass Effect video game series. He's Brad Pitt in the gaming world.
"It's sometimes overwhelming realizing how much exposure I got from those video games," says Meer, "and I certainly do think, well, yeah, that's what I'm going to be known for."
He used to go comic conventions as a fan. Now he gets invited as a celebrity guest. Meer also stars in a Superchannel series Tiny Plastic Men, set in a toy company, which was just nominated for two Canadian Screen Awards. Meer is one of a number of famous nerds which technology has allowed to operate from their homes in Edmonton. Proud nerds they remain – yet the negative stereotype persists. "It's not that much better now," says Meer, who points to popular nerd shows like Big Bang Theory, whose stars have been accused of a strange kind of cultural appropriation.
"There was some criticism that they were wearing nerdface," Meer says. "They weren't actually nerdy. That's our word!"
He adds, "I just want to assure people there is certainly none of that going on in Tiny Plastic Men – because all of us actually have action figure collections."