MUSIC PREVIEW: Black Sabbath forever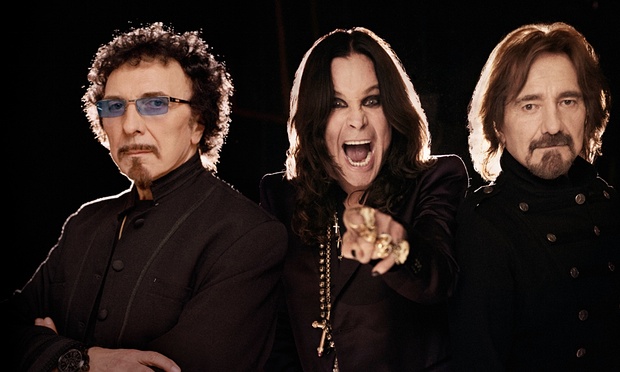 When an artist dies, all the art they've ever done instantly becomes all the art they'll ever do – so it becomes much more valuable. What was said to be true with an individual works with a rock band – the main difference being its members will still be alive after their own wake!
Besides, they could always decide to record another album. For now, it's time to say goodbye to the great Black Sabbath, playing its last show in Edmonton Saturday at Rexall Place. These are the Kings of Metal. This is a metal town. You can't go wrong. Barring any Motley Crue chicanery (playing a second "farewell" show here a year after the first, the NERVE), this is The End for Black Sabbath.
They've given us so much over the years, great songs like War Pigs and Iron Man and more recently a musing on the Almighty called God Is Dead?, note the question mark, with their headbangingly dependable live performances, and a frontman who calls himself the Prince of Darkness but turns out to be a pretty swell guy after all. The one and only Ozzy Osbourne, despite some drug-induced addle-ment and an embarrassing reality show, has been preaching nothing but love – 'cause he says "I fucking love you!" about 100 times during shows – while elevating the art of heavy metal. Far from Satanic, Sabbath is heaven for metal-heads. They're not running with the devil, they're laughing at the devil … and whoops, wrong band. You get the point. Black Sabbath rules.
With the opening band Rival Sons, tickets are $49-$165, and on sale at Ticketmaster.
Thursday 28
Freak Heat Waves – Minimalist dubstep incorporating real instruments, all droney and shaggy and loose – they call this sort of thing "krautrock," and isn't that racist? Anyway, trippy fare from this Victoria, B.C. combo, at the Buckingham. With Fist City and Gary Debussy, 8 pm, $12 advance
Krystle Dos Santos – On the eve of Black History Month comes something a little different: a cabaret-style show of poetry and music created by and starring this local singer meant to "express what it is to be a person of colour in Canada today." She calls it Blak. Plays Thursday through Saturday at 8 pm at the "The Club" in the Citadel Theatre. Tickets $22 advance.
Friday 29
Chilliwack – Gone, gone, gone, she been gone so long … you know, they don't build pop songs like My Girl anymore. They wouldn't allow it. This band from Chilliwack, B.C., of all places, was and still is a quintessential part of the Canadian classic rock landscape, which casinos have done a swell job keeping healthy and lush. Century Casino, 8 pm, $57.50 advance
Read TRUE TALES OF THE ROAD: Chilliwack gets the hook opening for Eric Burdon and War in 1971
Old Man Luedecke – This Nova Scotian is not technically an old man, but he does wear a hat and sport a beard, so he must be a folk musician. Of course he is – a for-real singer-songwriterly deal last seen in front of a captivated audience at the 2015 Edmonton folk fest. On this night he brings his Juno Award-winning music to the intimate Almanac, 7 pm, SOLD OUT
Saturday 30
The Arkells – These Hamiltonian darlings of modern rock have that hit song on the radio: Leather Jacket, a bright and jangly blast of fun containing yet another example of telephonic themes in modern pop music: "She called me up on a payphone." You could make a mash-up of all the phone songs on the radio: "She used to call me on a pay phone about 1,000 times – hello lady?!" They can use that if they want, add it to a set that will span comparably bright and jangly hit songs on four albums since 2008. Shaw Conference Centre, with Dreamers and Modern Space, 7 pm, $32 advance
Cheech and Chong – Fun fact: Like the whiskey in Dean Martin's tumbler was actually apple juice, Tommy Chong's dopey delivery is just an act. You think he could've reached 77 years old if he were smoking as much dope as everyone thinks he does? Ha! Though come to think of it Willie Nelson tokes a lot, too, and look at him. Somebody ought to investigate this. Anyway, still sharp as a tack is the Edmonton-born Chong, who with his equally sharp and gifted faux-stoner partner Cheech Marin will entertain actual area stoners at the River Cree Casino with classic musical comedy routines that will surely include Earache My Eye, co-written by the late Gaye Delorme. And here's a real treat: War is opening! That's right: Low Rider, ride a little lower (see above). Tickets are going fast: $80-$90, or $60 for standing room only.
Read Interview: Tommy Chong on Gaye Delorme
54-40 Unplugged – The true test of a great song is how it stands up with all the bells and whistles removed. These Canadian veterans haven't scored a charting single in at least 10 years, but get by with a little help from classic hits that dominated CanCon rock radio in the 1990s – performed acoustically at Festival Place. 7 pm, SOLD OUT
Dub Vulture – A blessed marriage between live and electronic music can be witnessed from these local ringers, whose second and latest recording is Brother, Can You Spare a Gun? Fionn MacCool's (Edmonton City Centre), 7 pm, NO COVER
Kathleen Yearwood – The New Music Edmonton society is presenting a special night that should put the "alternative" firmly into folk with this mysterious Alberta singer-guitarist who must be our closest equivalent to Laurie Anderson, with maybe a touch of Yoko Ono and Bjork thrown in there. Comparisons are futile. Weird, never boring – unless you're bored by weird in which case you're at the wrong gig. Yearwood has released 11 records since her 1988 debut cassette, Panik and Death. Her latest is an experimental offering called Hunt the Circle, dark, mysterious, weird. This is a double bill with local experimental composer Shawn Pinchbeck, also featuring musicians Sonja Myllymäki and Kate Stashko. Latitude 53 Gallery, 7:30 pm, $22 advance